Anda berbicara Bahasa Indonesia? Baca artikel terjemahannya di sini!
When working from home, I realize that my work-issued MacBook Pro 13″ 2018 was too underpowered for my load. I do cross-platform application development with React Native (with thousands of unit tests, which really, really, pushes those mobile CPU cores to its limit), and sometimes do backend development as well. To combat the laptop's measly quad-core CPU and sizzling hot temperature, I need a sidekick. Since I don't have the budget to afford a Mac Mini, I looked for a more affordable alternative. Though it has its downsides, at least it fulfills my current needs.
The next thing I need is a table space wide enough to accommodate both my screen, keyboard + mouse, and the laptop. I don't want to buy a new desk, since swapping desks would require a lot of effort. Unfortunately, my full-sized keyboard takes too much space, and in order for all the three things I mentioned to fit in a single desk, I need a new keyboard, preferably one with TKL layout, since I don't really need the numpad.
At first, I considered Apple's Magic Keyboard. It's wireless, compact, and supports macOS. Great, right? Then, I glanced at the price. For that price, I could buy another Logitech G512, the one I'm currently using right now. That's Apple's pricing for you. So, I started looking for alternatives.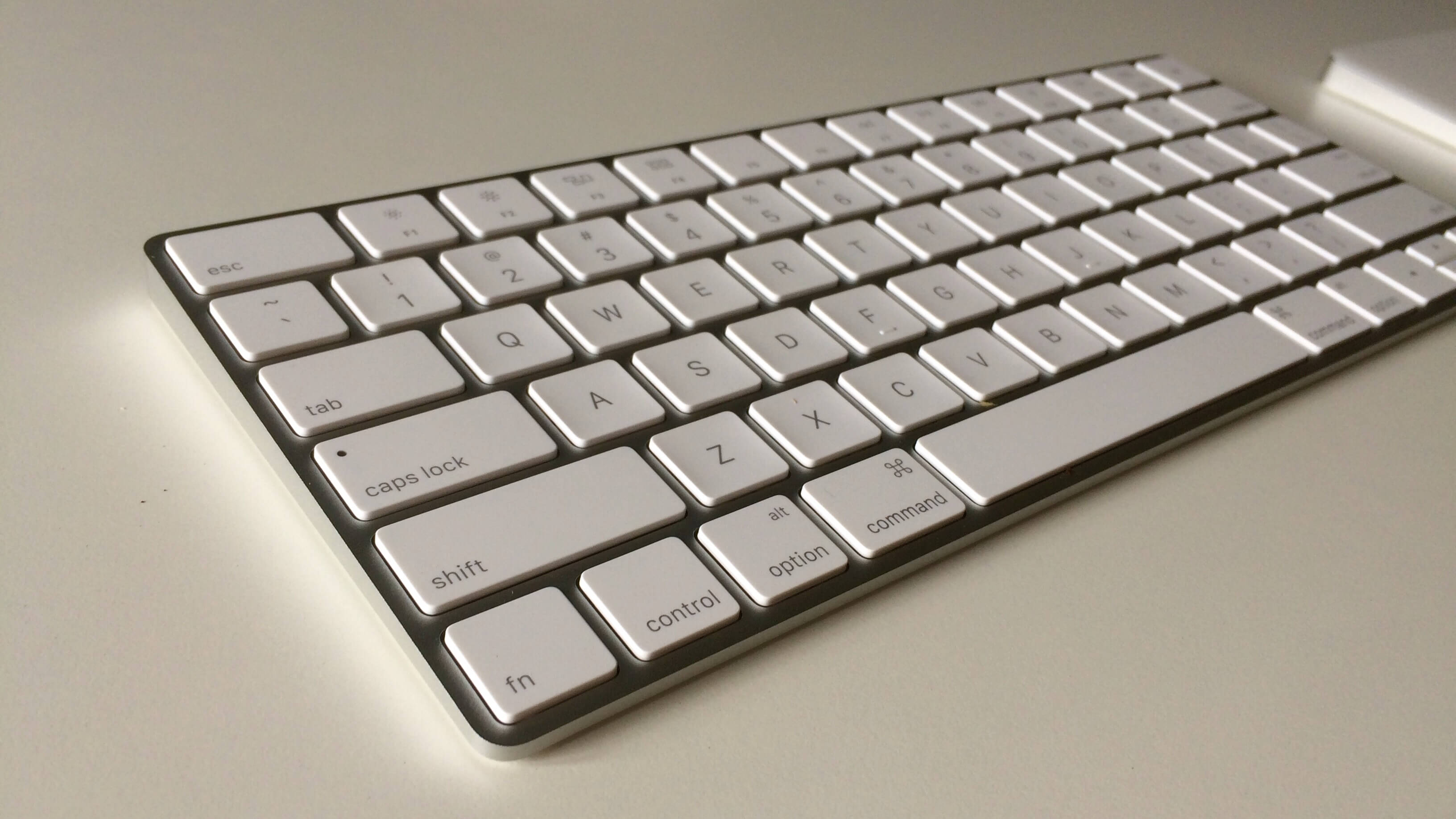 Enter, the Keychron K8 Wireless Mechanical Keyboard. It's featured in so many YouTube channels, and most of them gave it a positive review, mainly for its quality, and compact design. It's mechanical, more affordable than Apple's offering, and has quite a number of positive reviews. After reading the reviews online, I decided to pull the trigger… and has been using it for at least two weeks. So, I guess it's time for a review.
Keychron K8: Design and Packaging
Despite having RGB lighting option, Keychron doesn't seem to market this keyboard for gamers. It focused its marketing on productivity, and the packaging also reflects that focus. It doesn't have the bells and whistles of "GAMING" like certain brands. Nevertheless, I like the simple, clean black design of the box.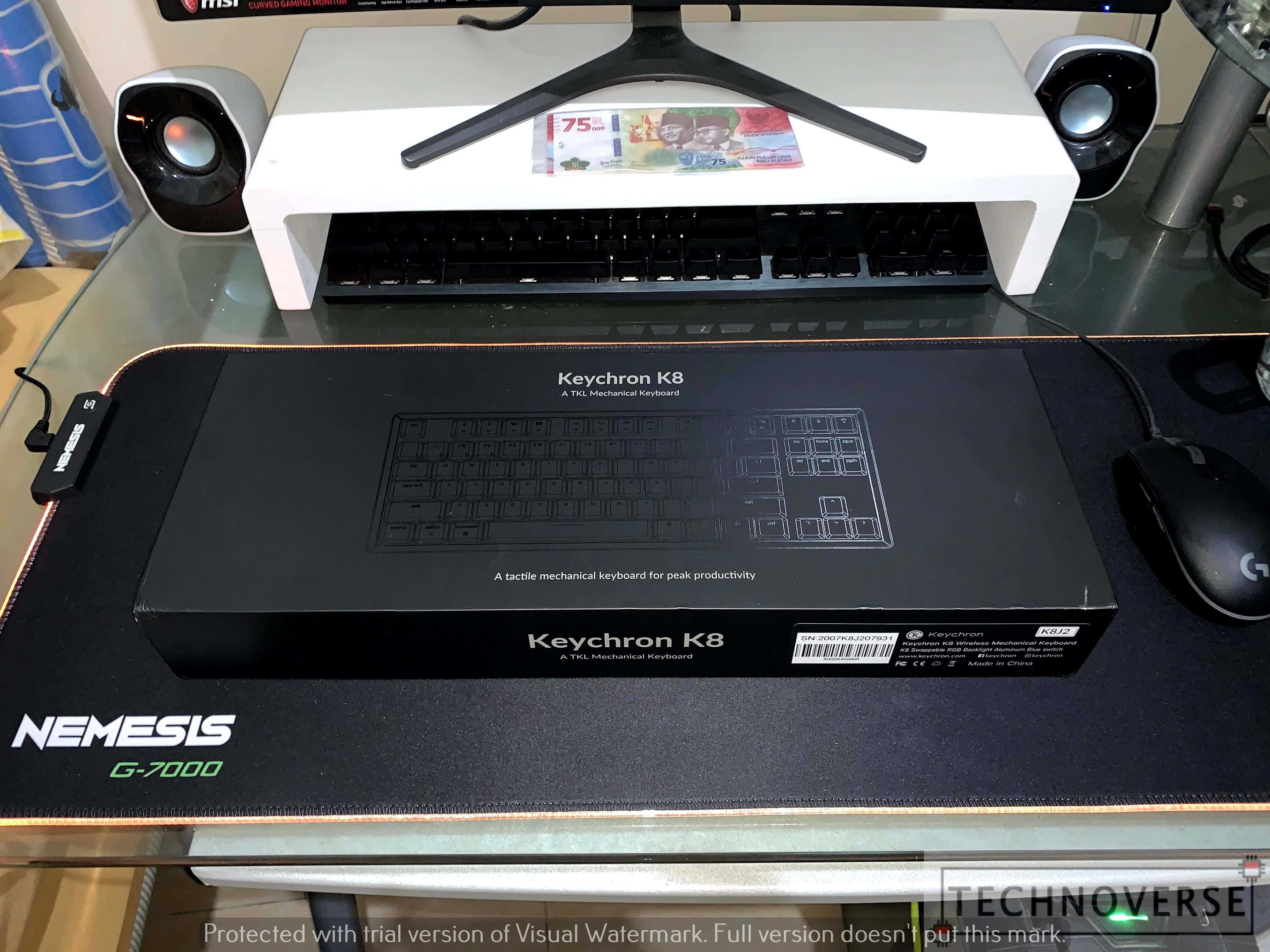 Opening up, you'll be very pleased with its contents. There's the keyboard, its top covered by a clear hard plastic, wrapped in a matte plastic wrap. The clear hard plastic prevents the keyboard from being pressed. I think I'll keep the hard plastic, since it can protect the keyboard when traveling.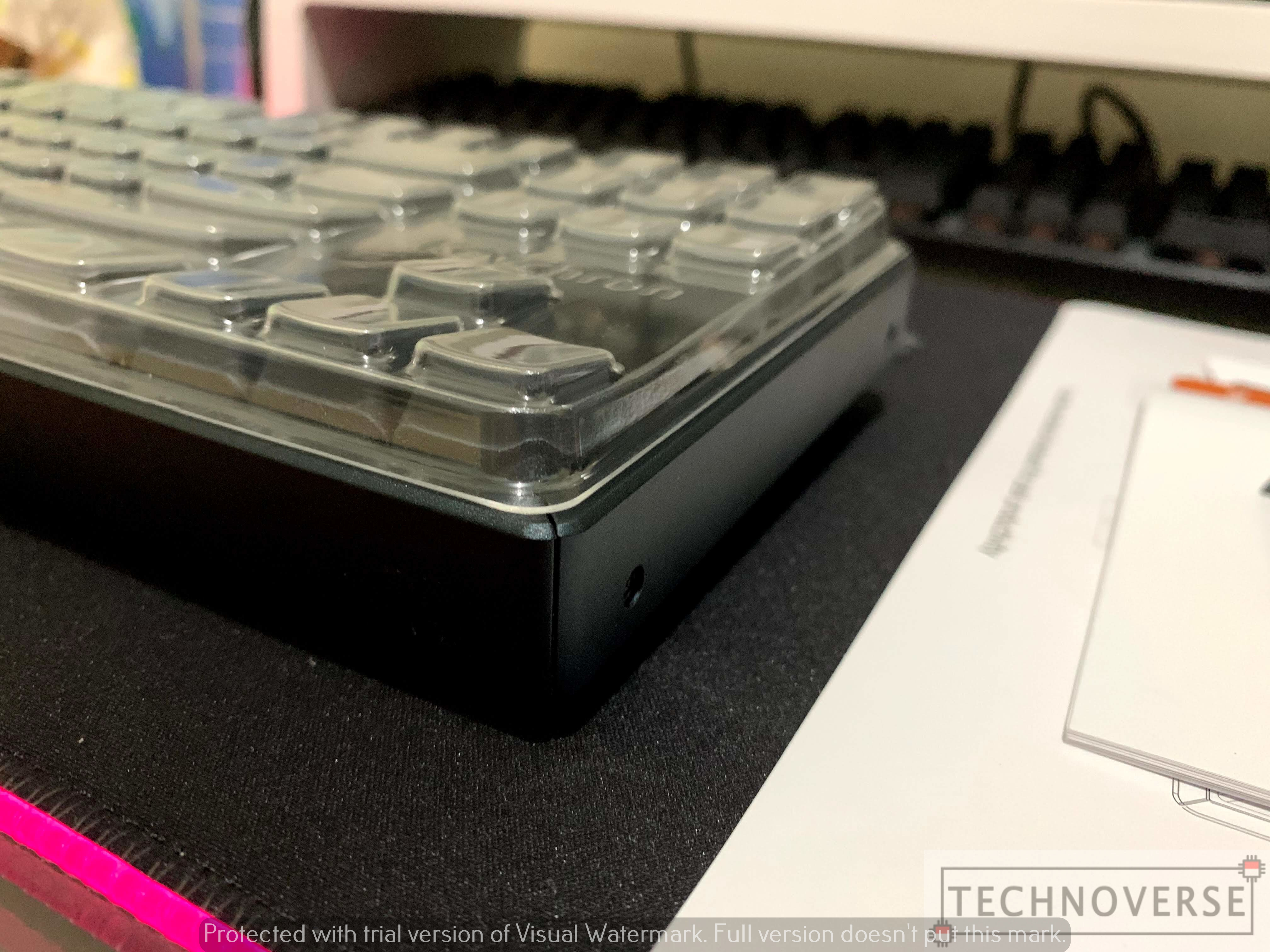 Next, you'll get a USB A-to-C cable for data and charging, 5 extra keycaps; 1 for Escape key, and 2 pairs of Windows' Windows and Alt key, metallic keycap puller, and a switch puller. Oh, of course there's also the manual, warranty card, and a few extra paperwork. Dang, even my more expensive Razer Blackwidow v2 does not contain this many stuffs.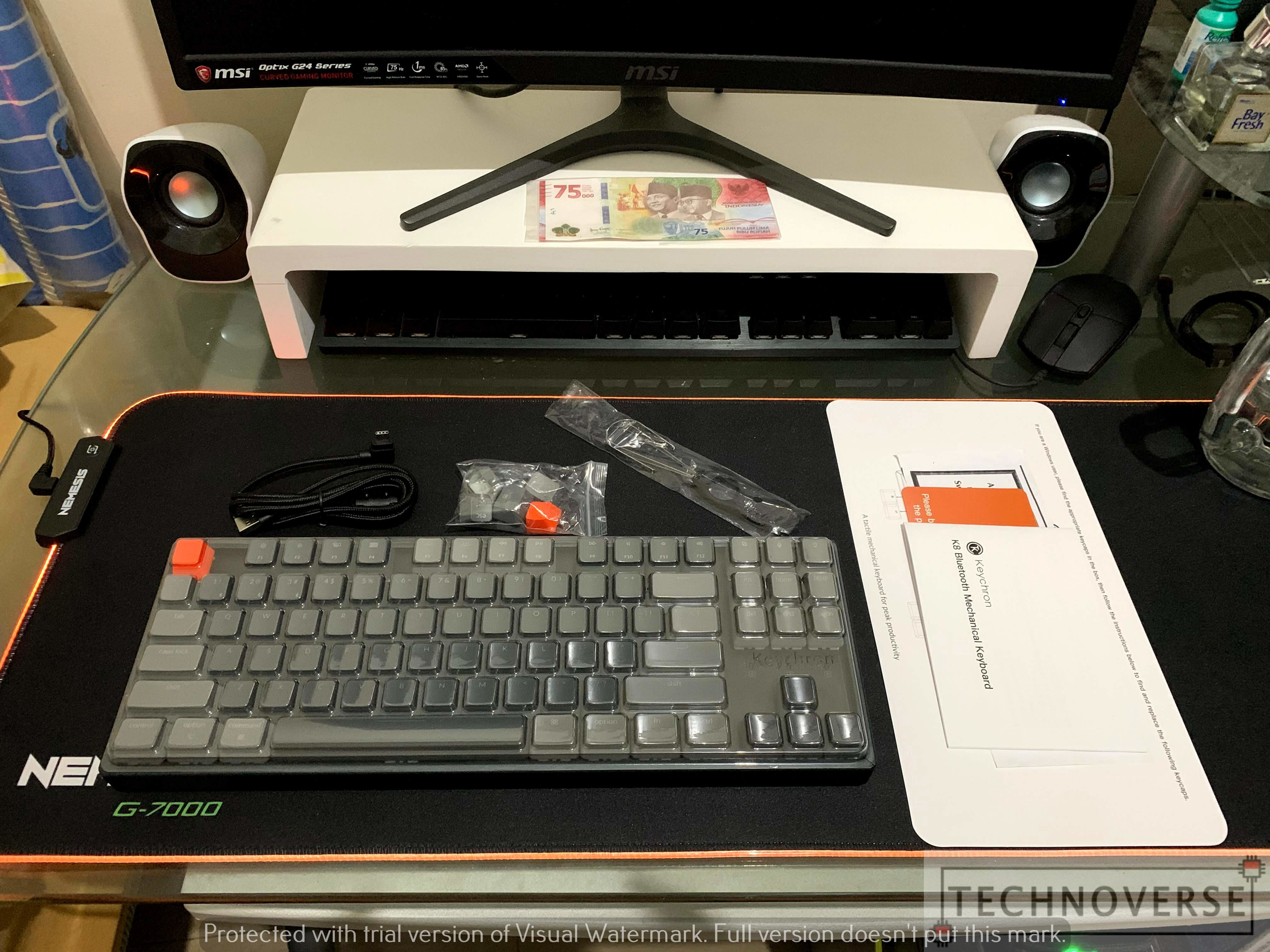 Anyway, let's take a look at the keyboard. Being both mechanical and made of aluminum put the Keychron K8 on the chunky side. If you're looking for a small and light keyboard, this definitely is not it.
On the bottom, there's a neat feature. This keyboard features a couple of two-angle stands. This means that you can set it at two different angles, depending on your sitting position. As far as I know, there's not many keyboards that have this feature.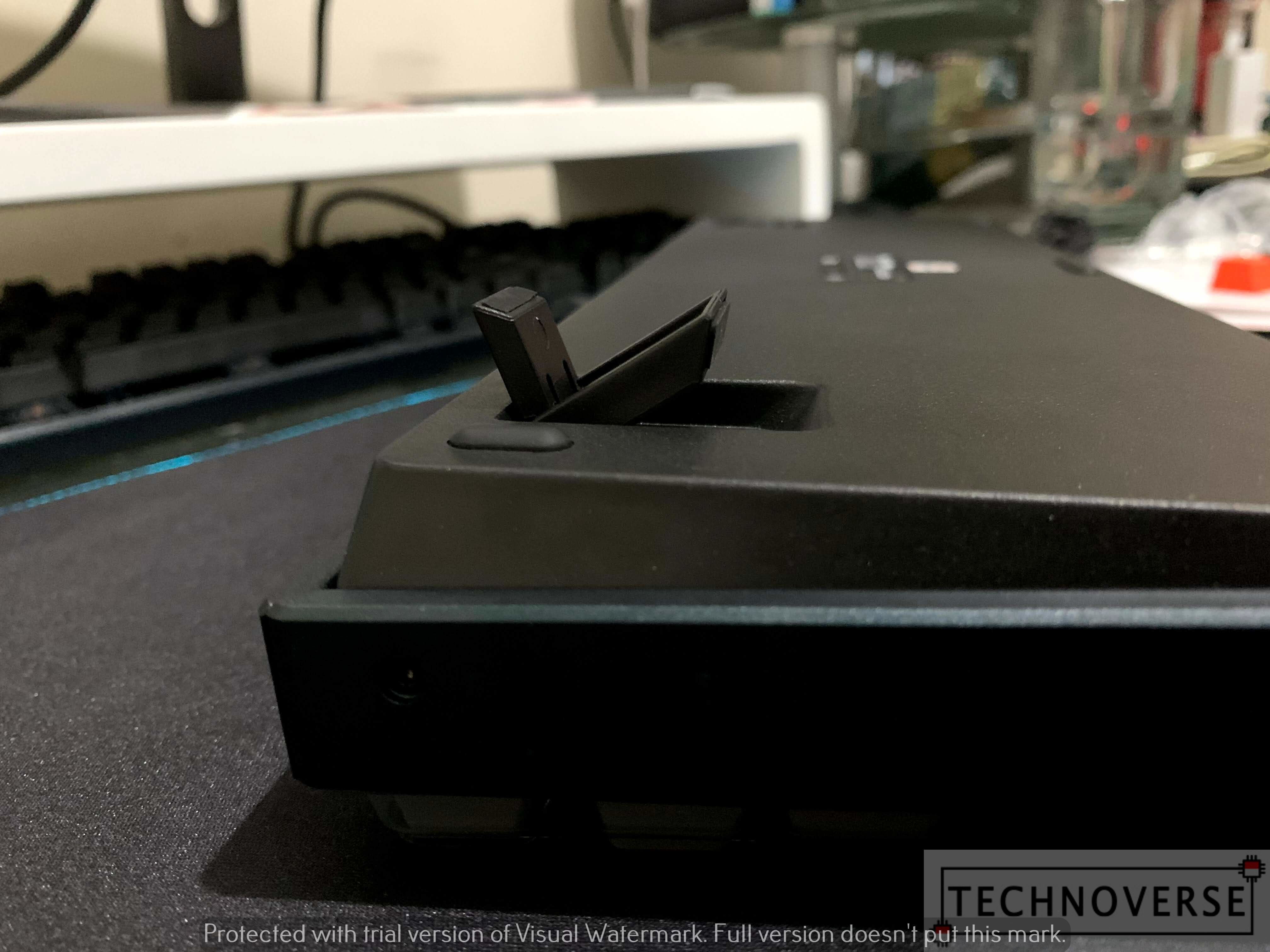 On the left side, is where you'll find all the switches. From left to right, there's the USB-C port for wired mode and charging. In the middle, there's the OS switch, so you can switch between macOS / iOS and Windows / Android. Finally, there's the mode switch. You can switch to Bluetooth, Off, or Wired.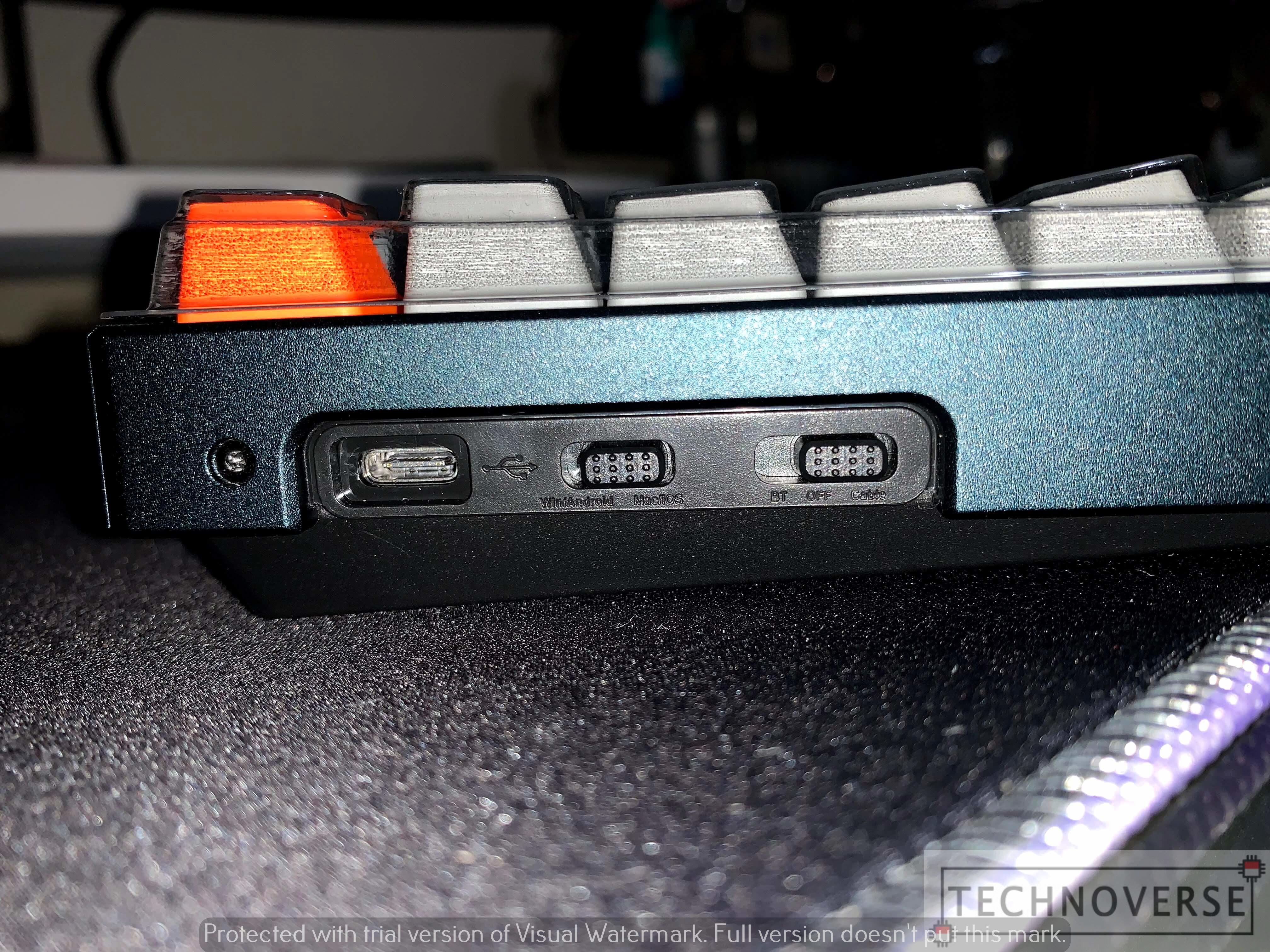 As for the keycaps, I'd say they're smooth and the finishing is quite satisfying to type on. By default, it uses the Mac layout, with Command and Option keys put in their appropriate place. Of course, since they give you both a keycap puller and extra keycaps for Windows, you can switch them at will. Additionally, this keyboard also supports Mac shortcuts on the function row such as media keys and display brightness. We'll talk more about the switch in the next section.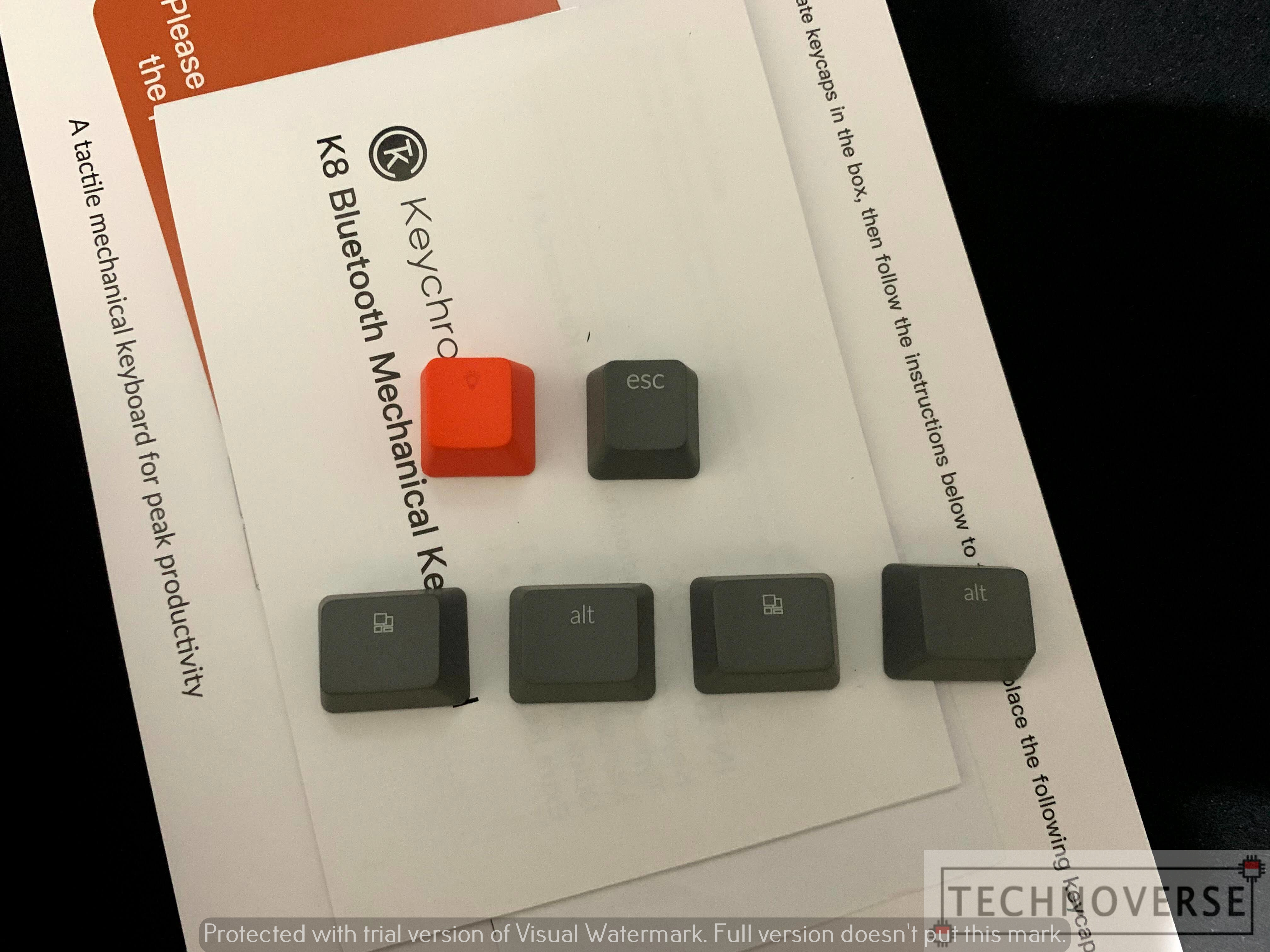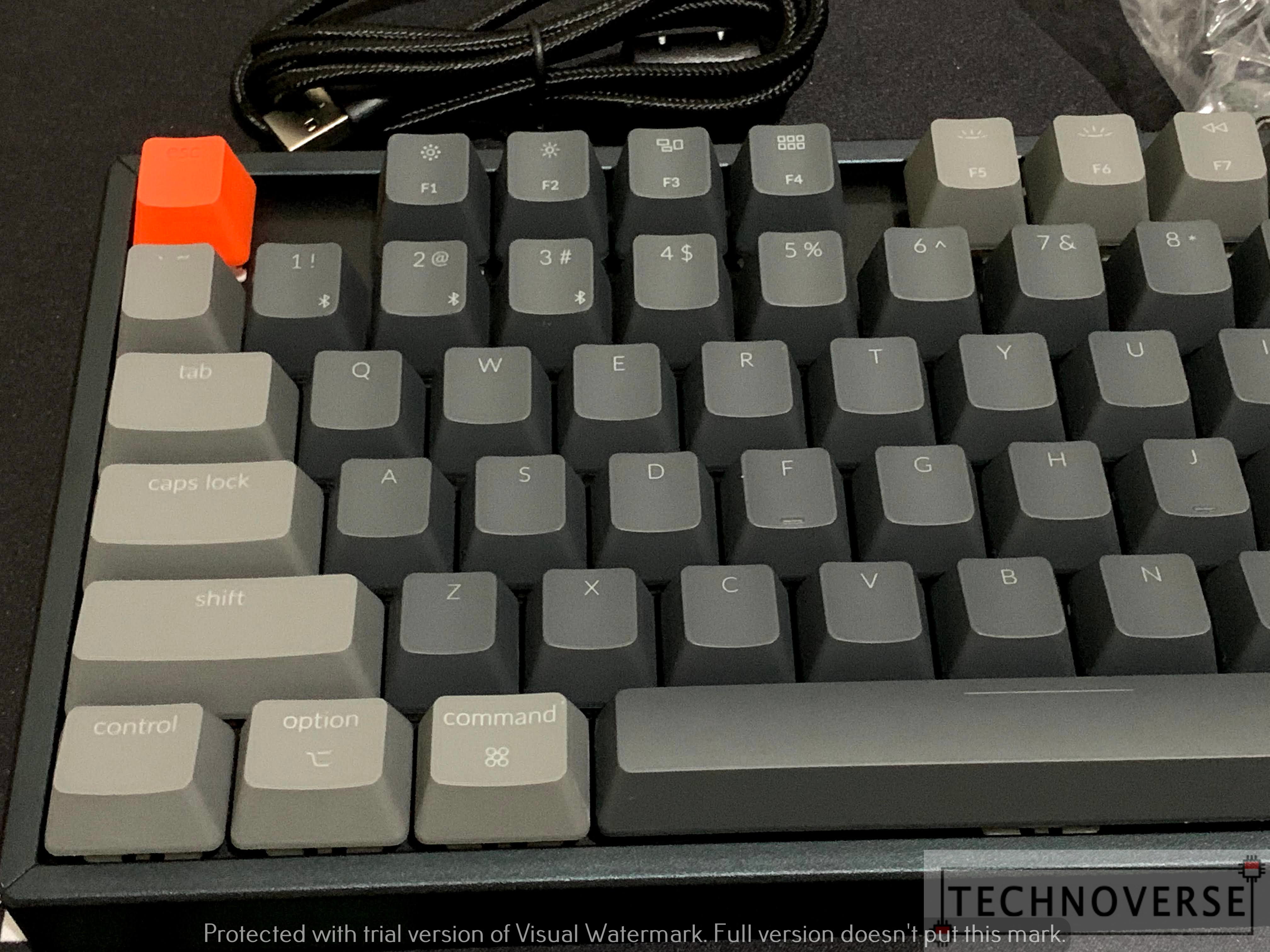 In conclusion, at this price, they provide quite a lot of extras. I love the keycap puller and the extra keycaps the most, since I tend to switch from Mac to Windows quite frequently.
Keychron K8: User Experience
Pairing
The Keychron K8 uses Bluetooth 5.1 for wireless connection. I've been connecting it with my PC with Bluetooth 4.0 dongle, and hardly found any problems. Connection is good, and I only saw a few noticeable lags and connection drops. In my opinion, this is still acceptable, since Bluetooth is more prone to connection issues compared to dedicated wireless dongles such as Logitech's LightSpeed protocol.
Pairing the keyboard is seamless. All I had to do was just click on Fn and hold either key 1, 2, or 3. Then, the blue Bluetooth LED will flash, signaling that it's entering pairing mode. Pair it with your device. Once it's paired to a device, it is registered to that particular number. The keyboard can connect to 3 devices simultaneously, but can only be used for one device at a time. To switch between active devices, simply click on Fn + number. The switching process is also quick, at around 1 second.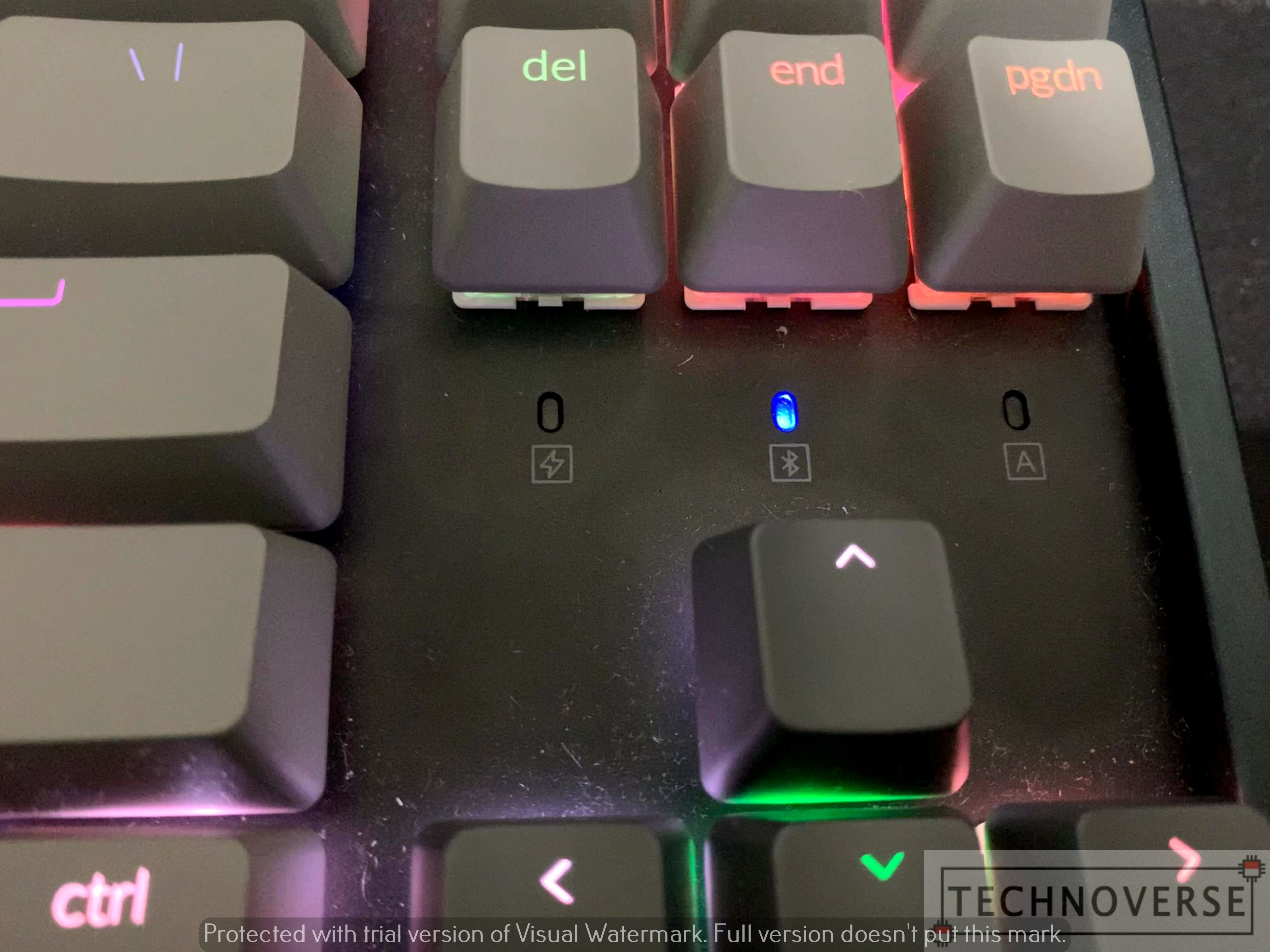 If you need to overwrite devices, simply re-pair the keyboard, and the previous device for that number will be replaced.
Side Switches
Being geared towards productivity, it's not surprising to see that the K8 supports both macOS and Windows. When the OS switch is put to Windows, the Command key will act as the ALT key, and vice versa. In case you don't know, some shortcuts also work on Android / iOS, such as CTRL + C or CMD + C.
There's also the mode switch, which lets you move between Bluetooth, Off, or Wired. They're pretty self explanatory, so I don't have to explain them again, do I?
As for the quality of the switches, well… Normally, when you slide a switch, you'll expect it to have that "Click!" sound, to assure you that the state has changed. However, this one doesn't. I don't know whether I'm on Off, Bluetooth, or Wired mode without looking at it. There's no feedback whatsoever. It's minor, but kind of annoying for me.
Keys and Backlight
While I appreciate the RGB lights, I sometimes do feel like wishing I had taken the white one instead. Why, because I don't think the RGB is that useful here. Sure, it's pretty and comes with a few lighting tricks… But at the end of the day, it doesn't matter that much, since this keyboard isn't focused on gaming and there is no software support to control the lights. The RGB backlight alone cost around $10 (~IDR 100,000), or $20 (~IDR 300,000) if you also upgrade to aluminum frame. Unfortunately, currently there's no aluminum frame + white backlight option.
Now, for the keys. Keychron teamed up with Gateron for the colored mechanical switches. The one I bought is blue, since I love the blue's tactile and clicky keys. As a reference, I've been using Razer's green switch (equivalent to blue) and Logitech's blue GX keys for quite a while now. Compared to those two, the Gateron's are a bit more… springy, and have more key travel. It didn't take long for me to get used to it.
Battery Life
The Keychron K8 sports a 4,000mAh battery, which translates to 72 hours of lifetime with RGB lighting on, and as far as my usage, it lives up to the expectation. By default, after being idle for 10 minutes, the keyboard will go to sleep, and it will wake up almost instantly when you start typing. You can disable this behavior entirely by holding Fn + S + O keys for 4 seconds.
In case you forgot to charge the keyboard, the Keychron K8 also supports wired mode, by connecting the keyboard to your device using the included cable, simultaneously charging it.
Oh, and did I mention that the K8 uses USB-C? For me, who has been trying to fully switch to USB-C, that's a very, very good news. Now I can bring just a single cable for most of my devices! (Thanks, Apple…)
Unfortunately, another minor complain I have with the K8 is that you cannot know how much battery life it has left. Yes, you may be able to view the battery life in some OS, but I haven't found any shortcut keys to view it directly in the keyboard. The power LED only supports 2 colors: green for full charge, red for otherwise.
Keychron K8: Conclusion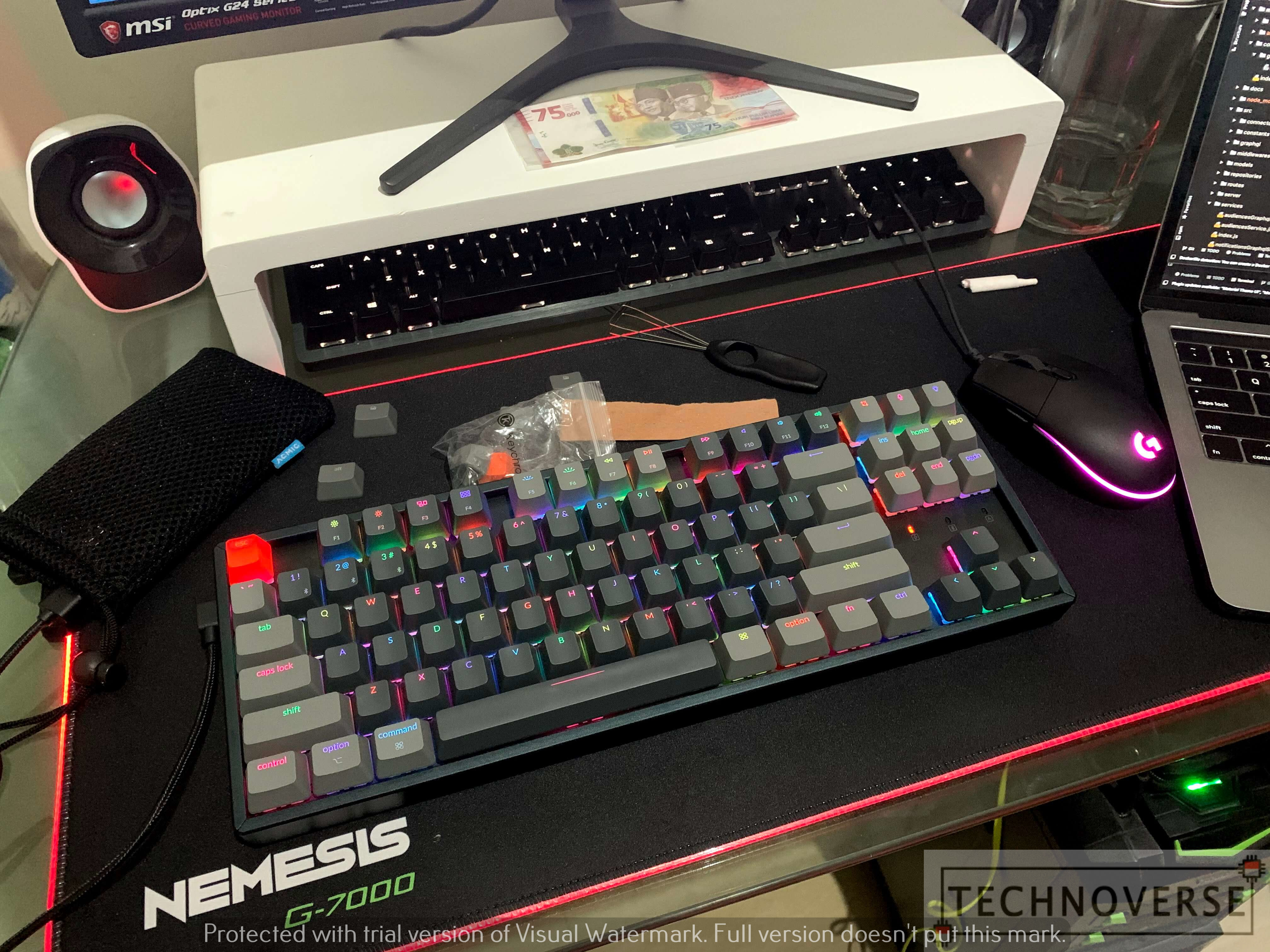 There's not much to complain about the Keychron K8 Wireless Mechanical Keyboard. It's compact, reliable, and affordable, with some nice extra features like two-angle stand, switchable keys and switches, and dedicated OS modes. I've been liking it so much that most parts of this review is written using the very keyboard.
PROS
Uses USB-C for Charging and Wired mode
Affordable
Long battery life
Compact, albeit thick and quite heavy
CONS
The side switches don't have noticeable feedback
No shortcut for viewing battery life
RGB is not really useful…
So here's the conclusion: If you need a side mechanical keyboard for travel, or for work, I'll gladly recommend this keyboard… although I'll advise you to get the model with white backlight instead. I don't think the RGB is worth $10, unless you want the aluminum frame.
Well, I guess that's all for now, Folks. I hope this review can be useful, and as usual, I'm open to questions and suggestions, since this is my first hardware review after quite a long while. Finally, thanks for reading, and I'm looking forward to your next visit. Stay safe, stay healthy! 😀