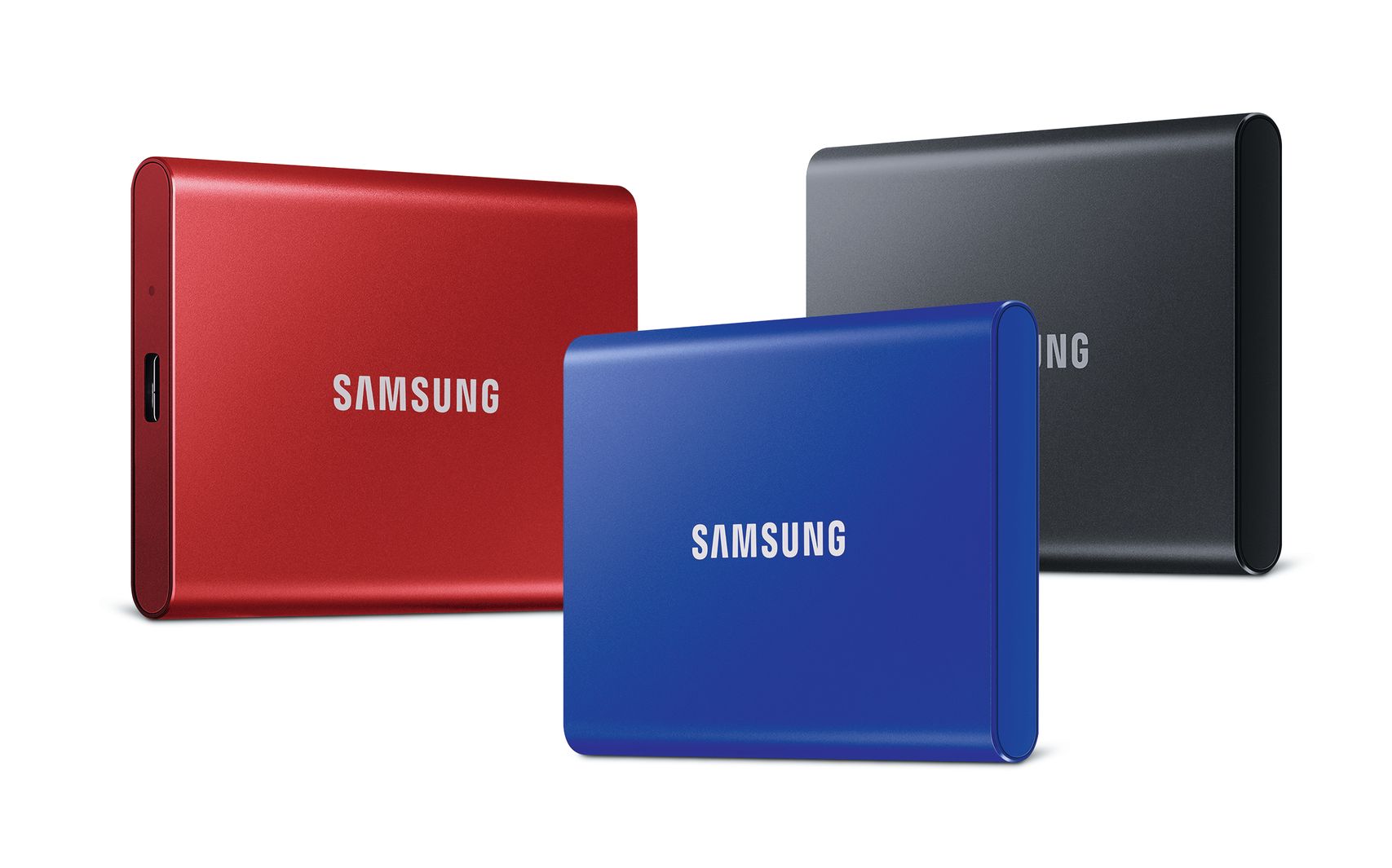 Anda berbicara Bahasa Indonesia? Baca artikel terjemahannya di sini!
Earlier this year, I bit the bullet and bought an M1 Mac Mini. I bought it because I was getting frustrated with my aging Intel MacBook Pro from work. It was getting significantly slower, and the thermals were hellish. The sensors quickly hit 60 degrees Celcius when idle, and increases exponentially when building projects.
The M1 CPU is truly a marvel. It already run circles compared to my aging 2018 i5 Intel MacBook Pro, much more power efficient and affordable, too. That's why I was so excited for the latest M1 Pro and M1 Max for the new, higher end MacBook Pros; so excited that for the first time, I asked myself, "Do I need that much power?"
The only grit I felt about my new machine, is the limited RAM and storage. Apple has long been known for charging top dollar for storage and memory upgrades. Add that to Apple's retail absence in Indonesia, it's not only difficult getting upgrades, but also very, very expensive. That's why I decided to get the base Mac Mini model with 8GB of RAM and 256GB of storage.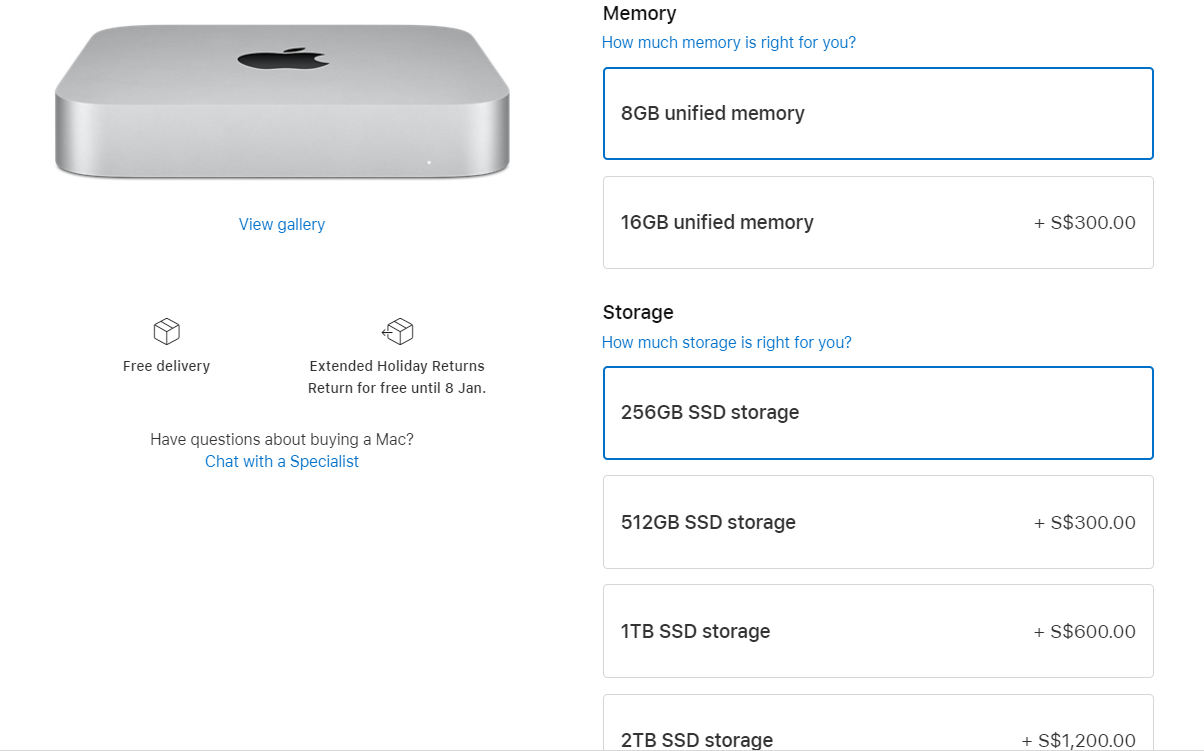 There's nothing I can do with RAM, since it's soldered into the SoC, but I can still expand the storage with the USB-C / Thunderbolt ports. That's why I bought Samsung's T7 Portable SSD. I've been using it for more than a month to run my work projects off of it, and I think I'm ready to give my verdict about this little external storage.
Disclaimer: In this review, the product is tested on a base M1 Mac Mini model, some things may vary when you use it on Intel Macs, or even Windows PCs
Samsung T7 Portable SSD: Design and Packaging
Just like Samsung's recent products, the packaging is minimalistic and sophisticated. I got the 500GB model for IDR 1,600,000 or ~U$110, and it claims to be compatible with Android, iOS, and macOS.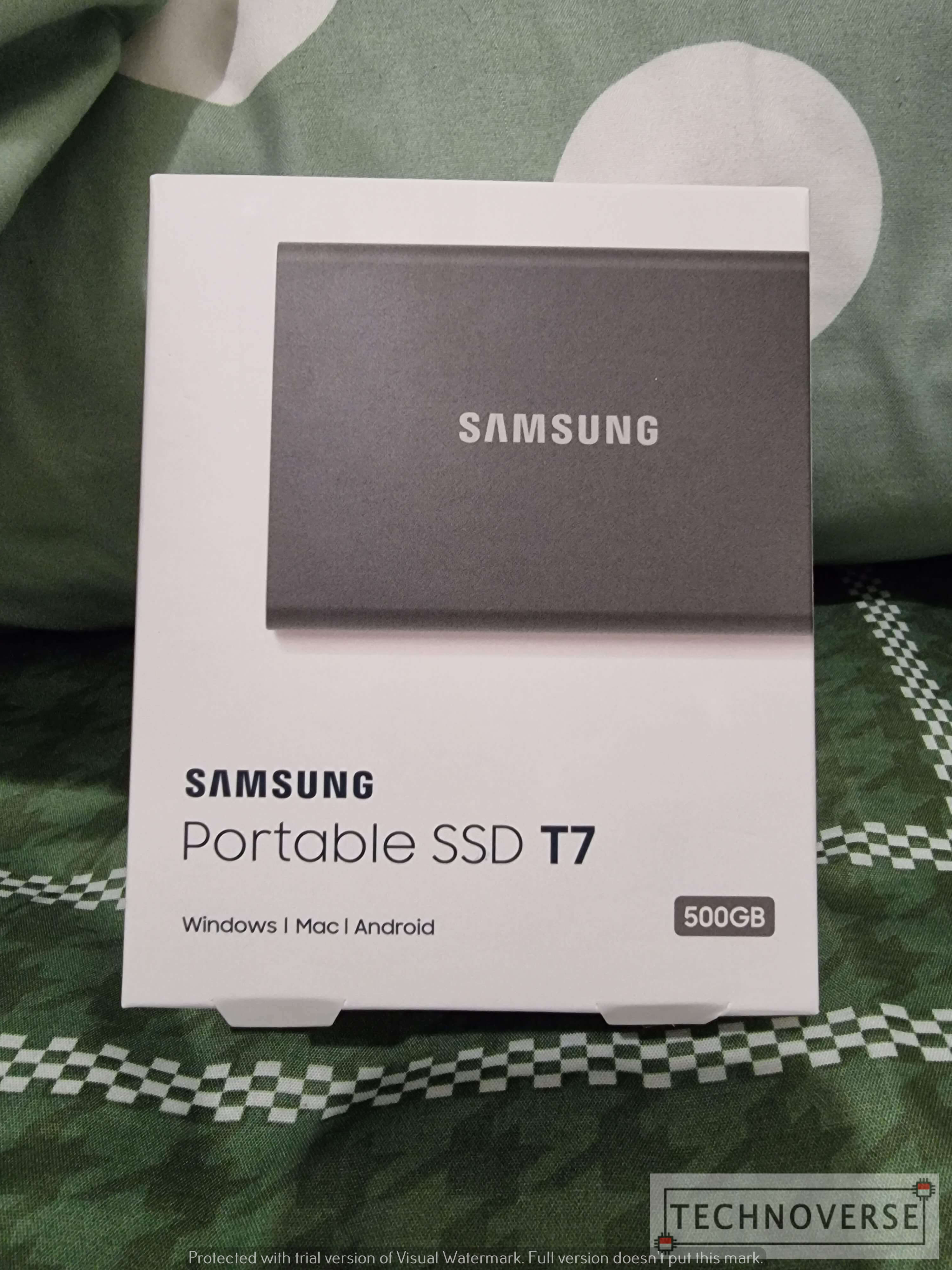 Open the box, and you'll find the following items:
Samsung T7 Portable SSD
USB-A to USB-C cable
USB-C to USB-C cable
User Manual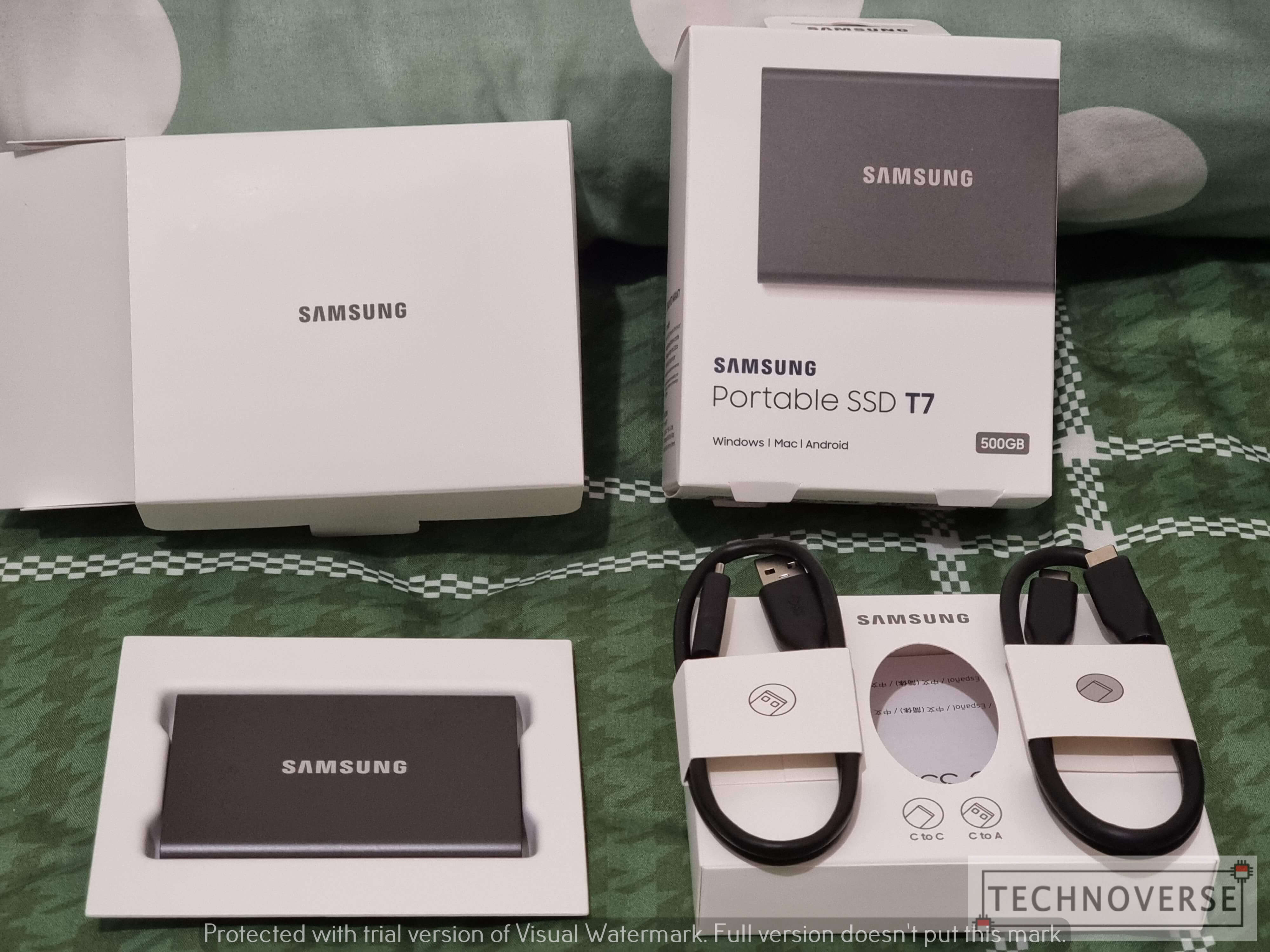 Picking up the SSD, I was amazed at how small, thin, and light the device is. At the size of a credit card, this little gadget can store 500GB worth of data. 10 years ago, something like this wouldn't have been possible.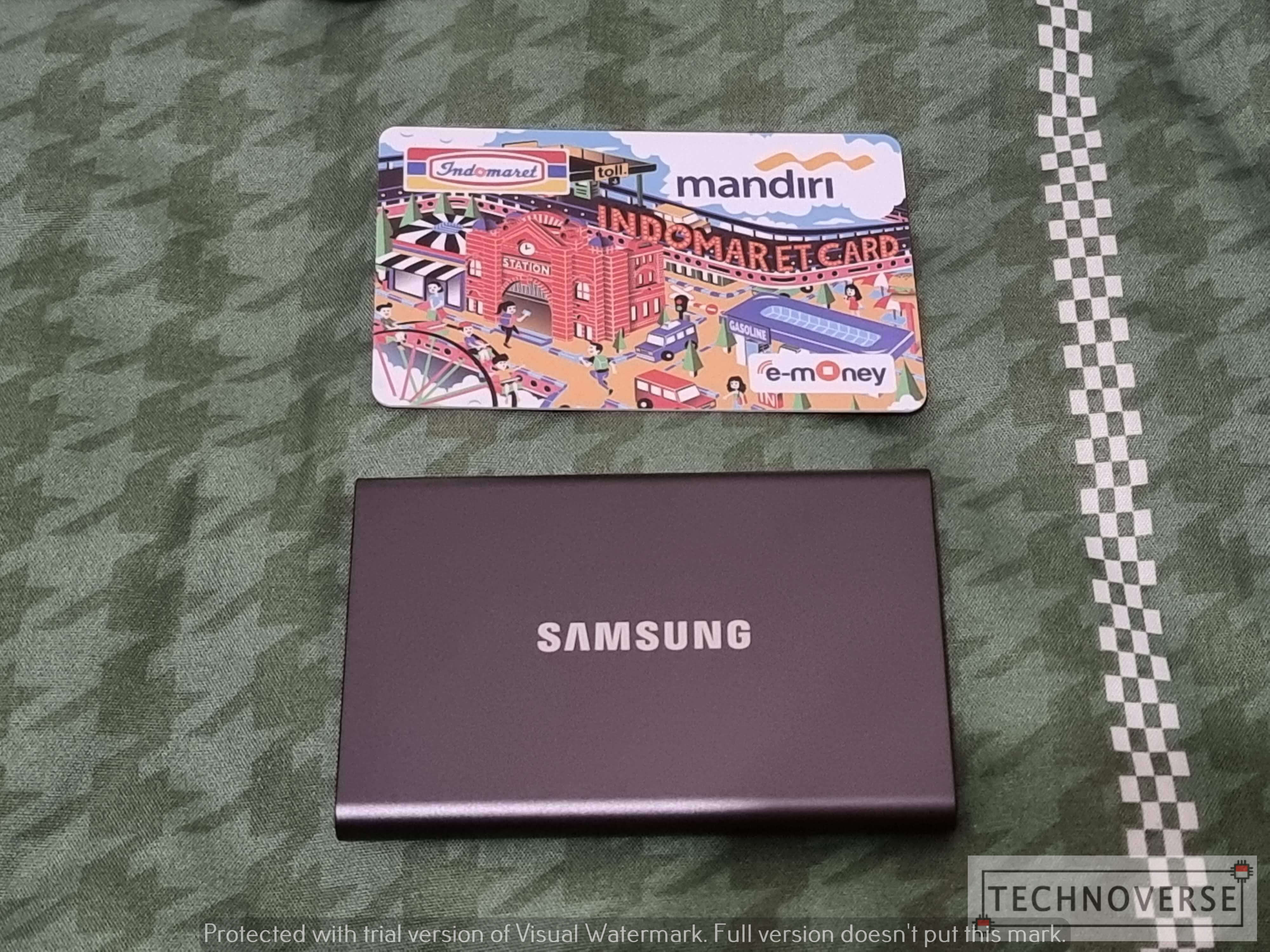 Anyway, the T7 Portable SSD is connected by USB-C (not Thunderbolt, mind you), and has a small blue LED next to it. The light tells you if it's connected, and if it's currently running a read / write operation.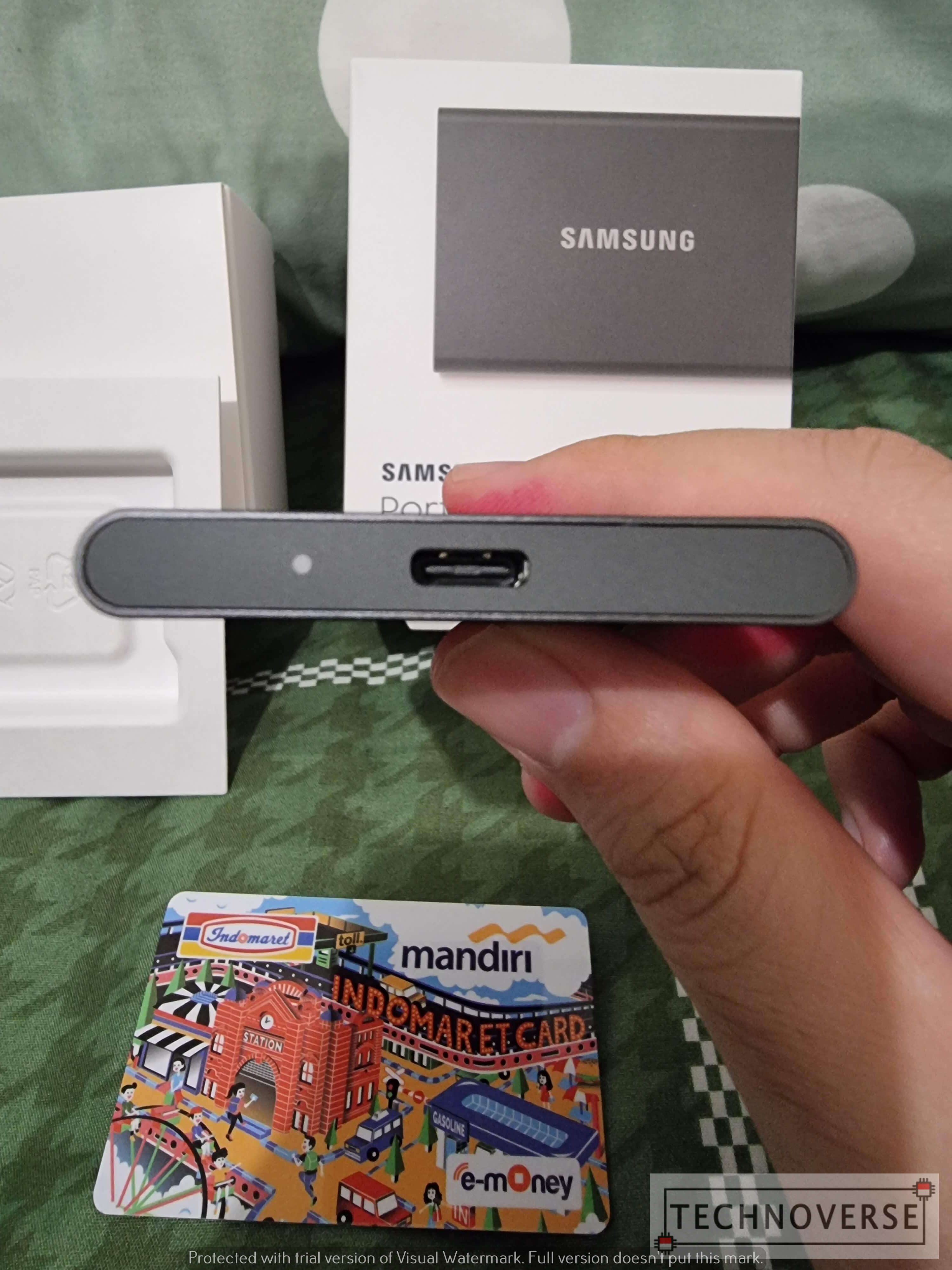 For convenience, Samsung pleasantly includes both a USB-A to USB-C and a USB-C to USB-C cables. This means that you can use it for both older and newer laptops. The T7 Portable SSD is plug and play, meaning that you'll just plug it in and you're ready to go.
Samsung T7 Portable SSD: Software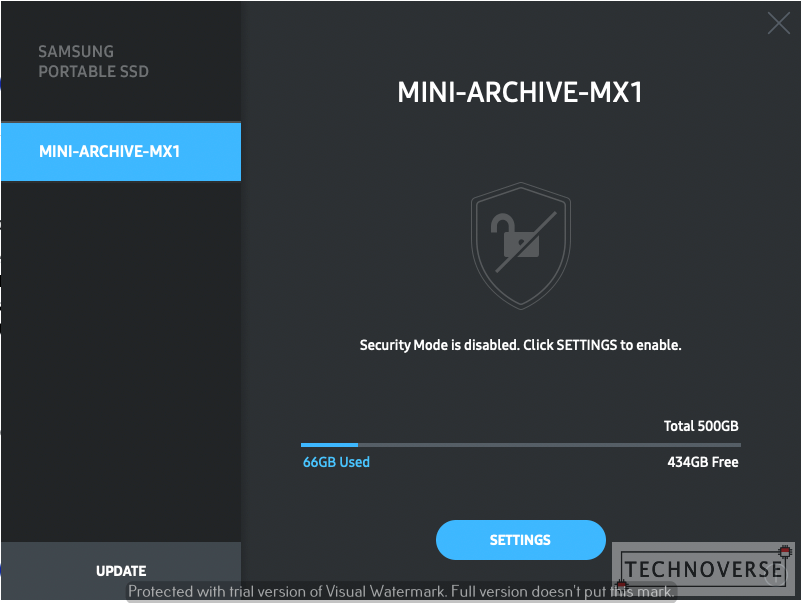 Like all SSDs, the T7 Portable SSD also has a companion software called Samsung Portable SSD. The installer is actually included in the SSD, but since this unit is produced before M1 Macs are launched, this version is not compatible with it. I need to manually download the correct version from Samsung's website.
Unfortunately, this Portable SSD software has something called kernel extension, something which is 'attached' to your OS, and it seems to be common in UNIX world. Unfortunately, starting with macOS 11 (Big Sur), kernel extensions are restricted by default. To allow kernel extension installations, you'll need to manually reduce the security of the OS. Here's how you can do it: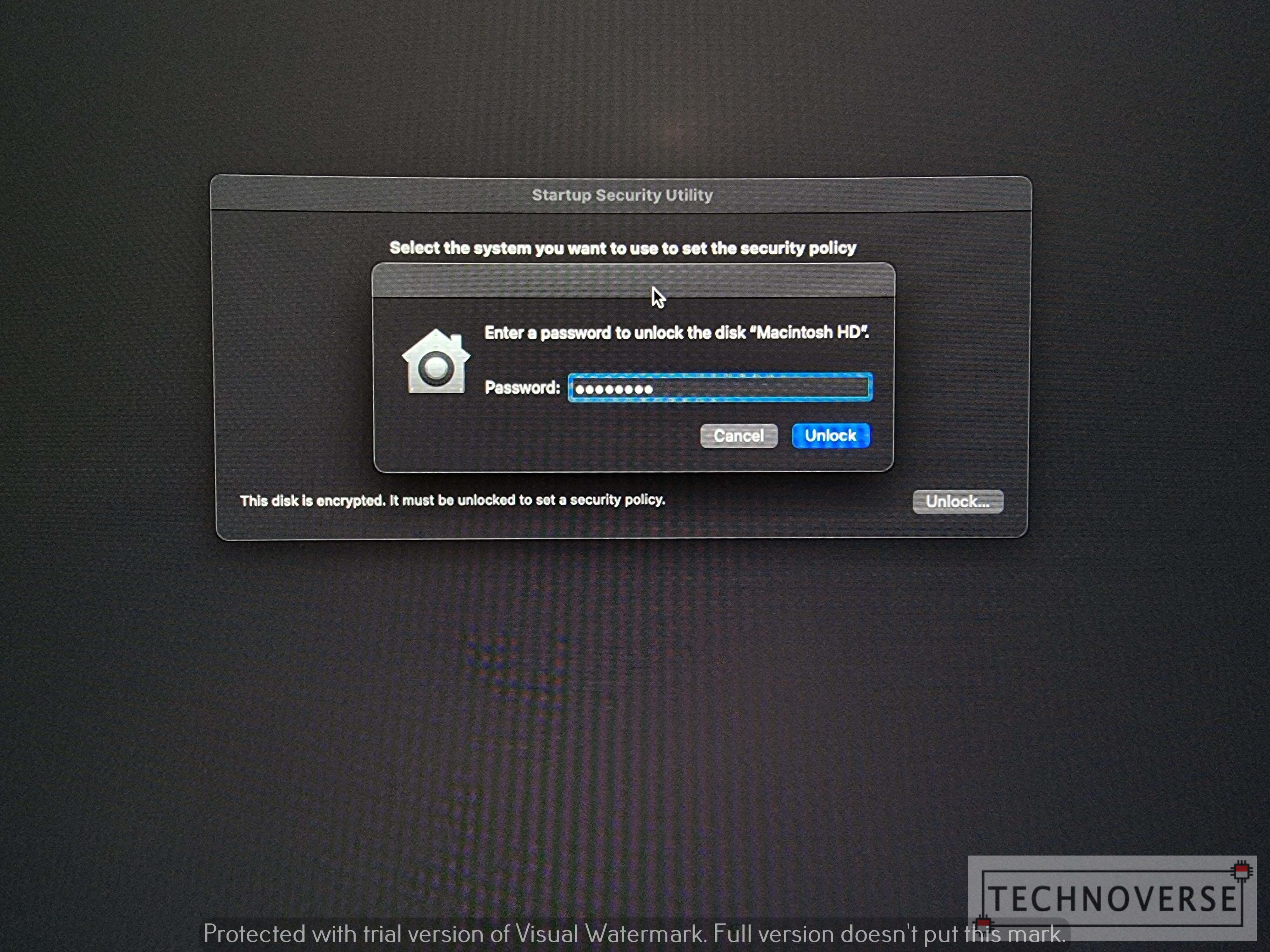 Download updated software from Samsung's site here.
Once installation is finished, go to RecoveryOS by holding down the power button (or Touch ID, if you're using MacBooks).
You'll need to authenticate the settings by inputting your password.
By default, your drive is encrypted, can only be unlocked using your Mac password.
Click Security Policy.
Choose Reduced Security, and Allow user management if kernel extensions from identified developers.
Click OK, and re-authenticate again using your Mac password.
Restart your Mac.
Go to Security and allow installation for Samsung software.
Restart your Mac (again)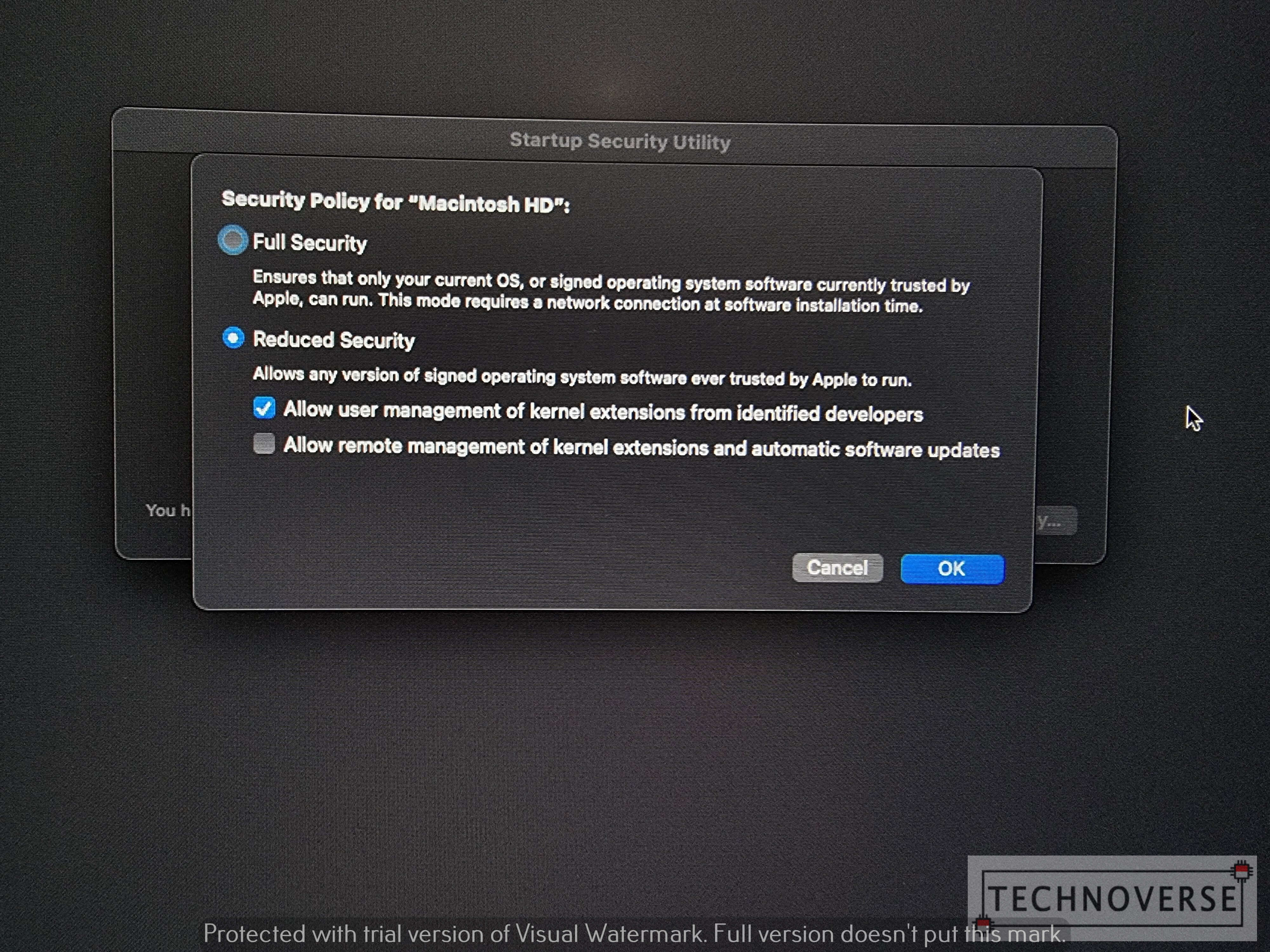 After going through those steps, you'll expect that the software to be overwhelming. Unfortunately, no. The software only offers essential functions, like the ability to encrypt your drive with a password and upgrade your firmware.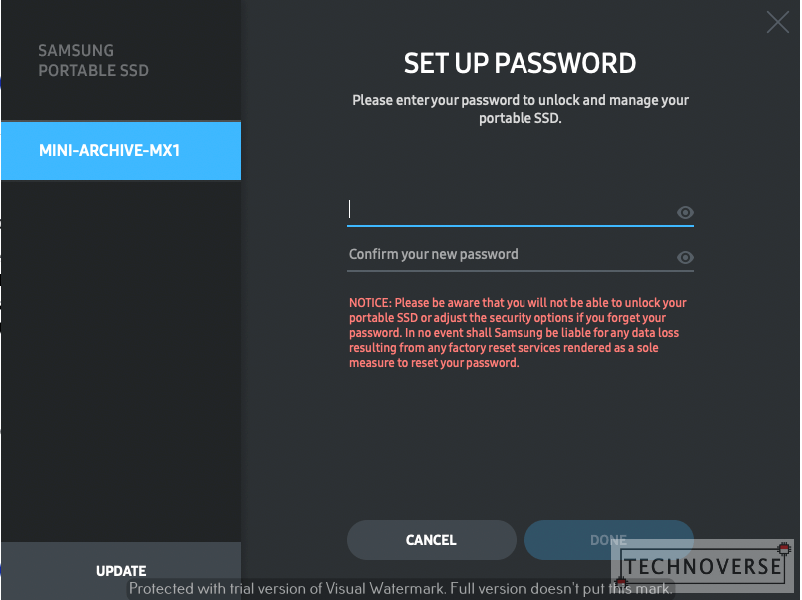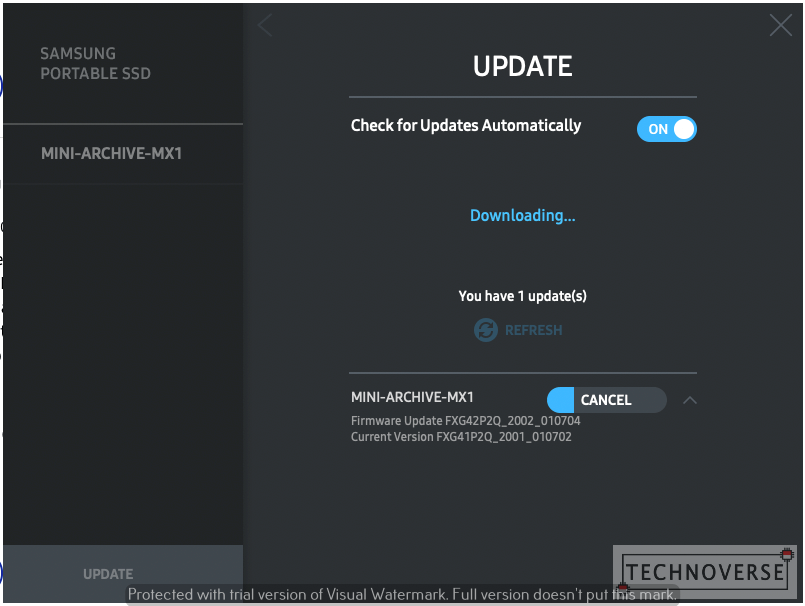 The only data you can see from the software is just your drive name and capacity. I thought I could see the drive health like other SSDs, but it's nowhere to be found.
Samsung T7 Portable SSD: User Experience
Despite my disappointment in the software department, the drive itself performs quite well. I've been running my projects off of it, and I don't seem to notice any delay when compiling or loading the files. One project that I run is a React Native with the size of around 5GB including the dependencies.
The only beef I have when using the drive is that it gets hot very quickly. I know that M.2 SSDs get hot very quickly, but not this fast. Perhaps it has to do with the T7's metal enclosure. Some external SSDs I know use either plastic or rubber for its enclosure, which are more resistant to heat.
…And like most electronics, heat decreases performance. When idle and in normal temperature, the Samsung T7 Portable SSD scores a decent read / write performance: ~689MB/s and ~654MB/s. Keep in mind that the T7 is using USB 3 as its connection instead of Thunderbolt, so there's no way for this SSD to reach NVMe-class speed.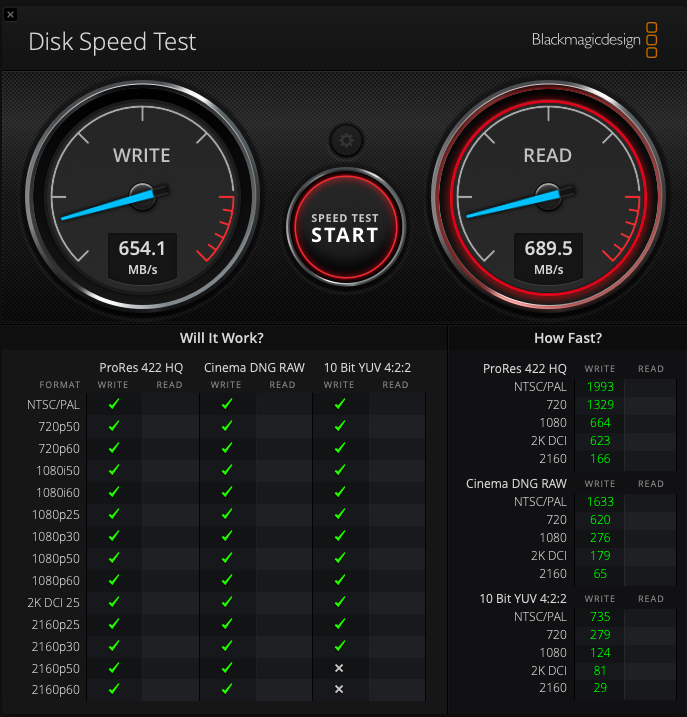 After a few minutes of usage and increase of temperature, the performance is throttled down to ~663MB/s read and ~268MB/s write.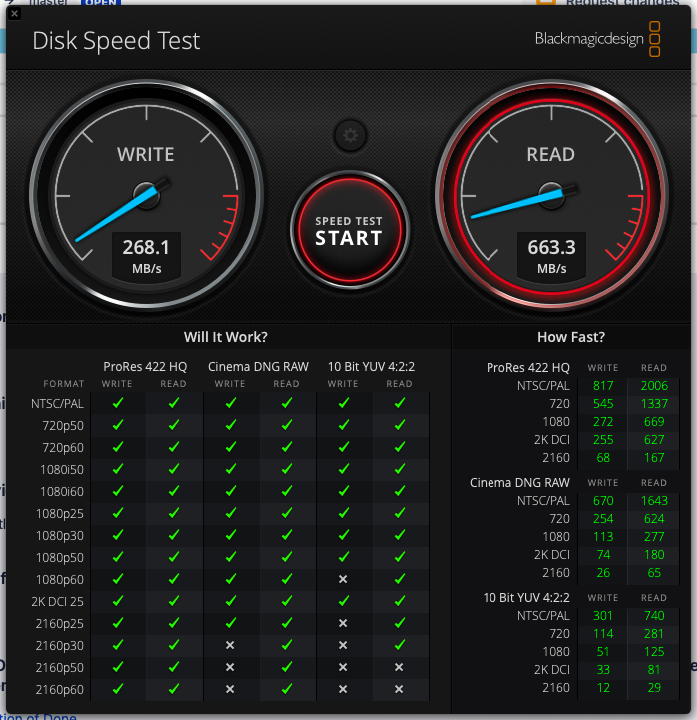 Still, despite the dip in performance, the Samsung T7 Portable SSD is still much faster than traditional spinning drives. Just make sure to use it in a cold room to prevent the thermal throttling.
Samsung T7 Portable SSD: Conclusion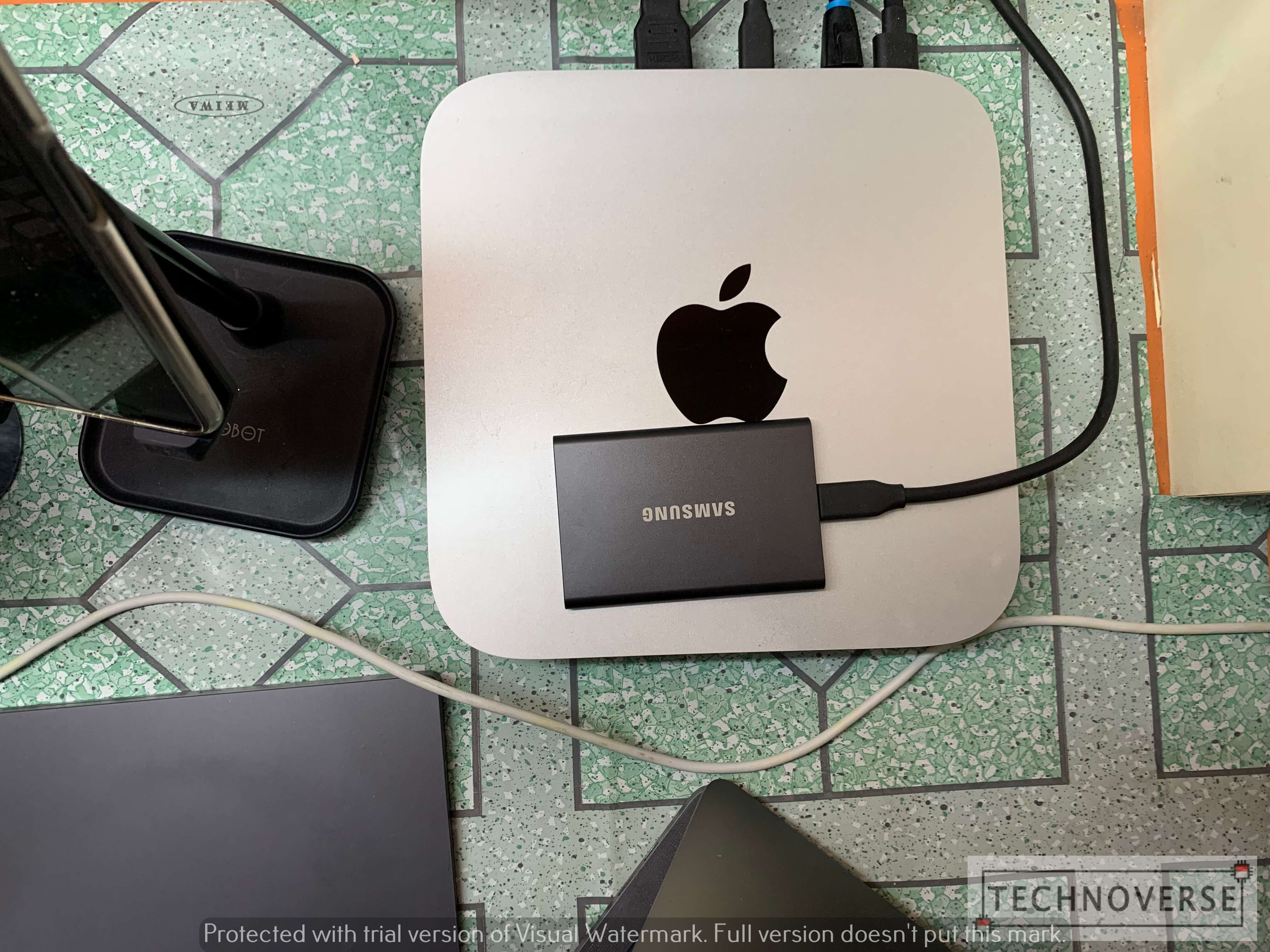 The Samsung T7 Portable SSD is recommended for those who are looking for a sleek, thin, and light external SSD, whether to expand your Mac's limited storage, or just for everything else. Just keep in mind that installing the companion app for macOS 11 and later is a chore, and the sleek metal enclosure is there at the cost of thermal.
Pros
Sleek and compact design
Included cables are complete
Fast performance
Cons
No information on lifetime. Samsung just offers 3 years of warranty. Always back up your files, Folks!
SSD software, despite being a chore to install on Macs, does not offer anything other than password encryption and firmware upgrade
Gets hot rather quickly
Well, I guess that's all for now, Folks. Hopefully, this article is useful, especially for those who are in the market for an external SSD. As usual, if you have any questions, don't hesitate to sound them off in the comments section below. Finally, thanks for reading, and see you in the next article! 😄