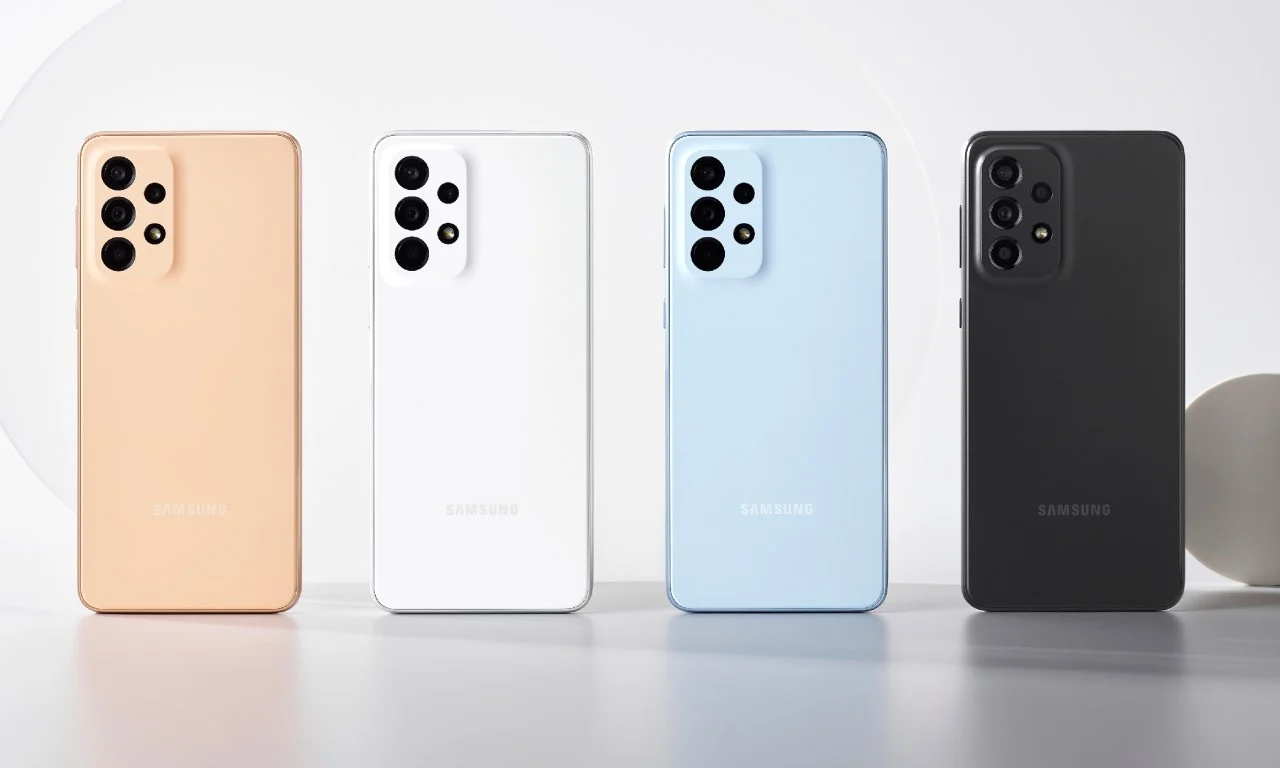 Anda berbicara Bahasa Indonesia? Baca artikel terjemahannya di sini!
Samsung's A series have always been Samsung's tip of the spear to fight in the midrange section, the hottest section in Android space. One of which is the A3X series, which is usually placed on the lower end of the line. However, this time, the A3X series seem to have ranked up a bit, closing the gap with its bigger sibling, the A5X series. Today we're going to look at the A33 5G, and see if Samsung is still a worthy contender in the midrange market.
As a disclaimer, we're talking about the middle option here: 8GB of RAM and 128GB of storage.
Samsung Galaxy A33 5G: Design and Packaging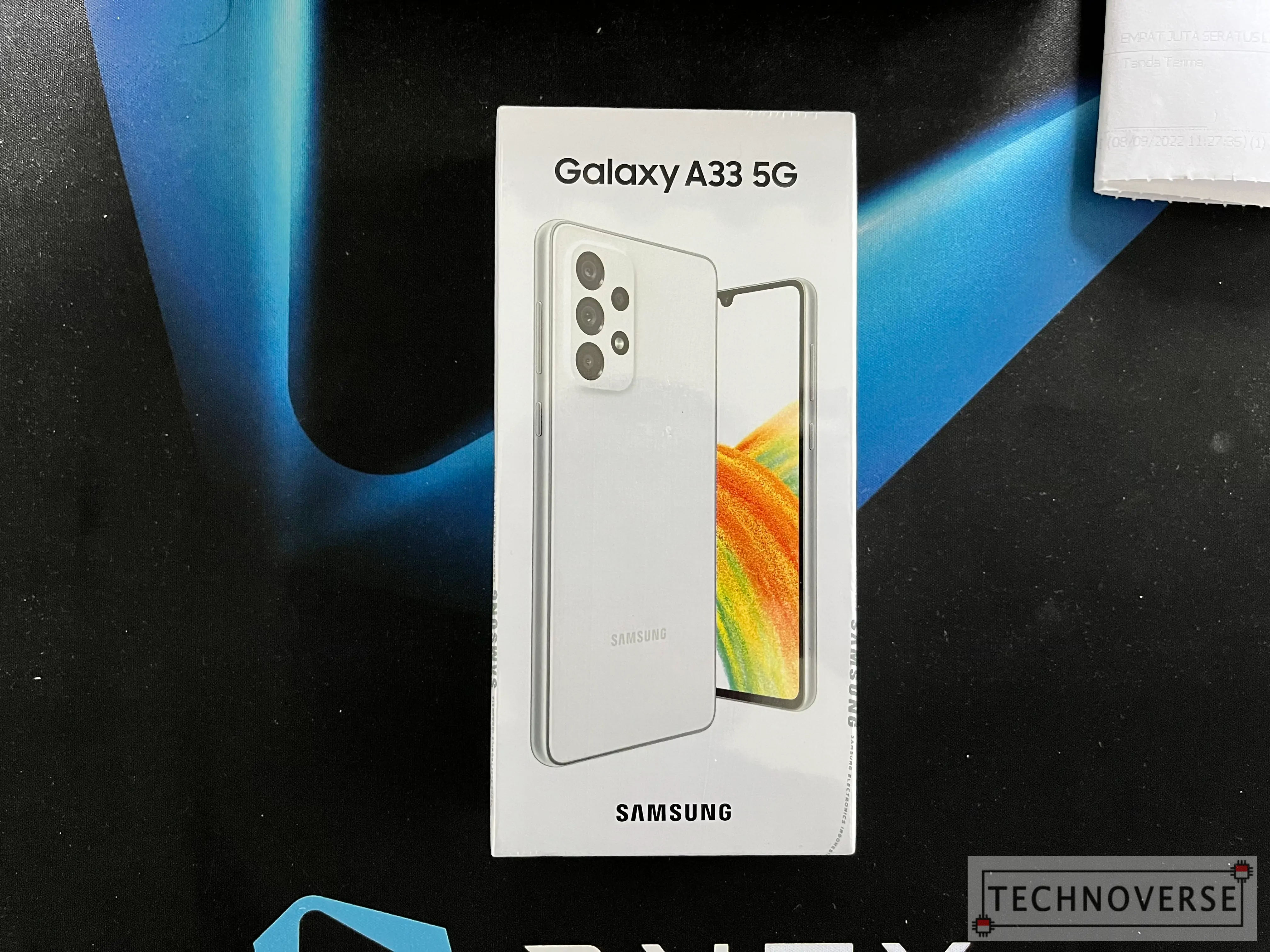 From the Galaxy A33 5G's thin box, you'll immediately notice that something is missing. That's right, Ladies and Gents, the Samsung Galaxy A33 5G no longer includes a charger in the box. Samsung is still generous enough to include a USB-C to USB-C cable, though. So, what do we get in the box?
Samsung Galaxy A33 5G
USB-C to USB-C cable
SIM Ejector
Documentations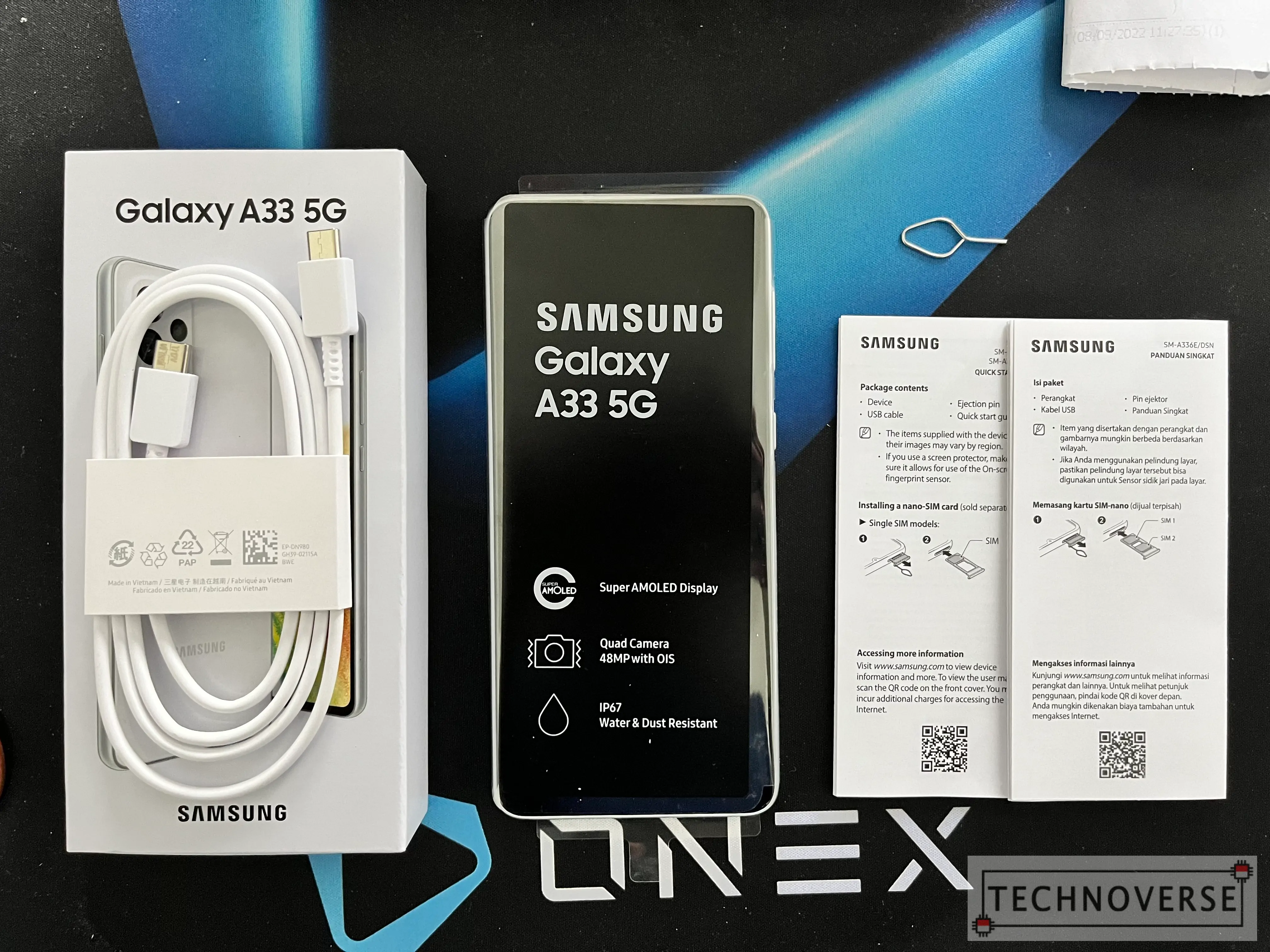 Yep, that's all. No case, no screen protector, nothing.
Anyway, let's talk about the phone. Despite the minimum contents, the phone still feels sturdy. The back is made of polycarbonate, yes, but its matte surface feels kind of expensive and good to the touch. It actually reminds me of Nokia's now-extinct Lumia line. At the time, Nokia was very successful in creating phones with polycarbonate that actually looks great and expensive.
Anyway, on the front, there's the roomy 6.4″ FHD+ 90Hz Super AMOLED display, along with a teardrop notch that houses 13MP selfie camera and in-display fingerprint. The bezels are quite thick on this phone, but still acceptable in this price range.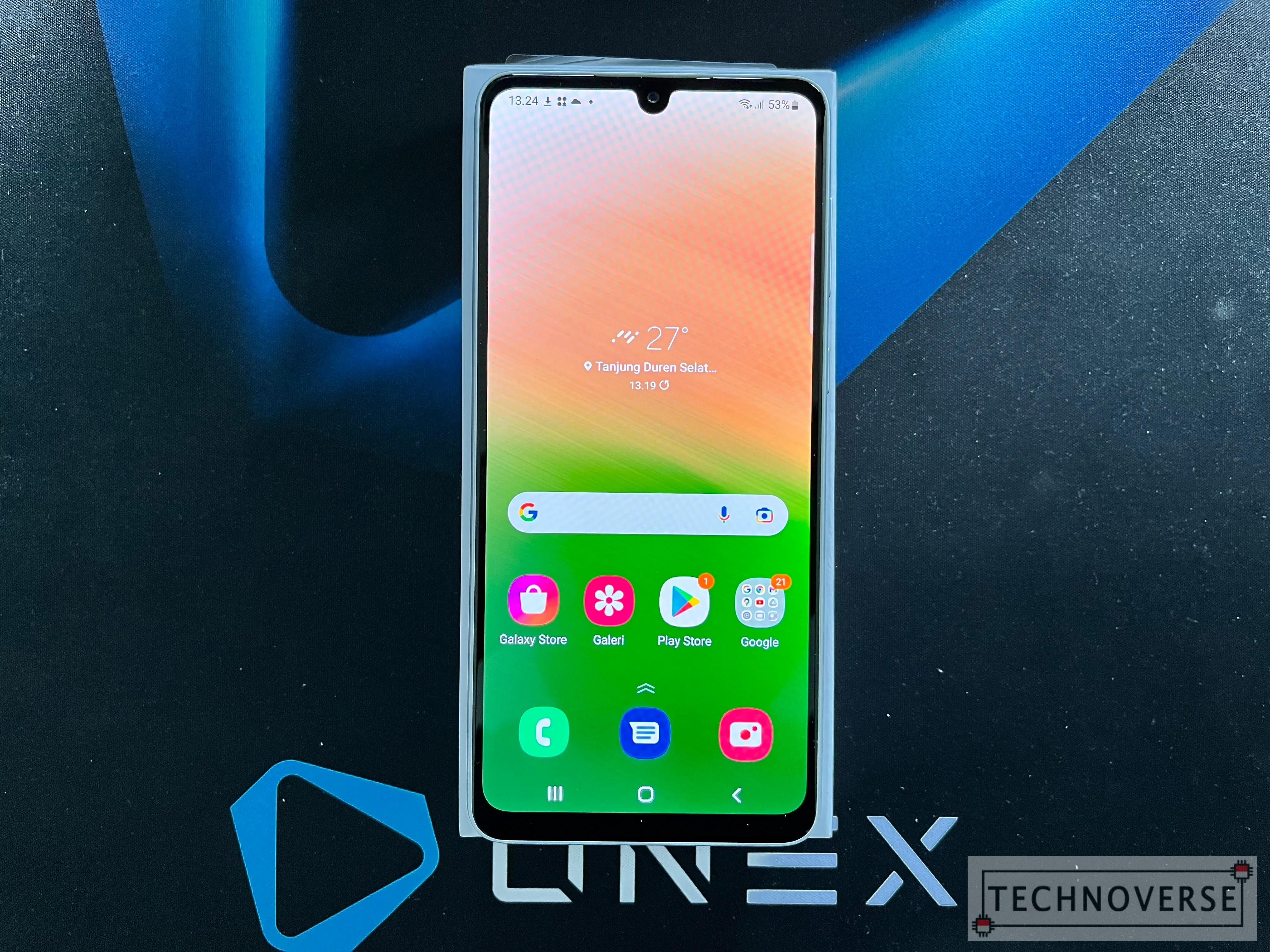 On the back, there are four cameras positioned similarly as the S line, which is what Samsung's been doing, streamlining their design, which could either be good or bad, depending on your point of view.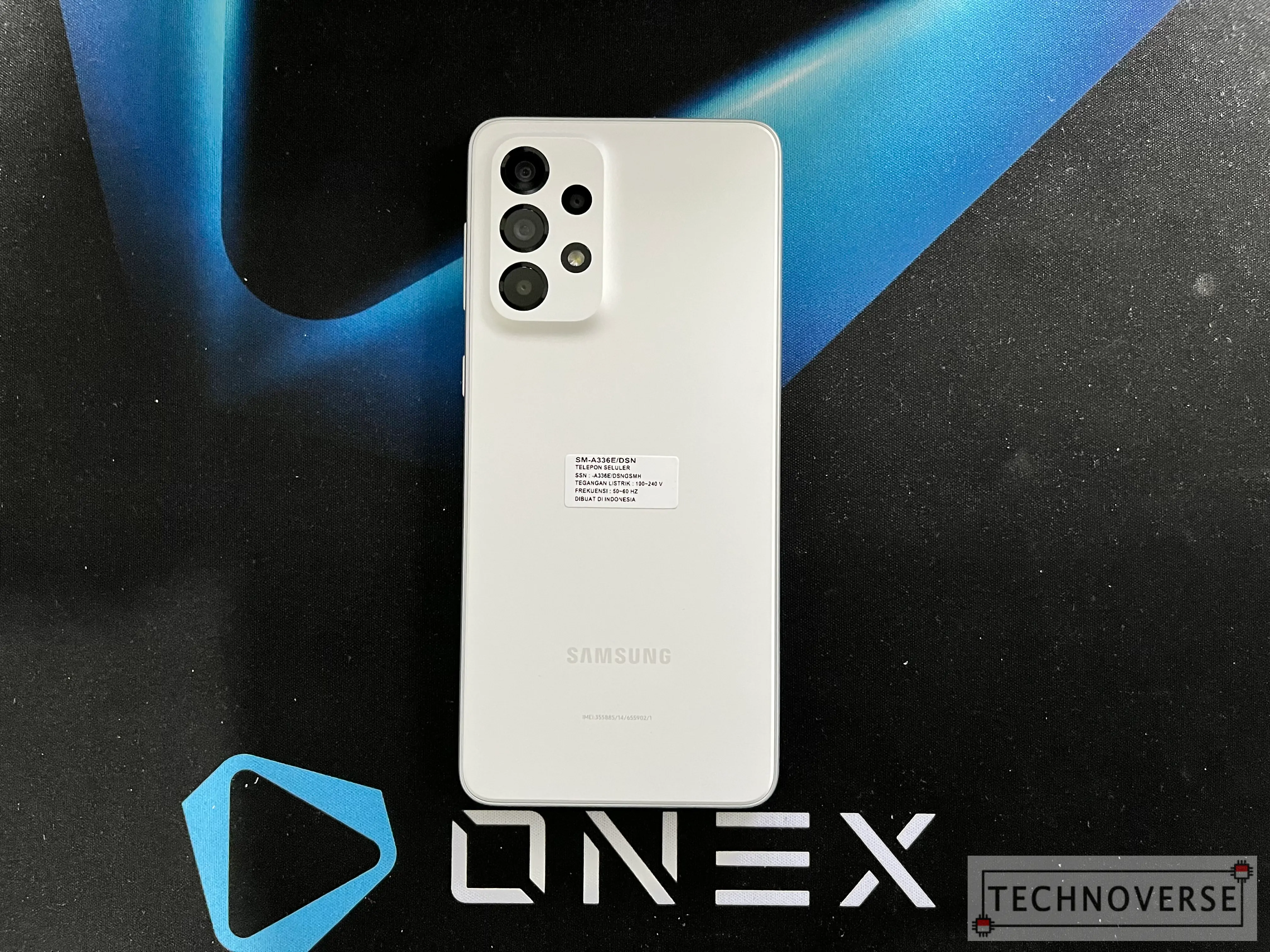 On the top, there's a microphone and SIM tray, which is dual-SIM hybrid, meaning that you'll need to either choose dual SIM or single SIM with a microSD.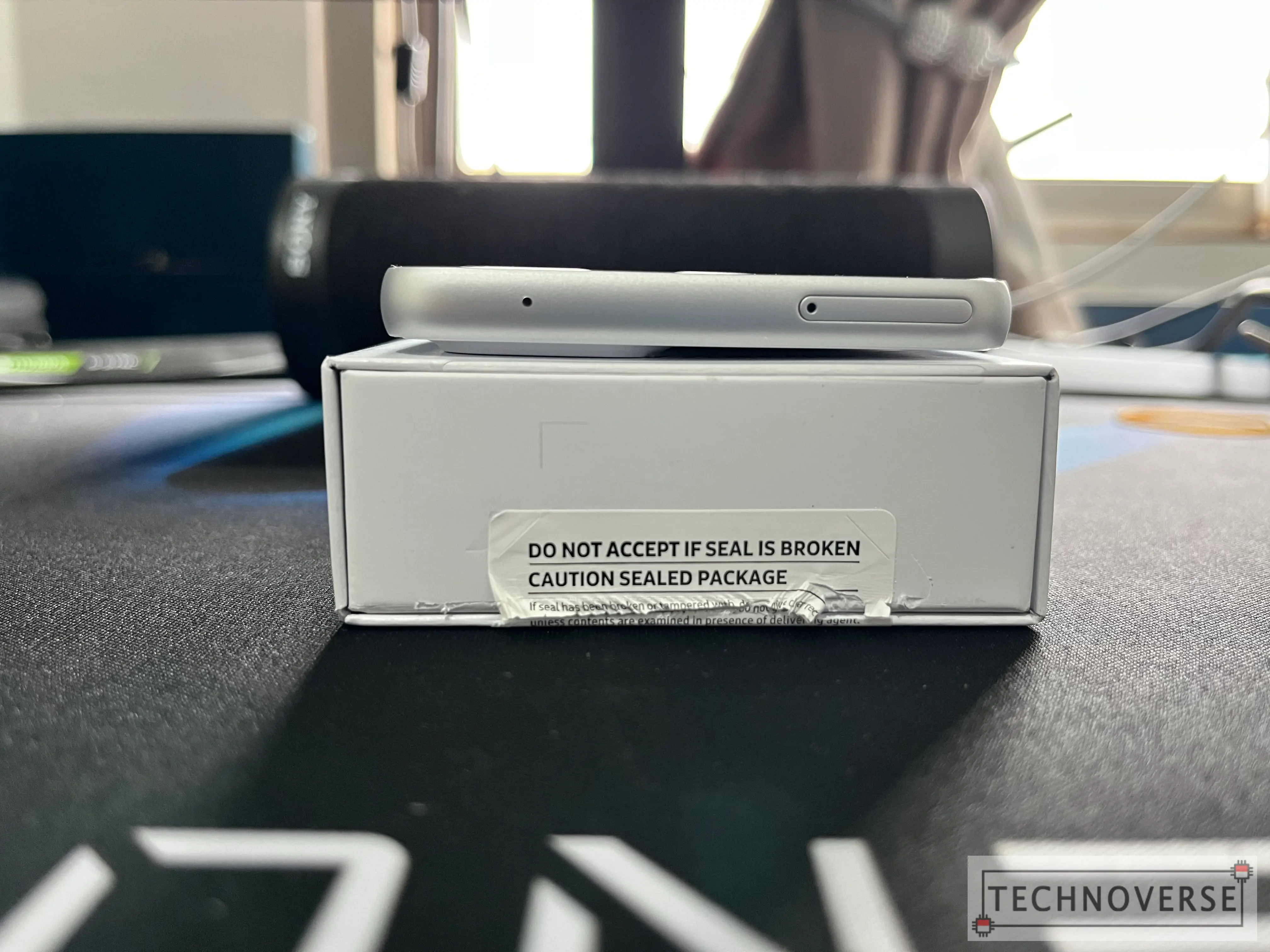 Oh yes, since this phone has IP67 rating, the SIM tray has protective rubber near the edge, possibly to prevent water from coming in.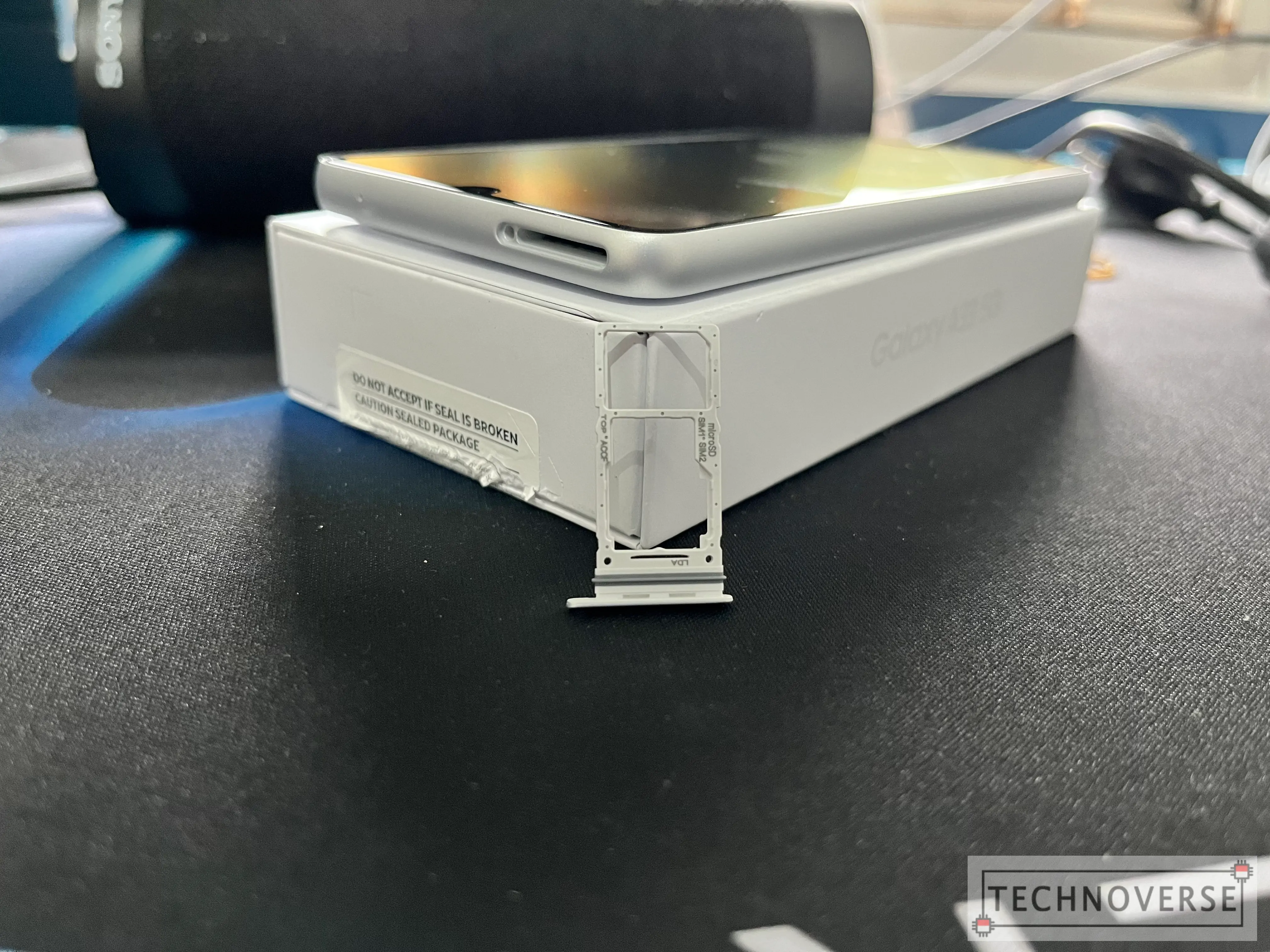 On the bottom, there's another microphone, a speaker grille, and a USB-C port for charging and data. Nope, there's headphone jack here.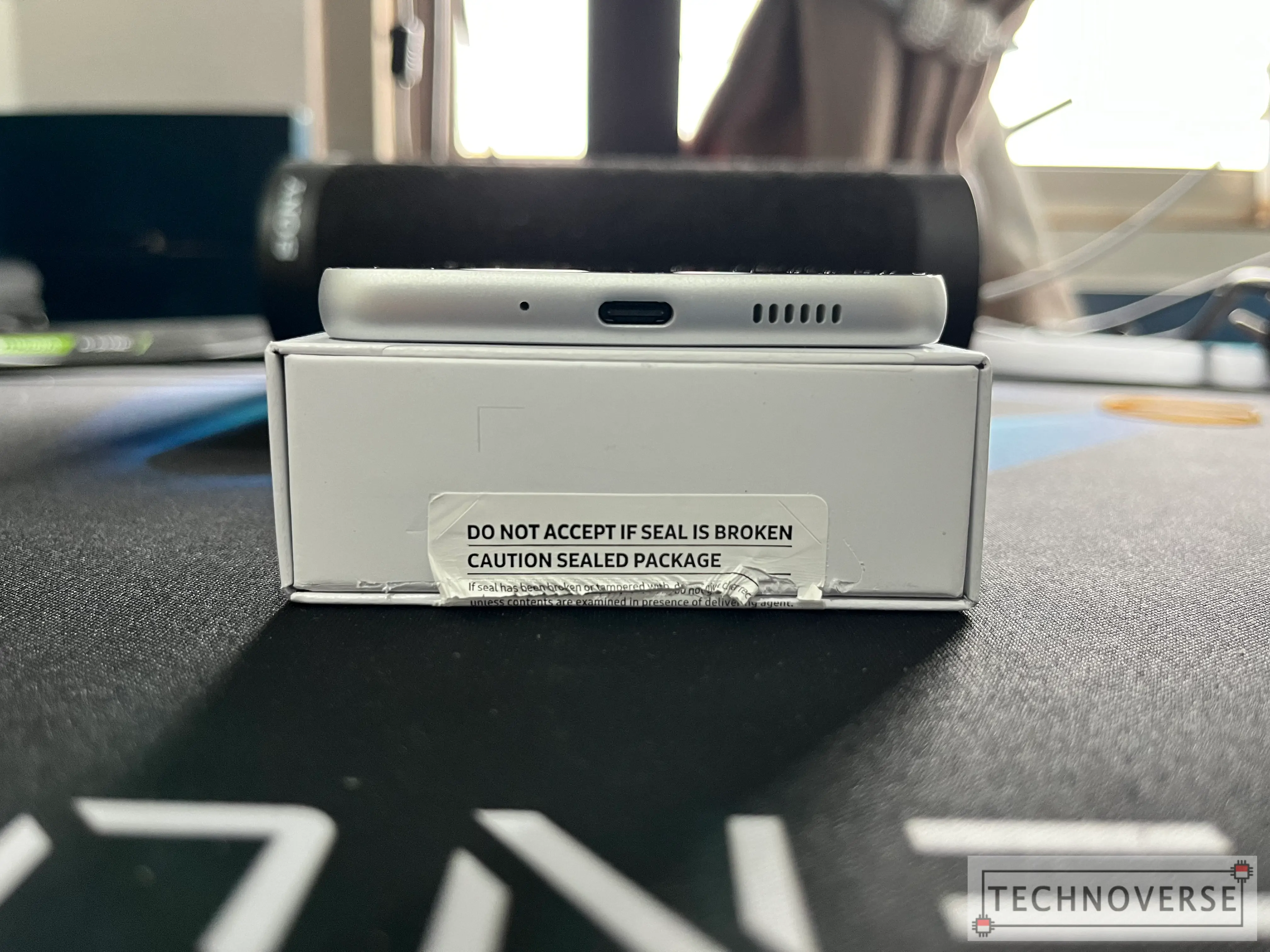 On the right, on the plastic frame, there's the usual volume rocker and power buttons.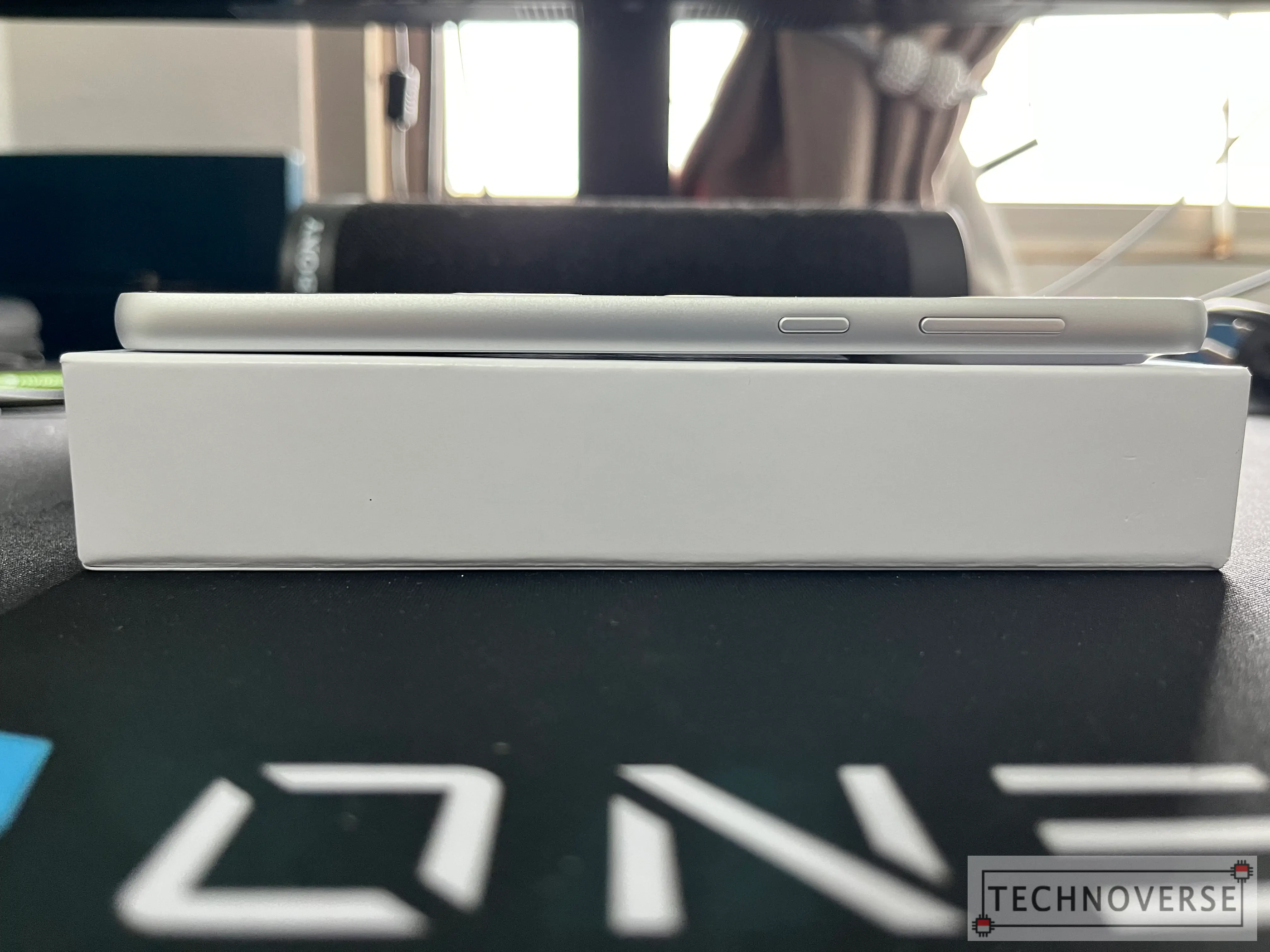 One the left, nothing, it's clean.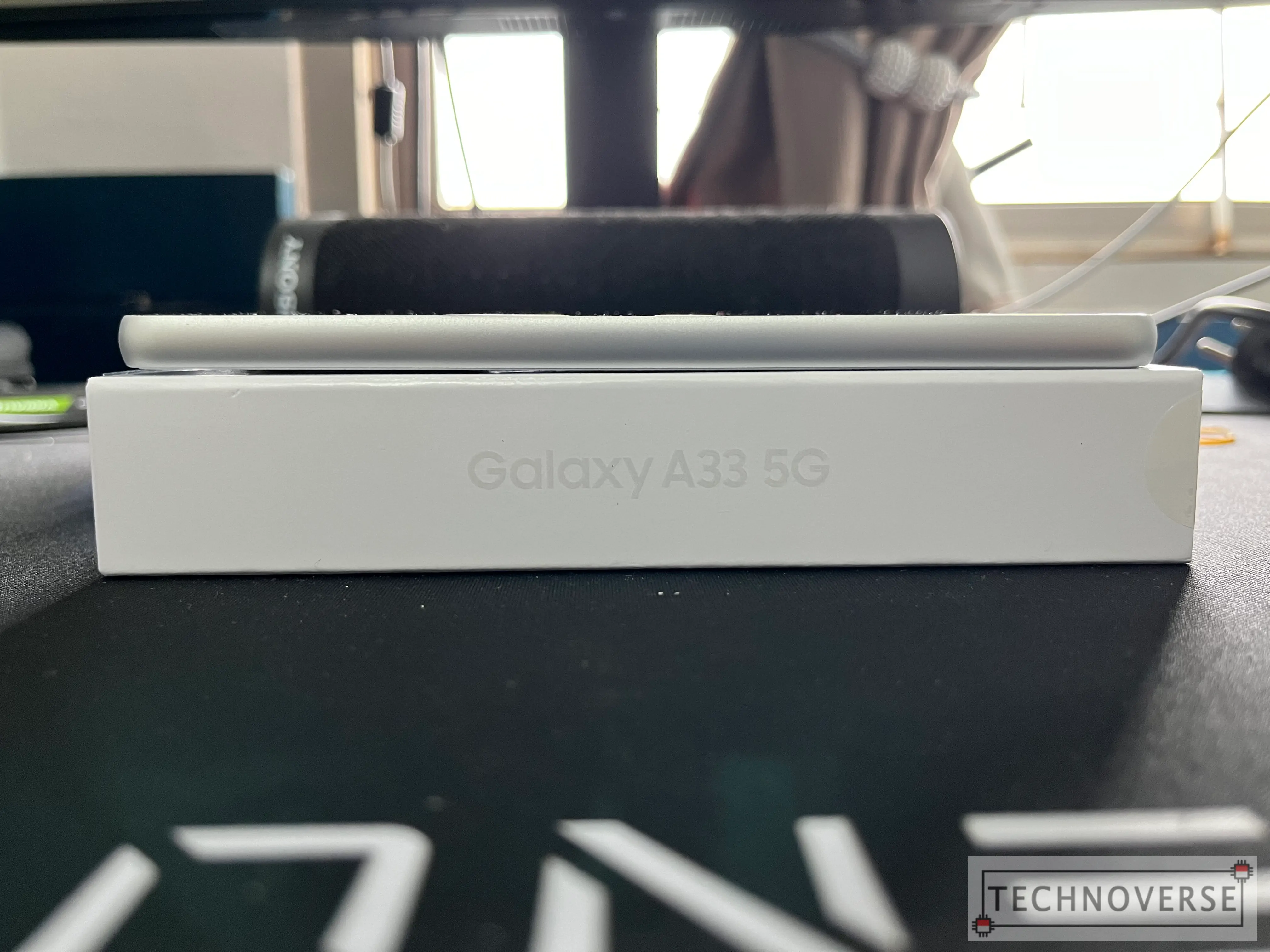 All in all, I actually like Samsung Galaxy A33 5G's design. It looks simple and minimalistic, quite a fresh take from the competition that gives catchy colors and useless ornaments.
Samsung Galaxy A33 5G: User Experience
Performance
The Samsung Galaxy A33 5G is equipped with the Exynos 1280, Samsung's octa-core, in-house SoC with 5nm process. As we all know, the Exynos brand is infamous because of its worse performance than Qualcomm or Mediatek's offering, but hey, let's see if it somehow improves. Here are the benchmark results from Antutu and Geekbench in case you're interested: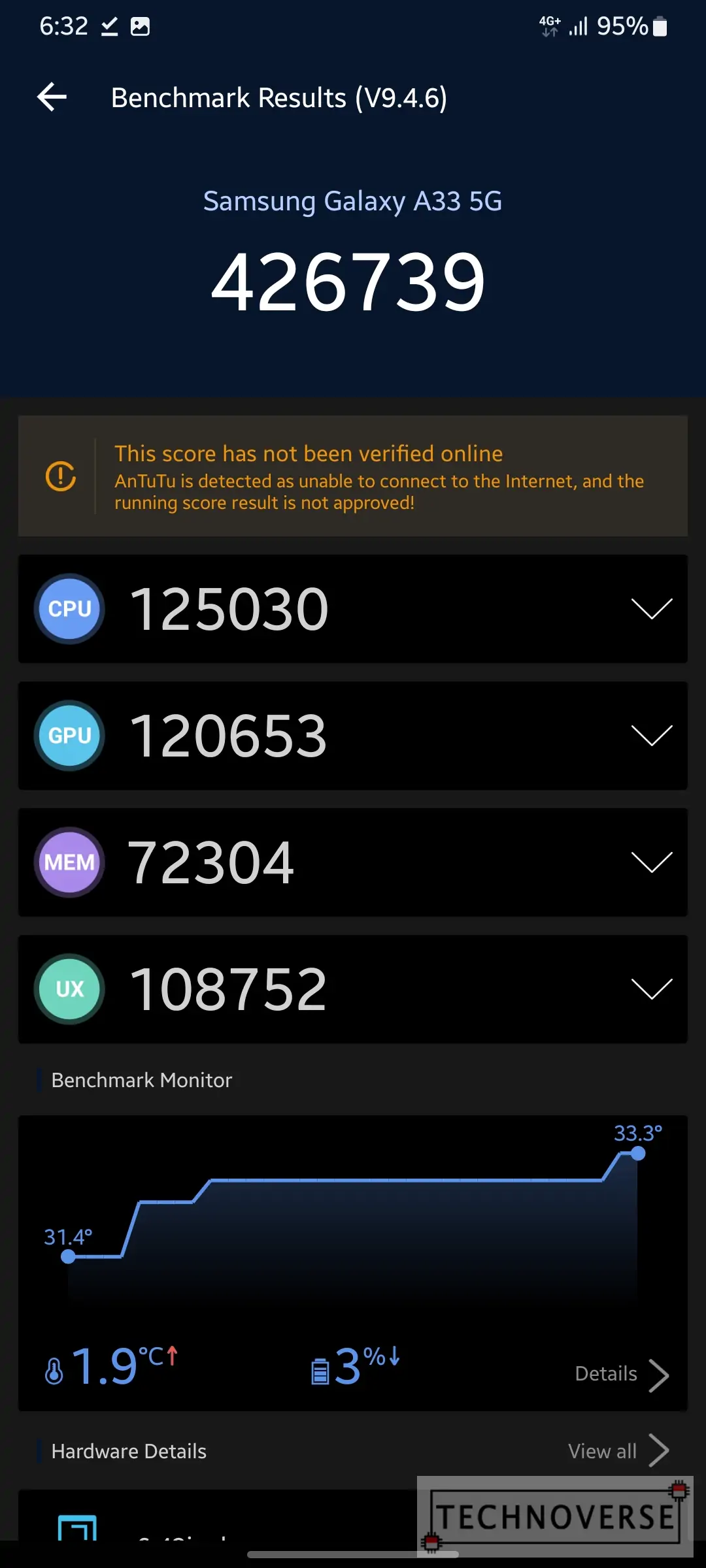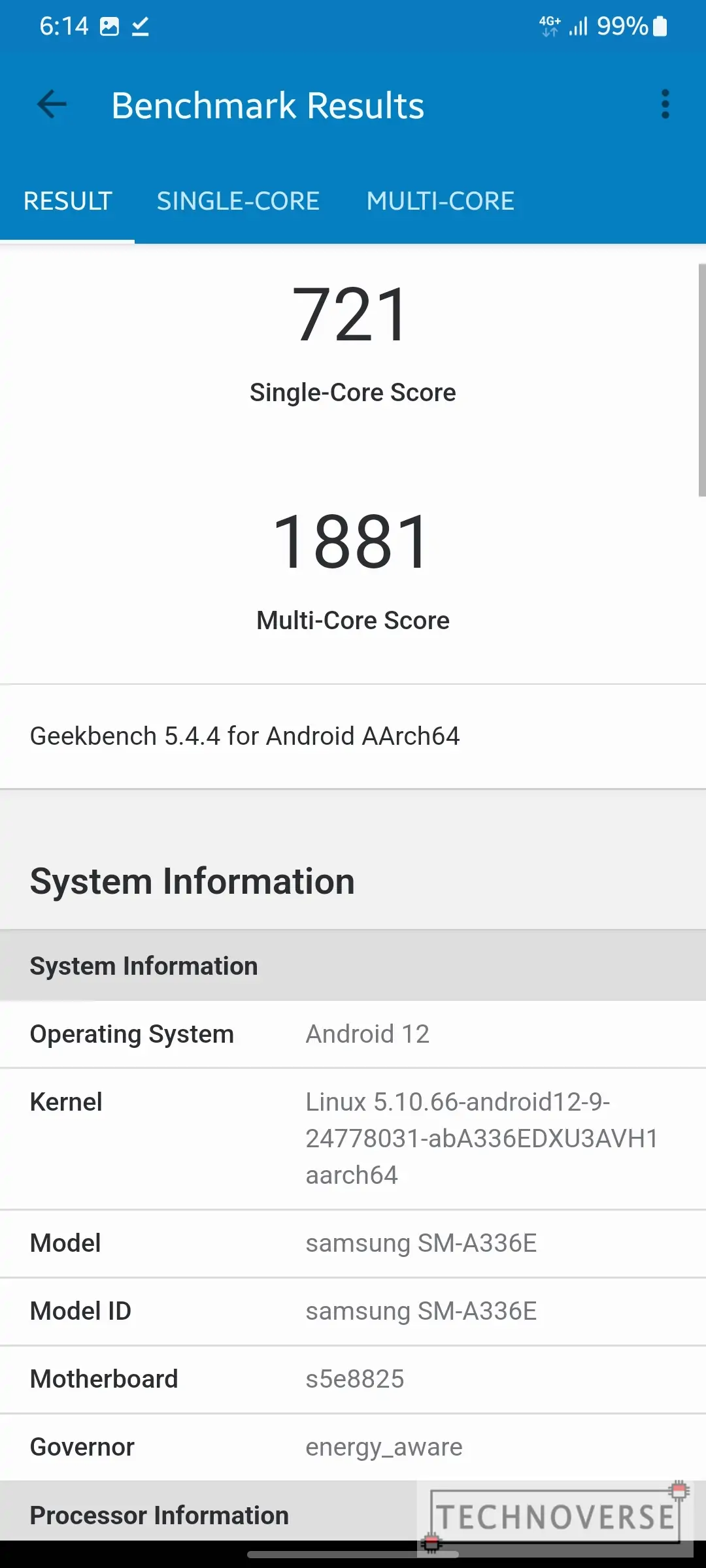 The sensors are actually almost complete, just missing temperature sensor, which you'll rarely use anyway.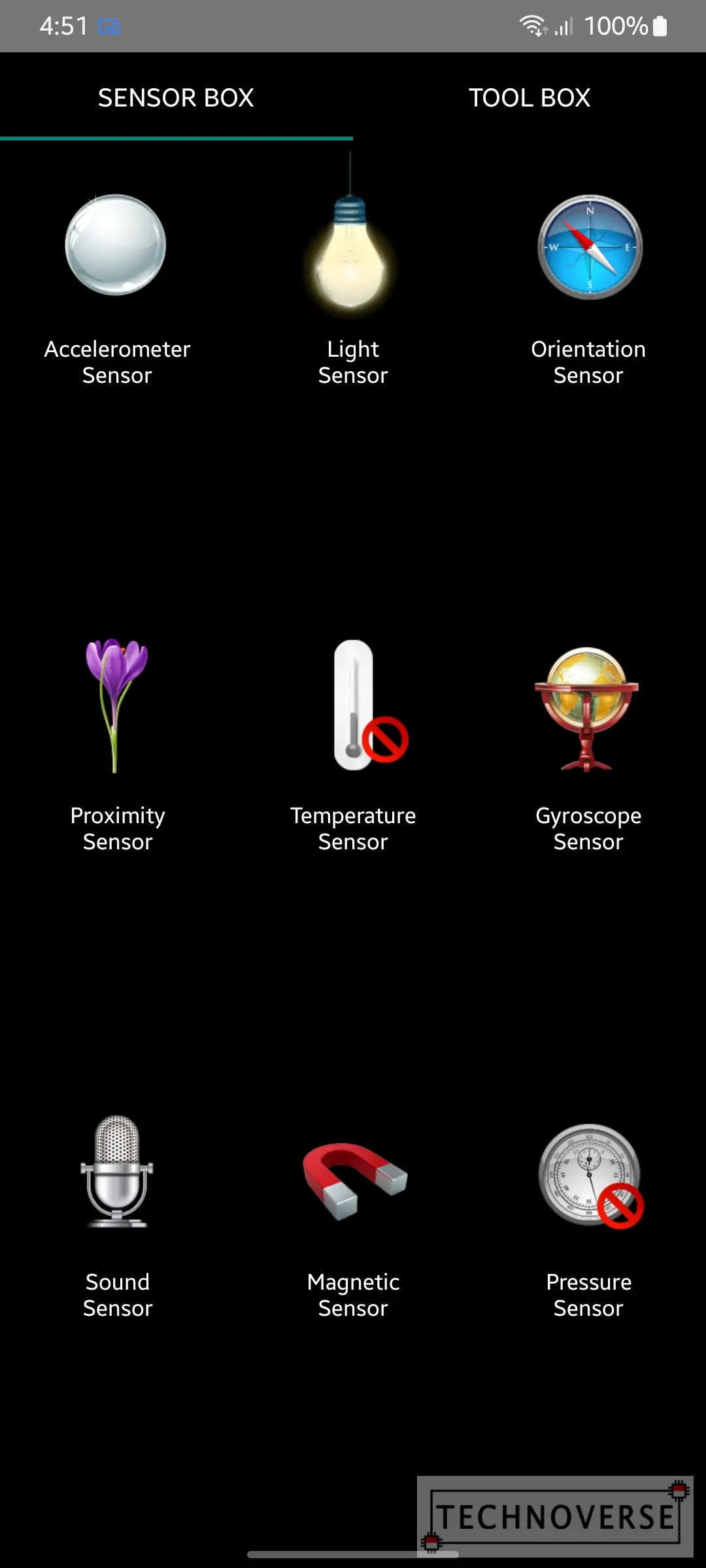 Despite the infamy, the Exynos 1280 is actually very stable, and doesn't throttle. The heat management is also superb. It doesn't get hot easily.
As for gaming, Samsung might need to either push game developers to support their platform, or improve the SoC's GPU. I tried playing Genshin Impact on low 30 fps setting for 30 minutes, and I experienced noticeable frame drops, especially during battles. While it gets warm during the session, it quickly cools down.
But, that's Genshin Impact, one of the most challenging games for phones. What about lighter titles, such as PUBG? Well, it's quite smooth, actually, and I can finish a match or two without feeling too bogged down by the hardware. The graphics are still limited to Balanced – High, though.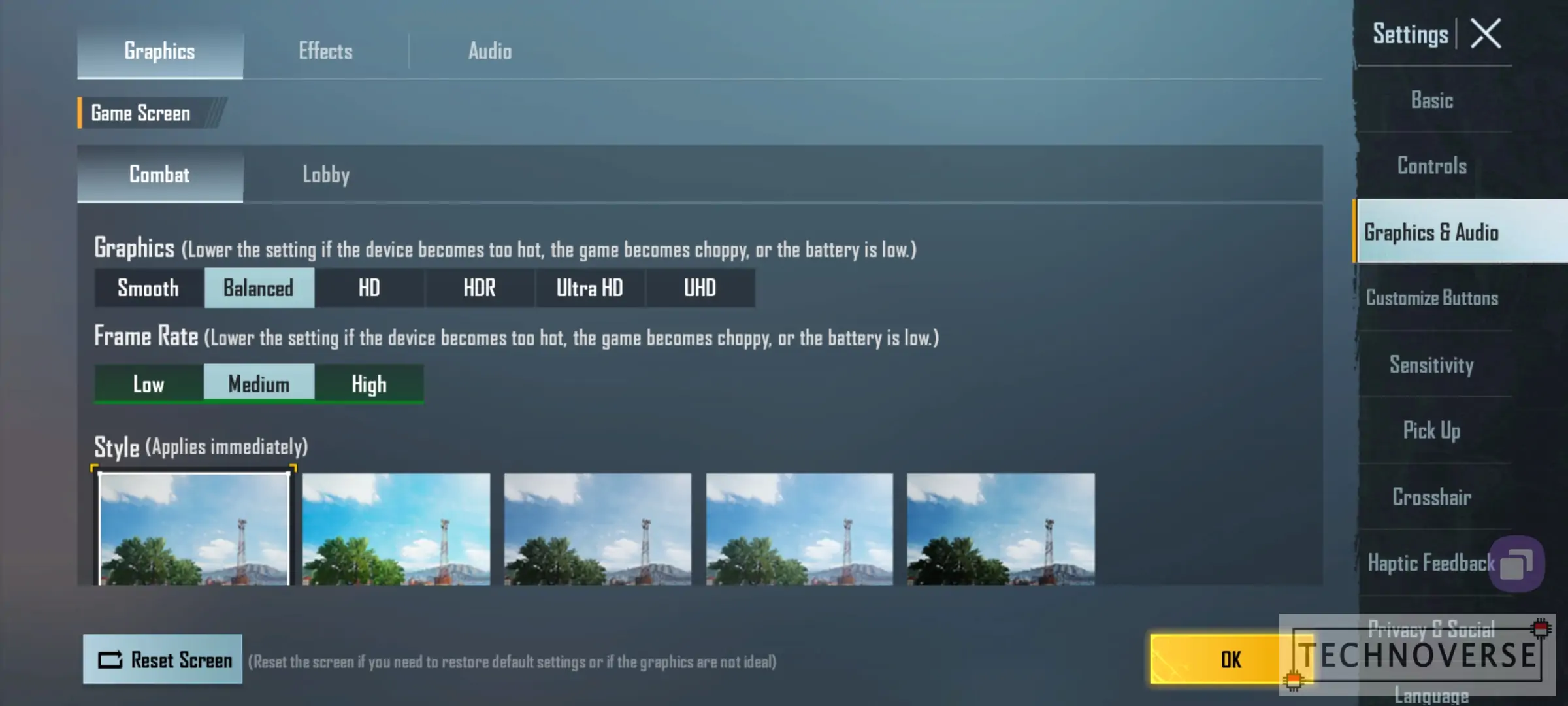 Okay, all seems good so far. How about the daily usage experience?
User Interface and Daily Usage
The Samsung Galaxy A33 5G obviously runs on One UI, Samsung's trademark UI after the infamous TouchWiz. After a few days of using it, I actually like One UI more than MIUI. I don't know why, maybe because One UI is… cleaner? It feels more like Android somehow, compared to MIUI which has lots of features that I may not be aware of. But hey, it all comes down to preference, right?
But the A33's version of One UI has its quirks. While Samsung has backtracked from implementing ads like some Chinese brands, there are still annoying ad-like notifications. Fortunately, those are pretty easy to get rid of.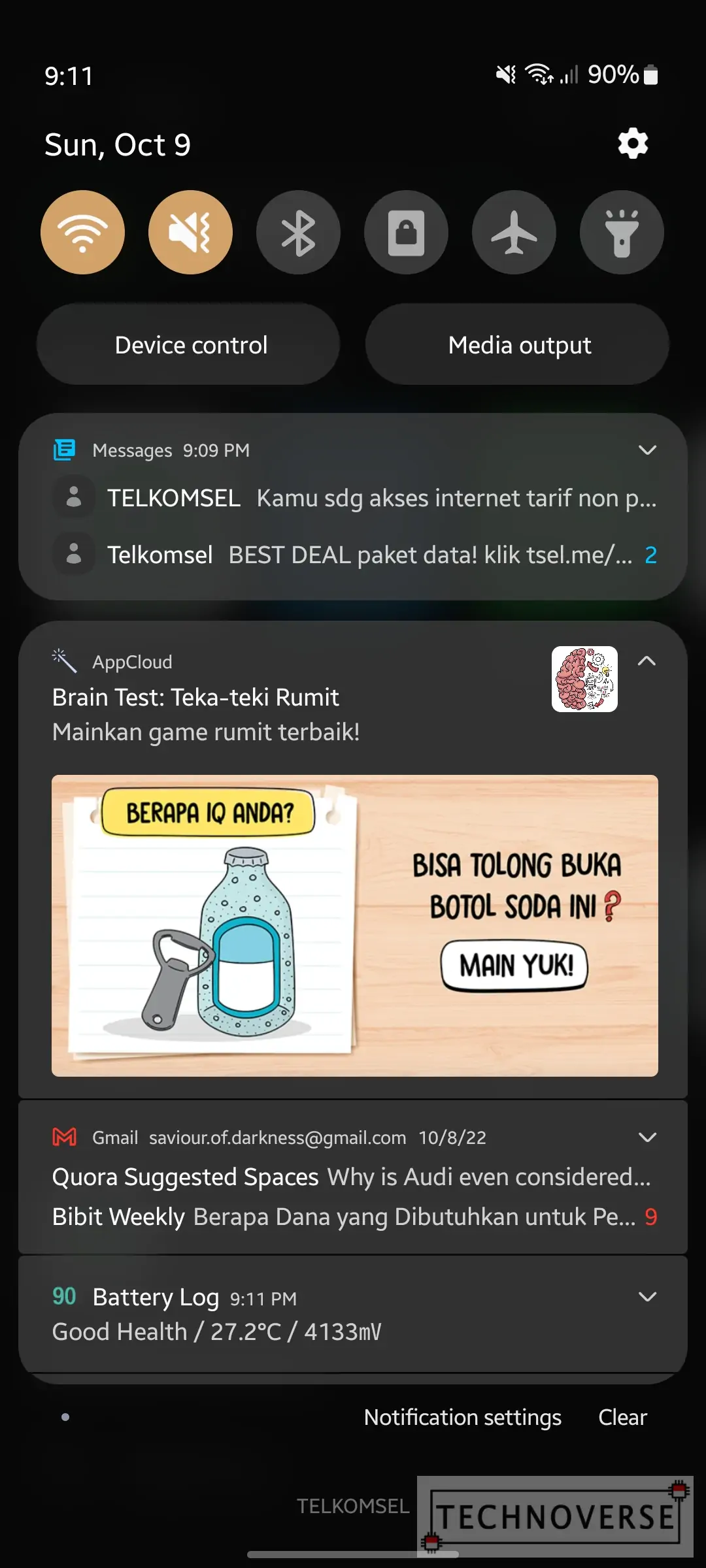 What you can't get rid of is Samsung's decision to omit Always On Display on the Galaxy A33 5G, despite the phone's hardware being perfectly capable. Yes, you read that right, you can't get AOD working on this device. What's more annoying is that when the phone is charging or when it asks for your fingerprint, only part of the phone's display is showing, just like a real AOD, which makes me think that this is somehow a purely-business decision from Samsung. Talk about mocking Apple but copying their business methods in the back…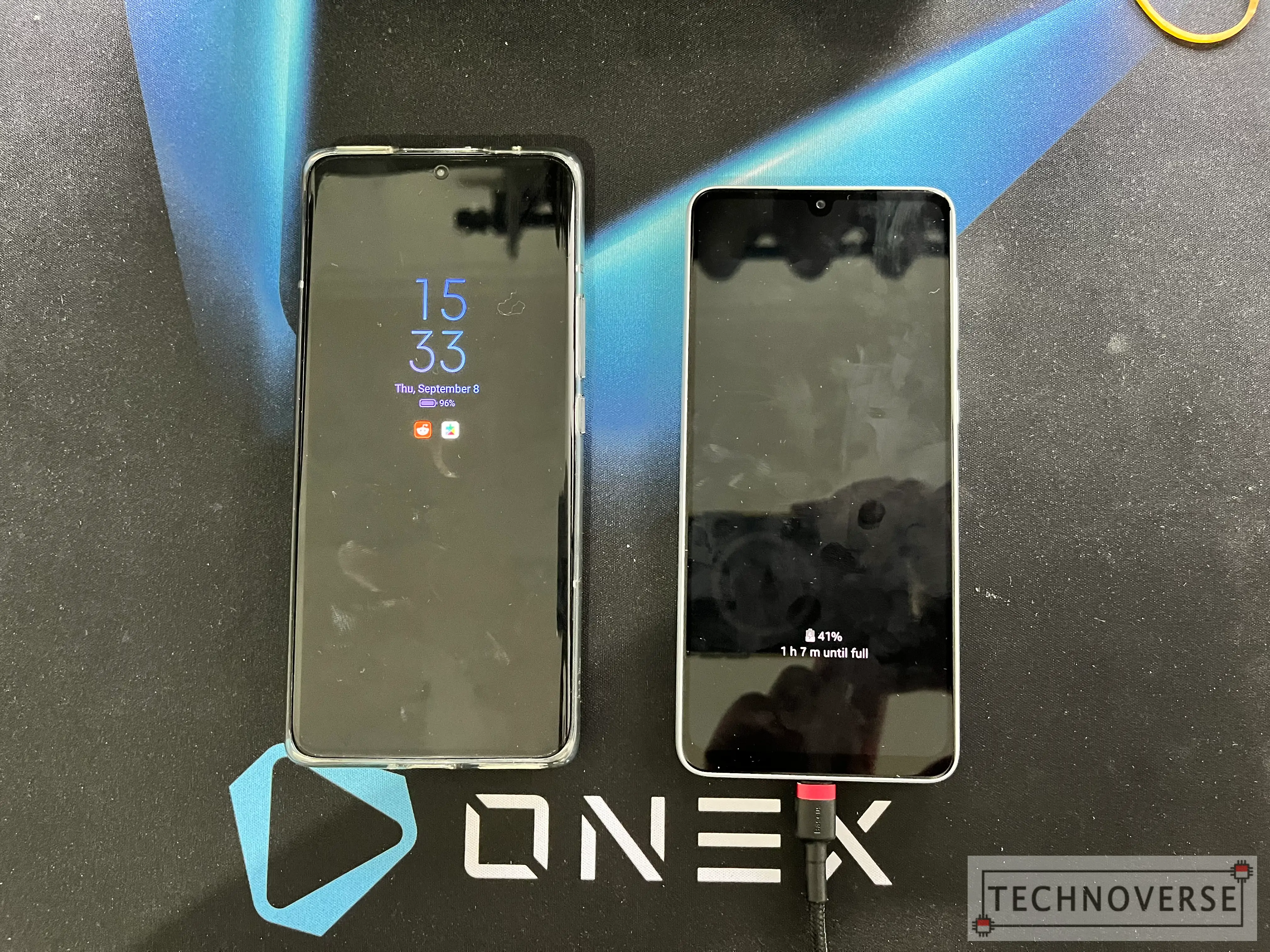 Also, in terms of UI performance, this is where Samsung needs to improve. While scrolling in 90Hz is mostly smooth, sometimes you'll feel some stutters. Even when scrolling in the Play Store, there are stutters. Most of the time it's okay, but when that happens, it's quite infuriating, especially when you know that the A33 5G is priced at the higher end of the spectrum. Hopefully, this performance woes can be fixed with a software update.
As for multimedia consumption, however, the bright Super AMOLED still proves that Samsung still makes damn good displays. Even when compared to my Xiaomi 12 Pro, sometimes I still feel that the A33 is brighter and more colorful. As for the speakers, they're pretty loud, and in case you're wondering, Samsung is using the earpiece for the other speaker for stereo effect.
Oh, and have I mentioned that the Samsung A33 5G has IP67 protection? This means that the phone is dust-proof and can survive under 1 meter of water for 30 minutes. This will surely give you peace of mind when it suddenly rains or you're bringing your phone with you in the bathroom or swimming pool. The front screen is also protected with Gorilla Glass 5, which should make this phone even more durable.
Camera
The Samsung Galaxy A33 5G is equipped with four cameras:
48MP OIS PDAF wide camera
8MP ultra-wide camera
5MP macro camera
2MP depth camera
The only one worth talking about is only the first two, especially the main camera, which probably is the only one that has OIS in this price range. As for the other two, well, let's just say that they're not used much, and may only be there for marketing purposes.
So, without further ado, here are some uncompressed camera samples: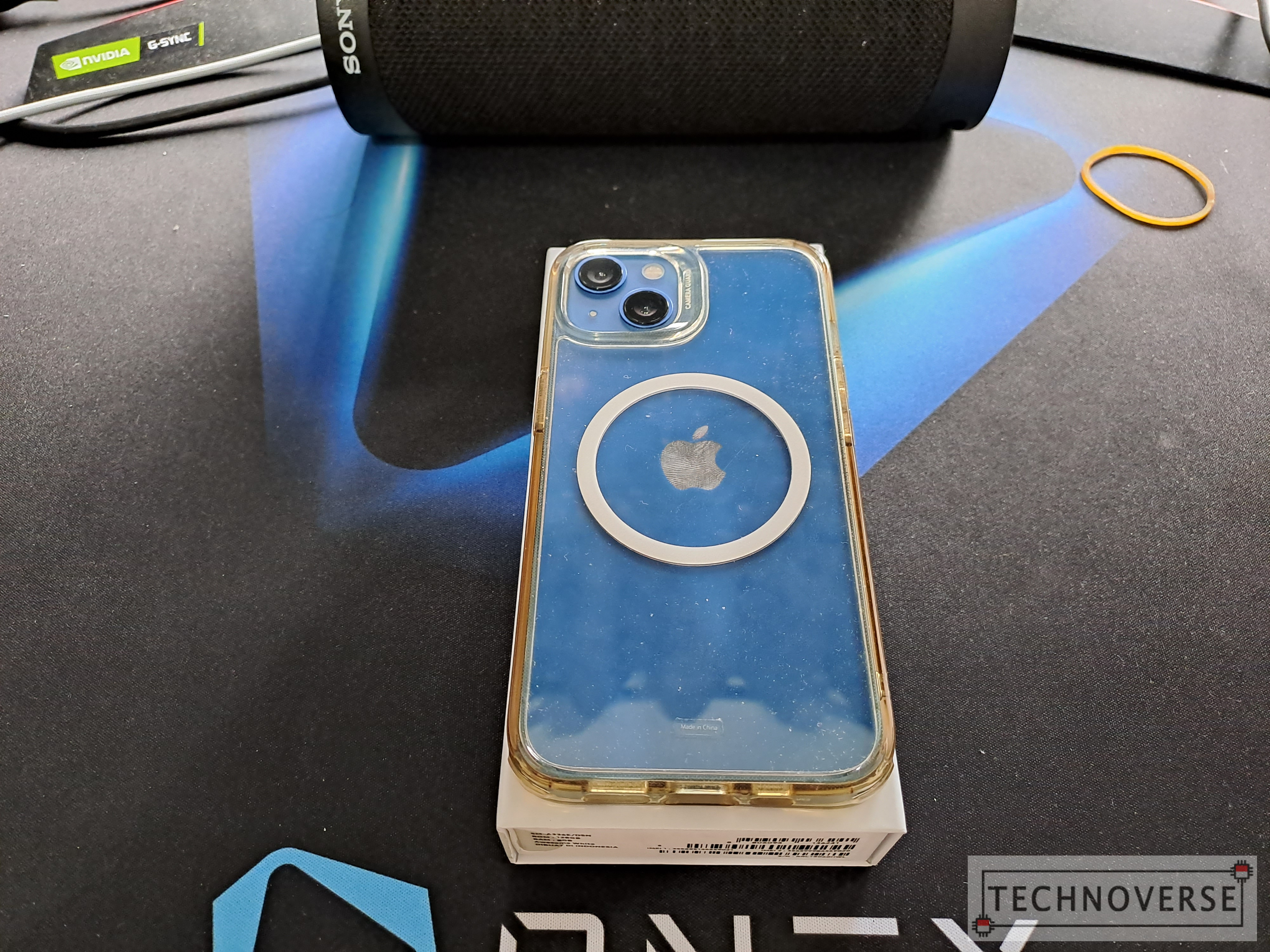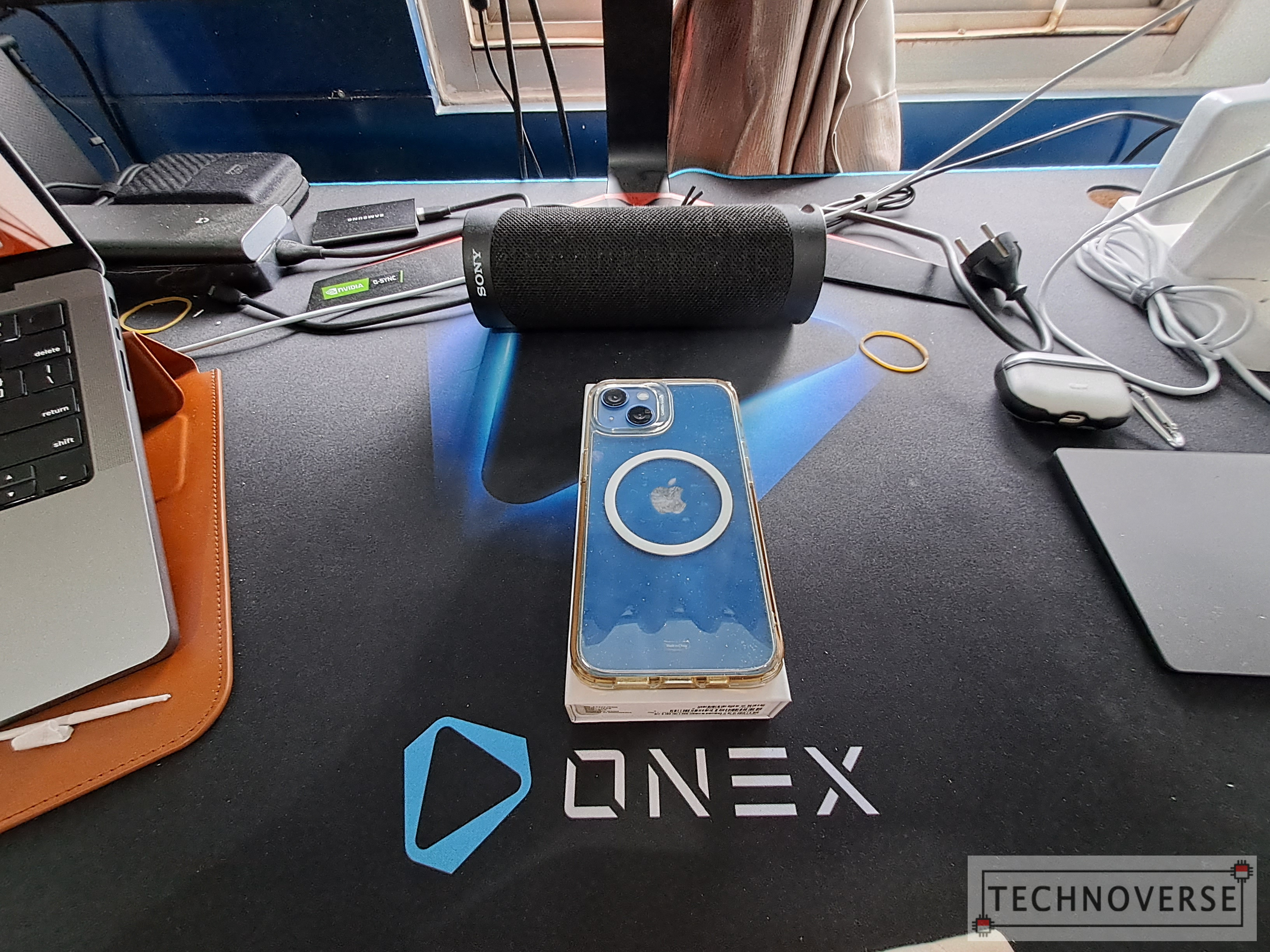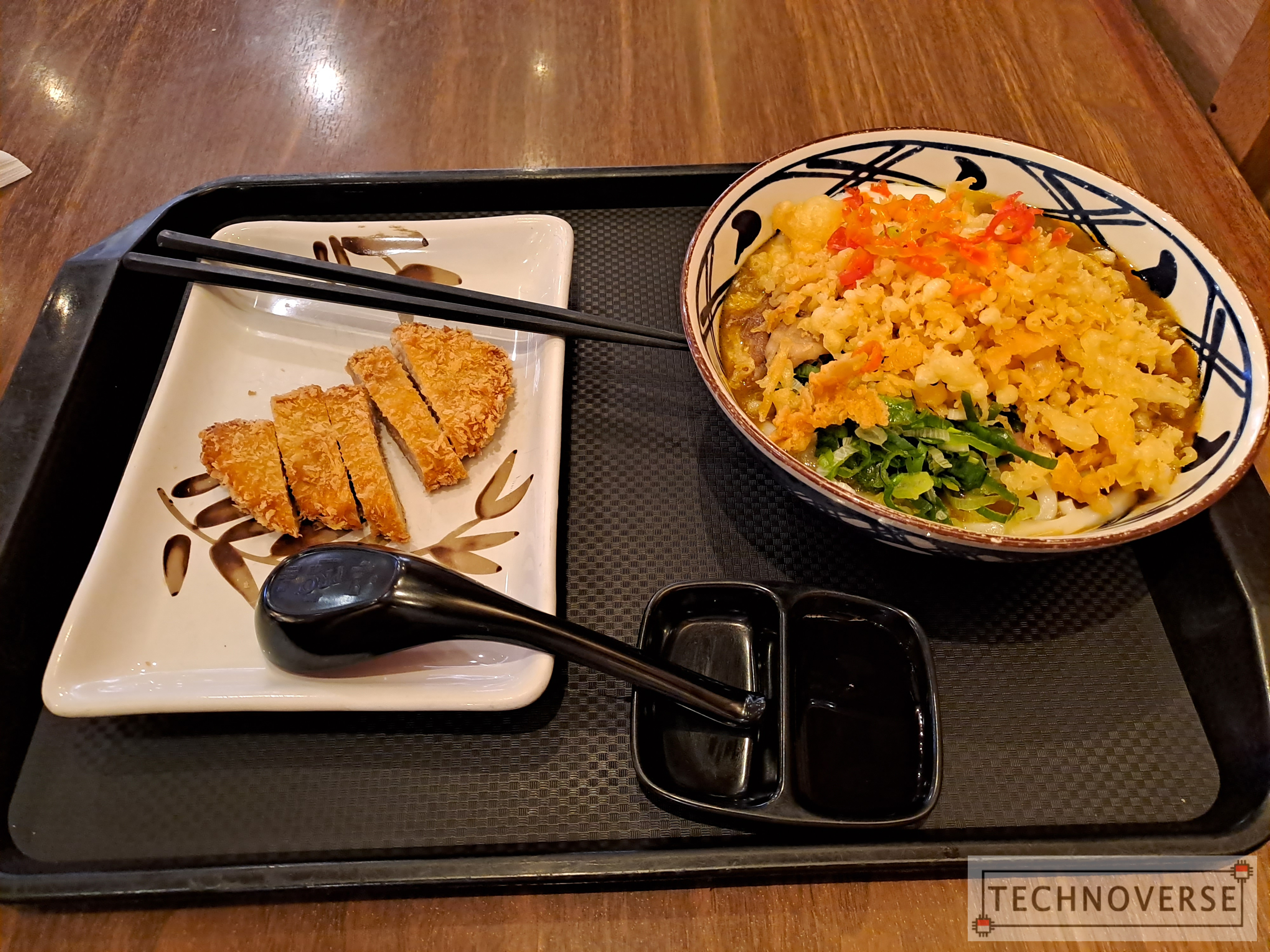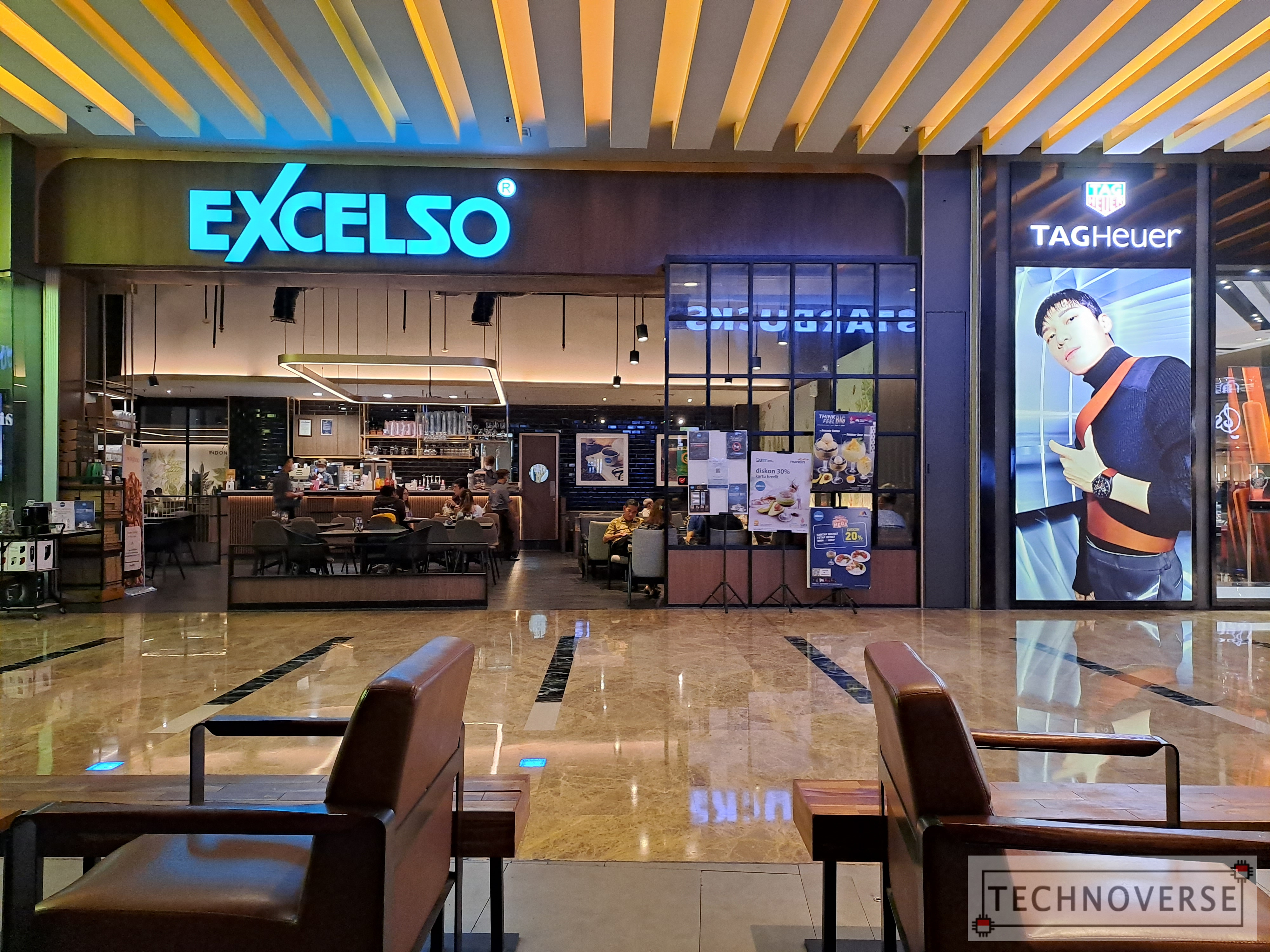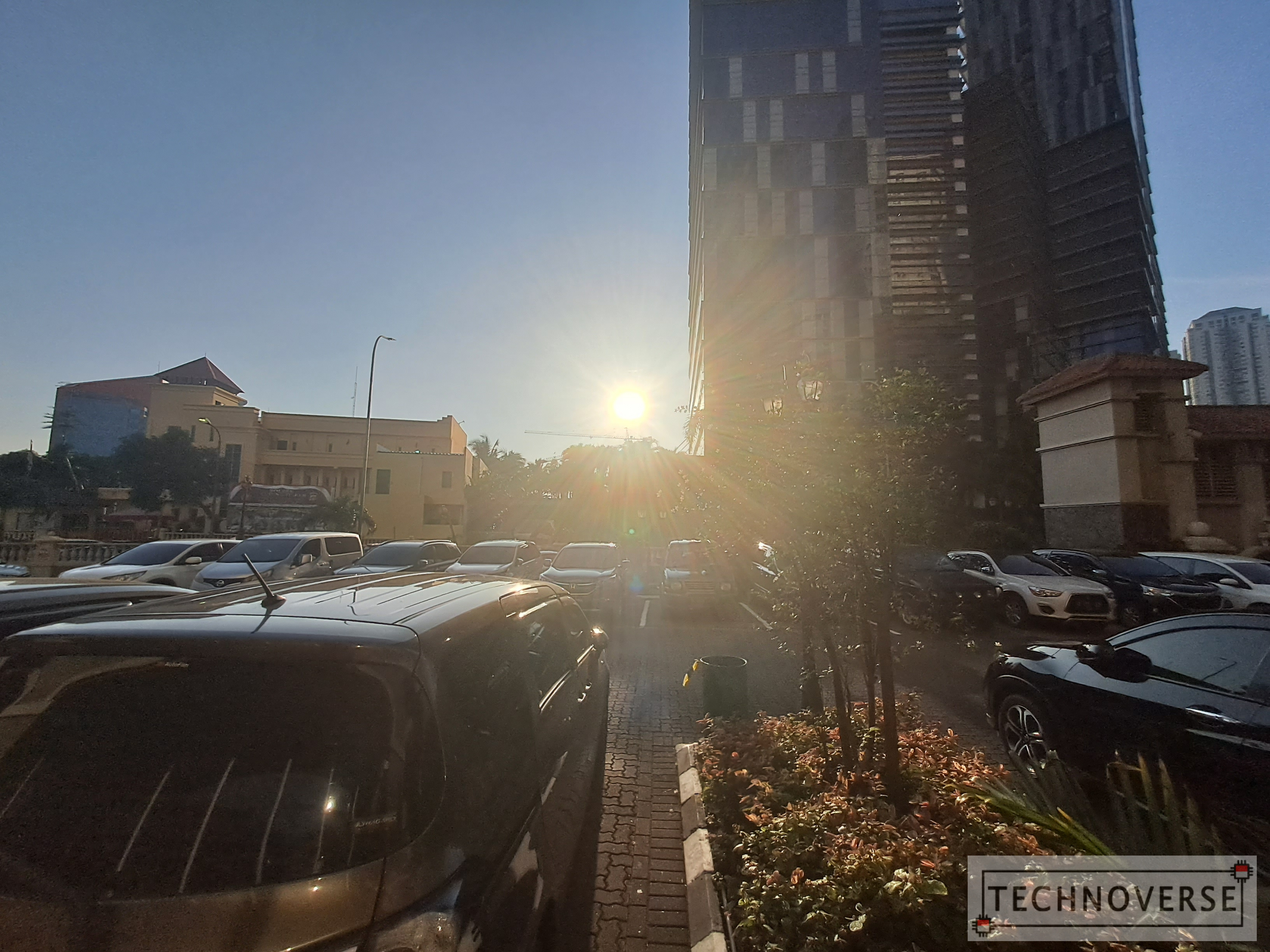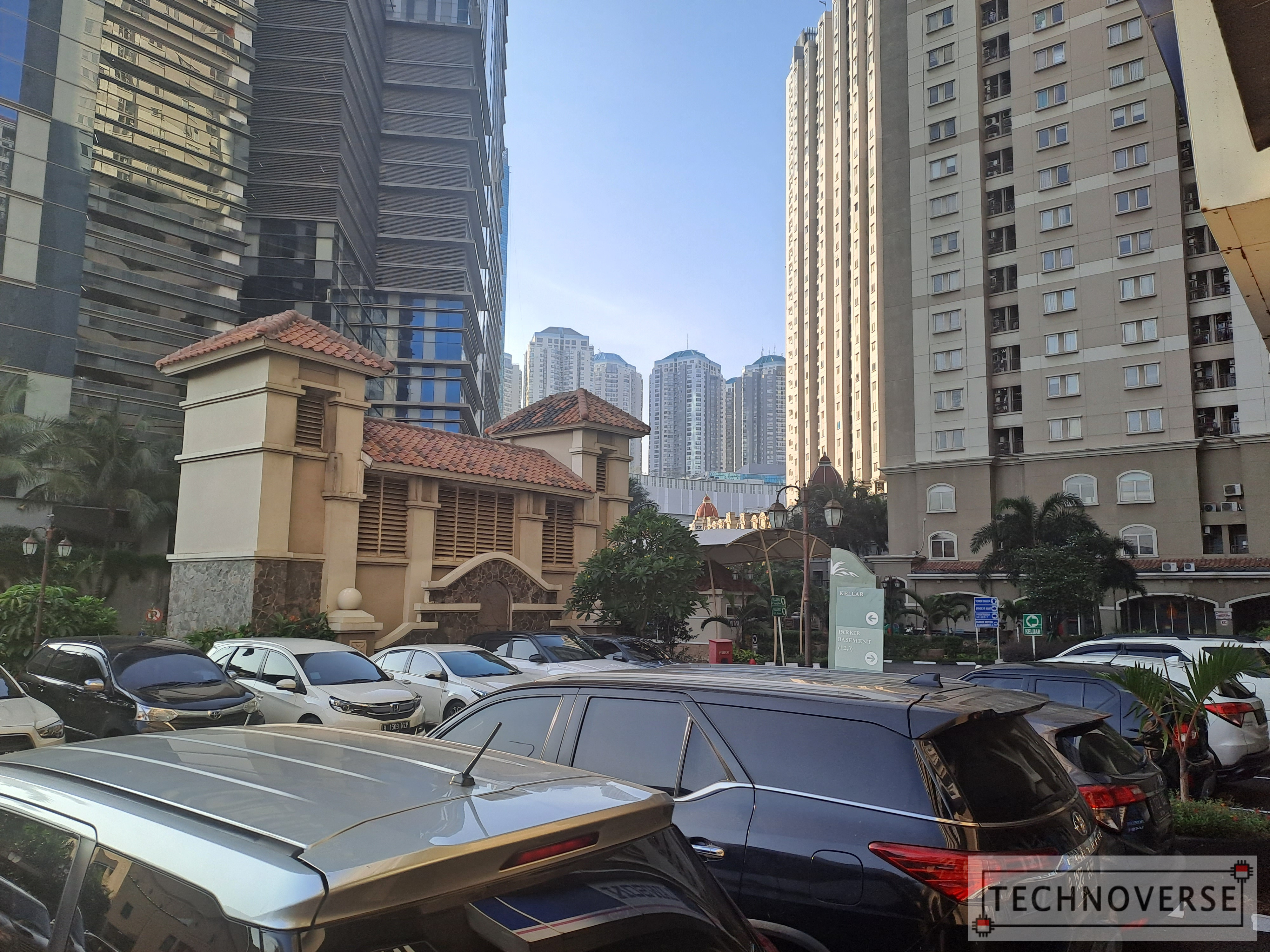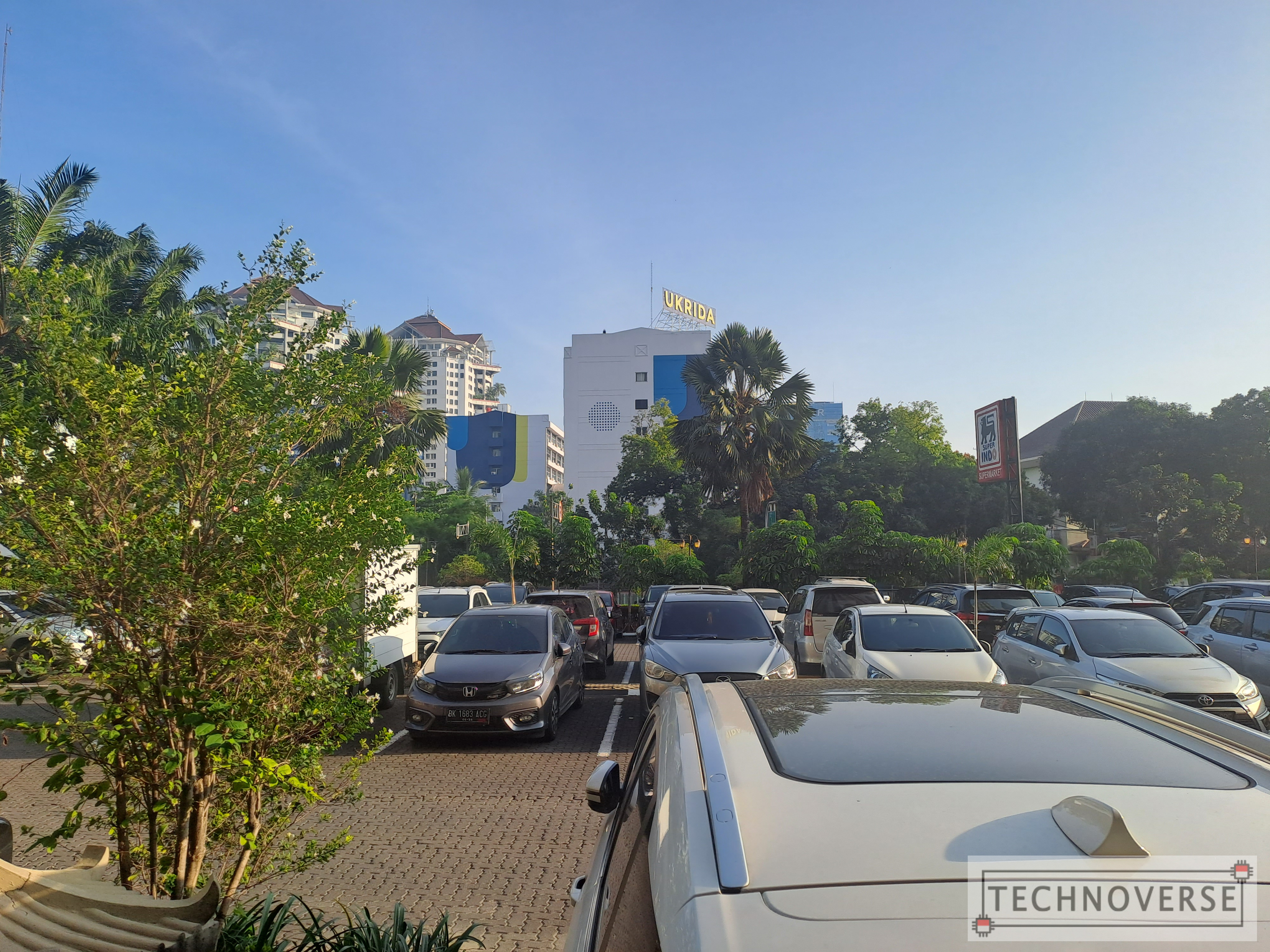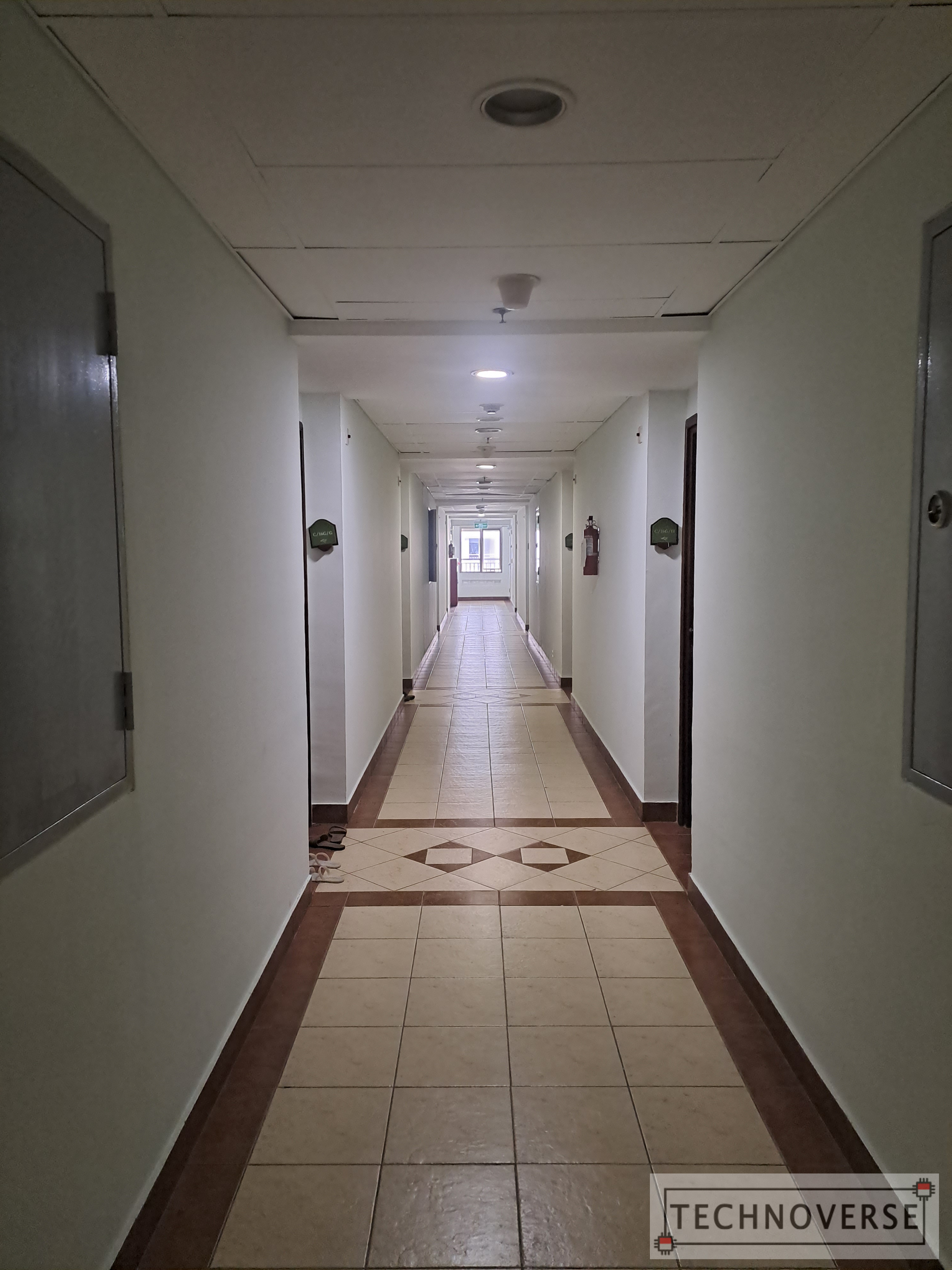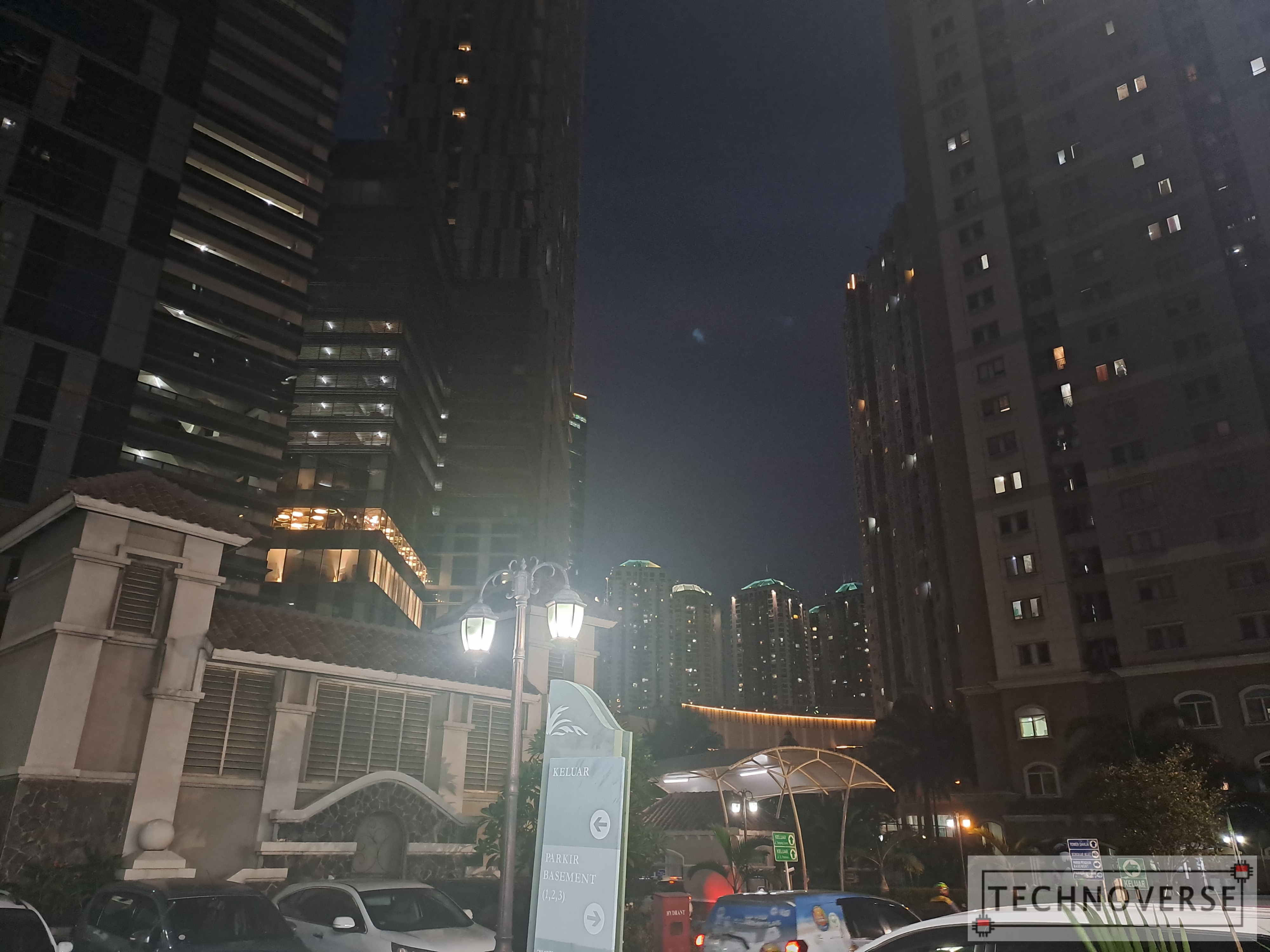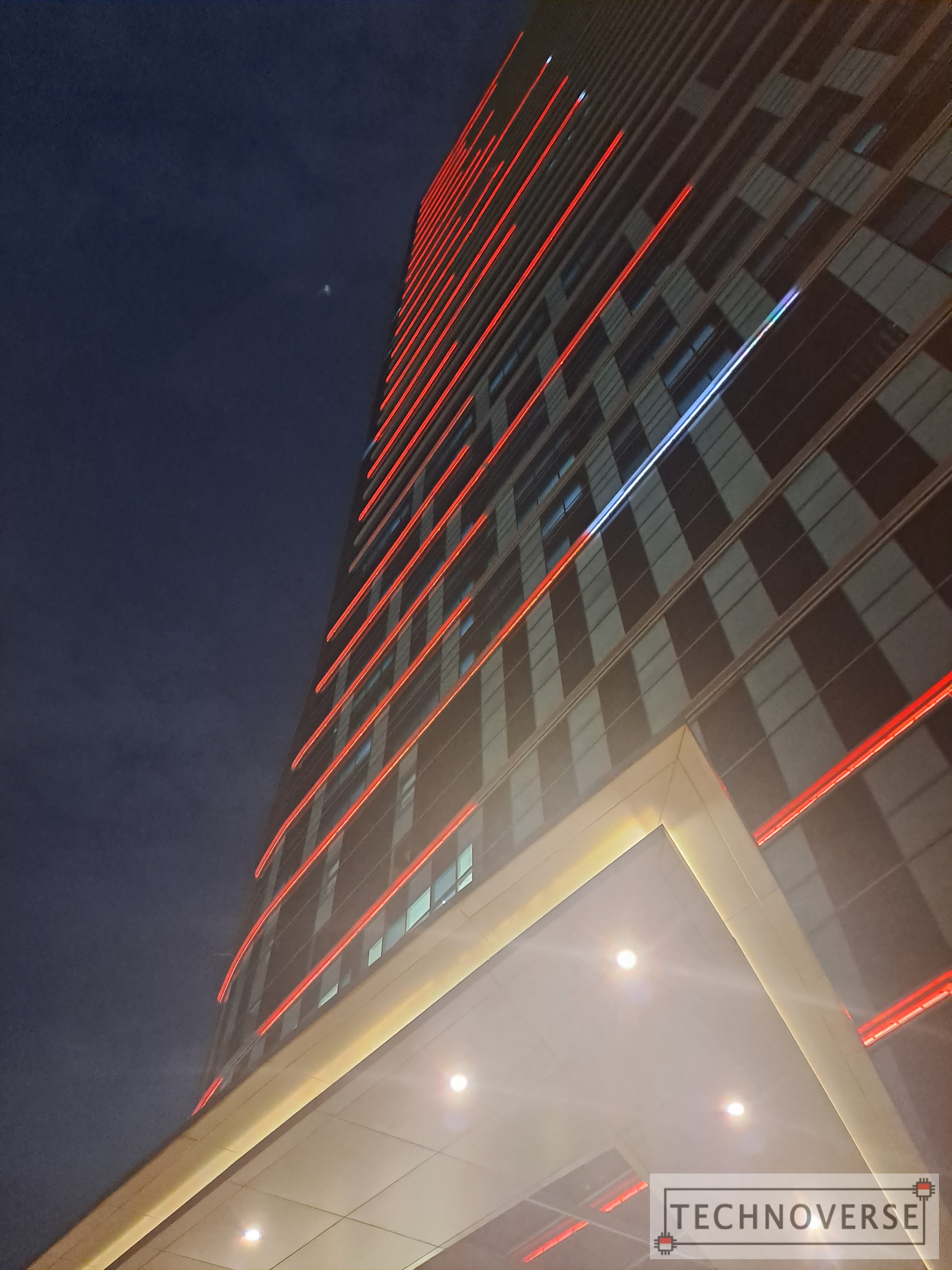 Battery Life
What the Exynos sacrifices in performance, returns it in the form of battery life. The Samsung A33 5G is equipped with 5,000mAh of battery, which lasts very long, even longer than my Xiaomi 12 Pro.
In my test, 30 minutes of mixed apps (except games) only spends 5% of battery life.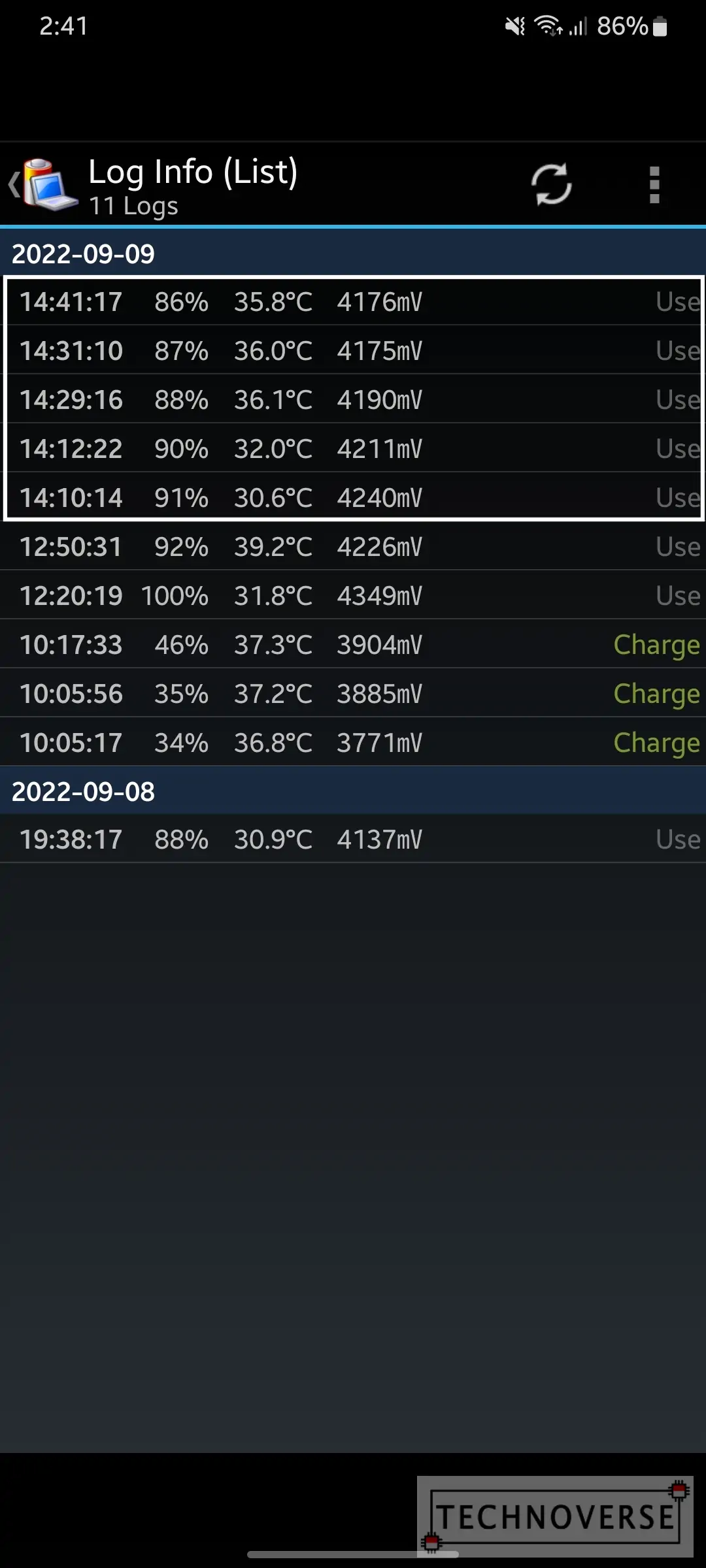 As for gaming, 30 minutes of Genshin Impact only spends 8% of battery life.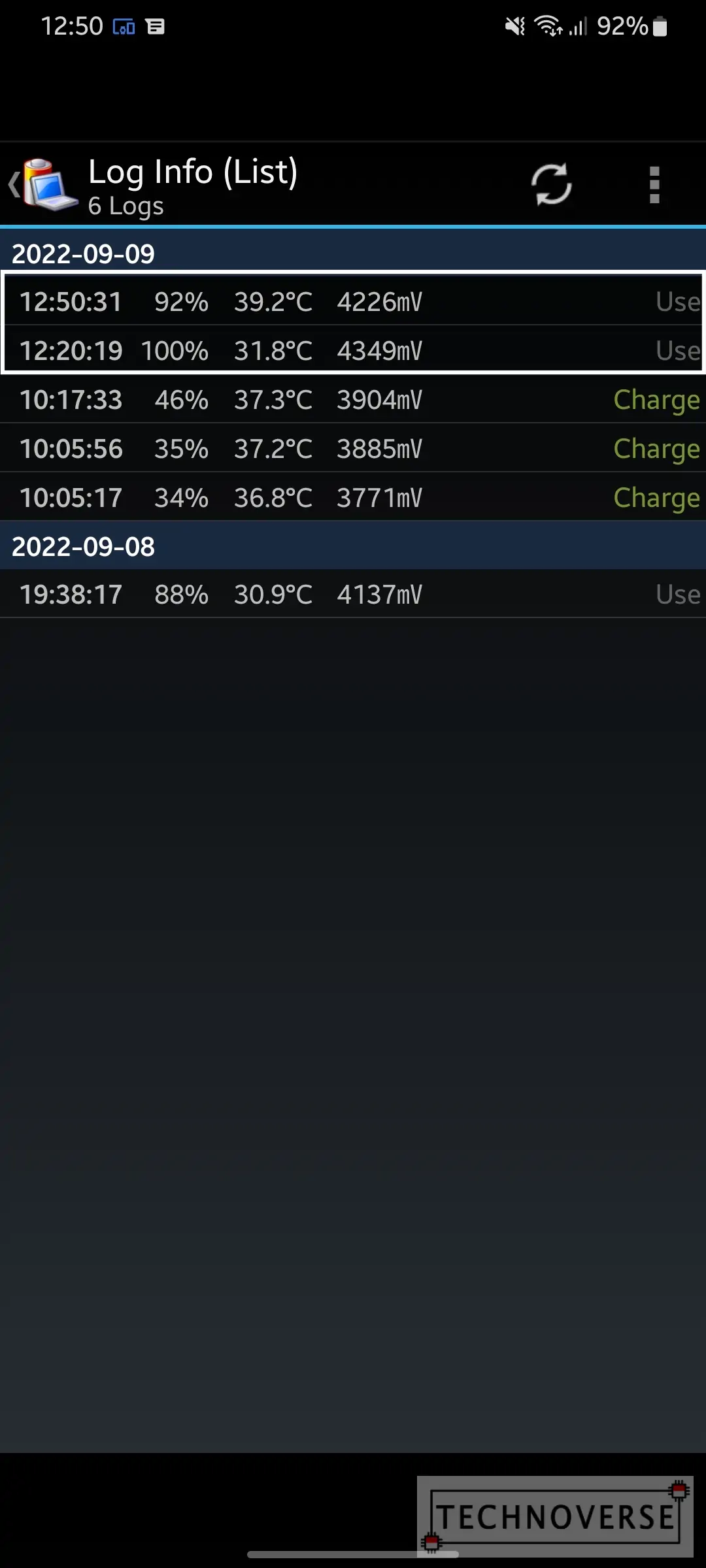 Despite the great battery life, the charging speed is slow as hell. Ever since the Note 7 woes, Samsung seems to have been taking a very slow approach in improving their charging speed, even to go so far as calling 25W super-fast charging. Hah, compare that with Xiaomi's 120W, it's not even a competition. Anyway, using a standard 30W charger, topping up from 20% to 100% takes an infuriating 90 minutes.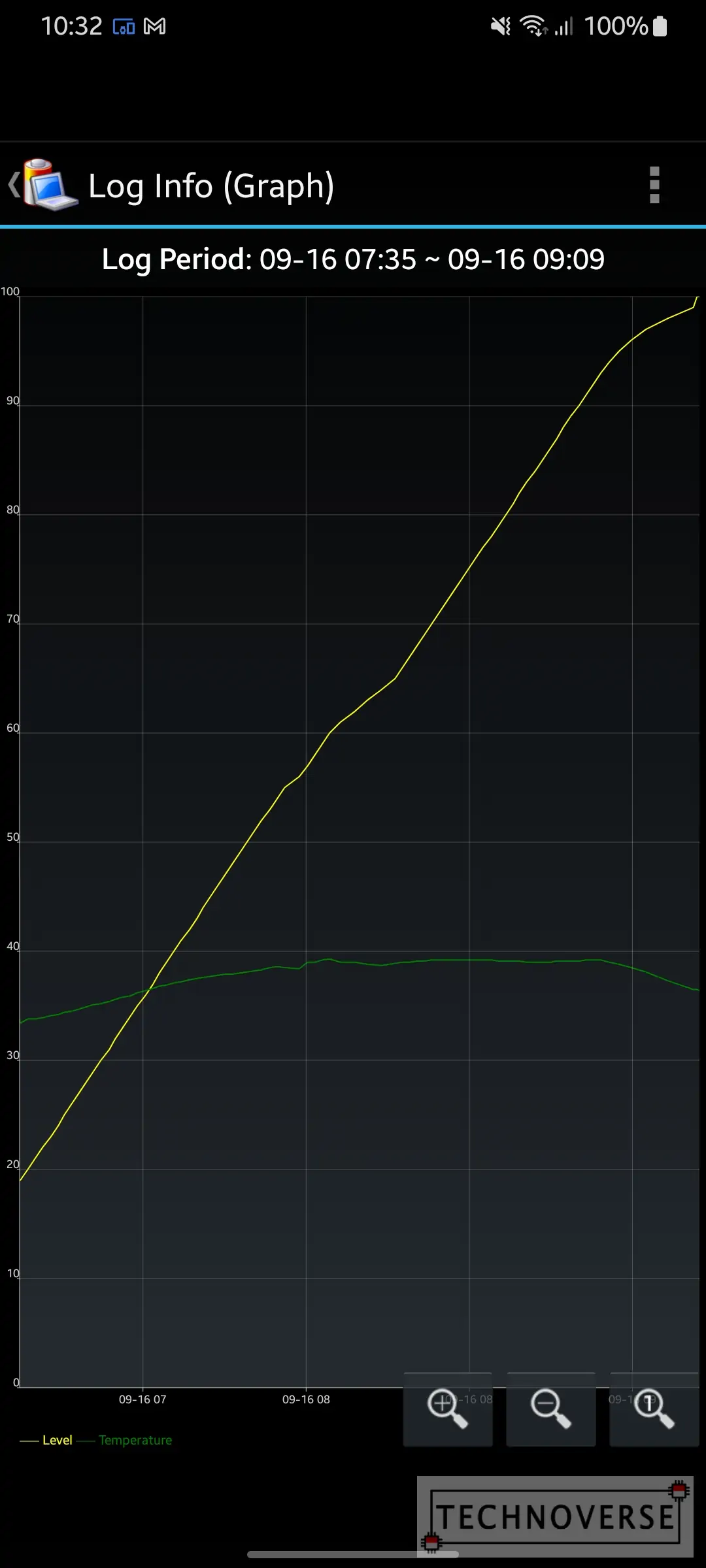 Also, what's more eyebrow-raising, is that the charging itself is sometimes buggy. I've experienced the battery refusing to top up (despite the charging icon) for hours. I had to unplug then plug the cable again for it to charge. Imagine having plugged the phone overnight, only to find out that it's not charged at all in the next morning…
Software Update
Samsung recently promises long-term software updates across their entire lineup. The A33 5G is eligible for four Android upgrades, and five years of security updates. That's a very long support for a mid-range Android like this.
But it seems like Samsung is holding true to their word. My A33 5G has already received an update just a month after buying it. However, in addition of security updates, this update also brings a modest-but-welcome performance improvements (scrolling now feels smoother, though still stutters sometimes, despite benchmark scores stay relatively the same (around 1% improvement)).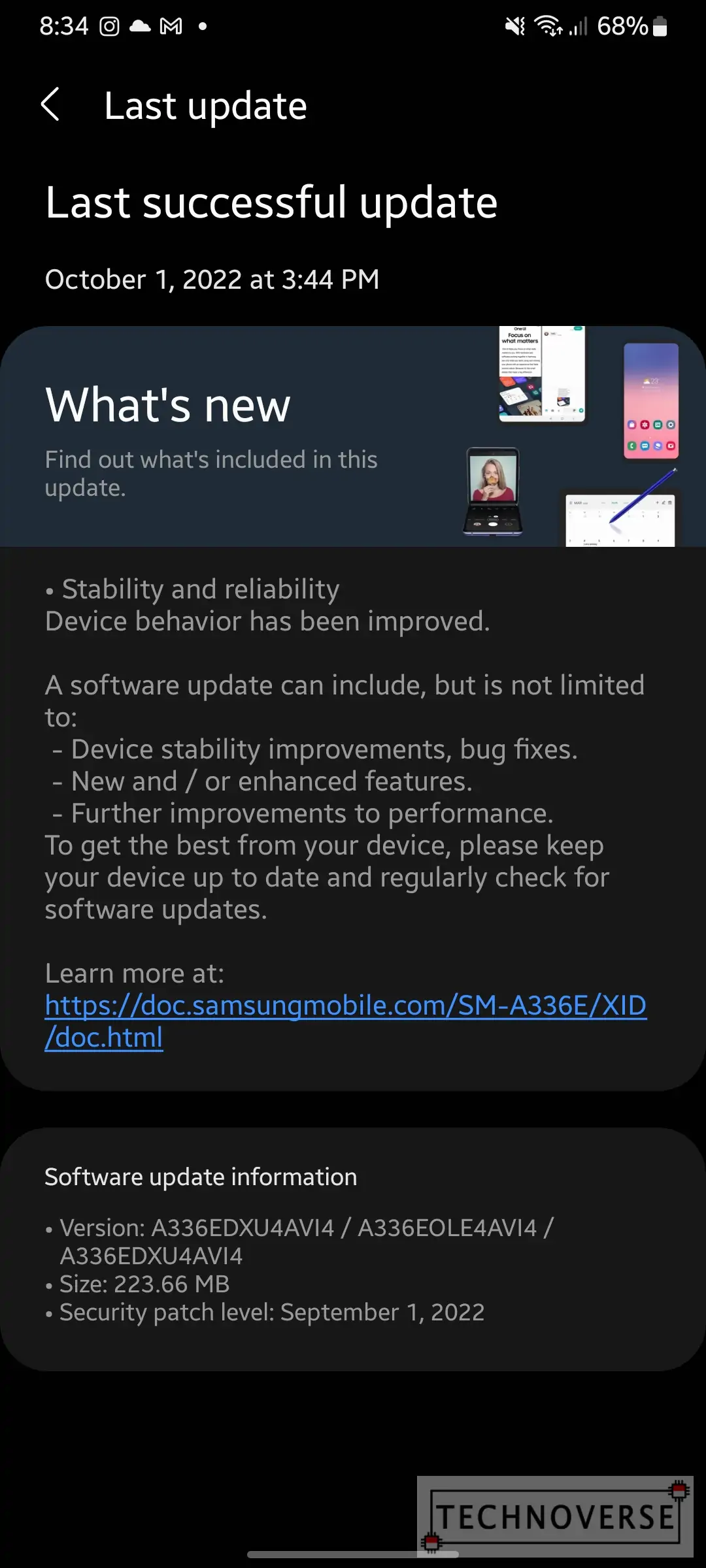 Well, here's hoping that we can get Android 13-based One UI 5 soon!
Samsung Galaxy A33 5G: Conclusion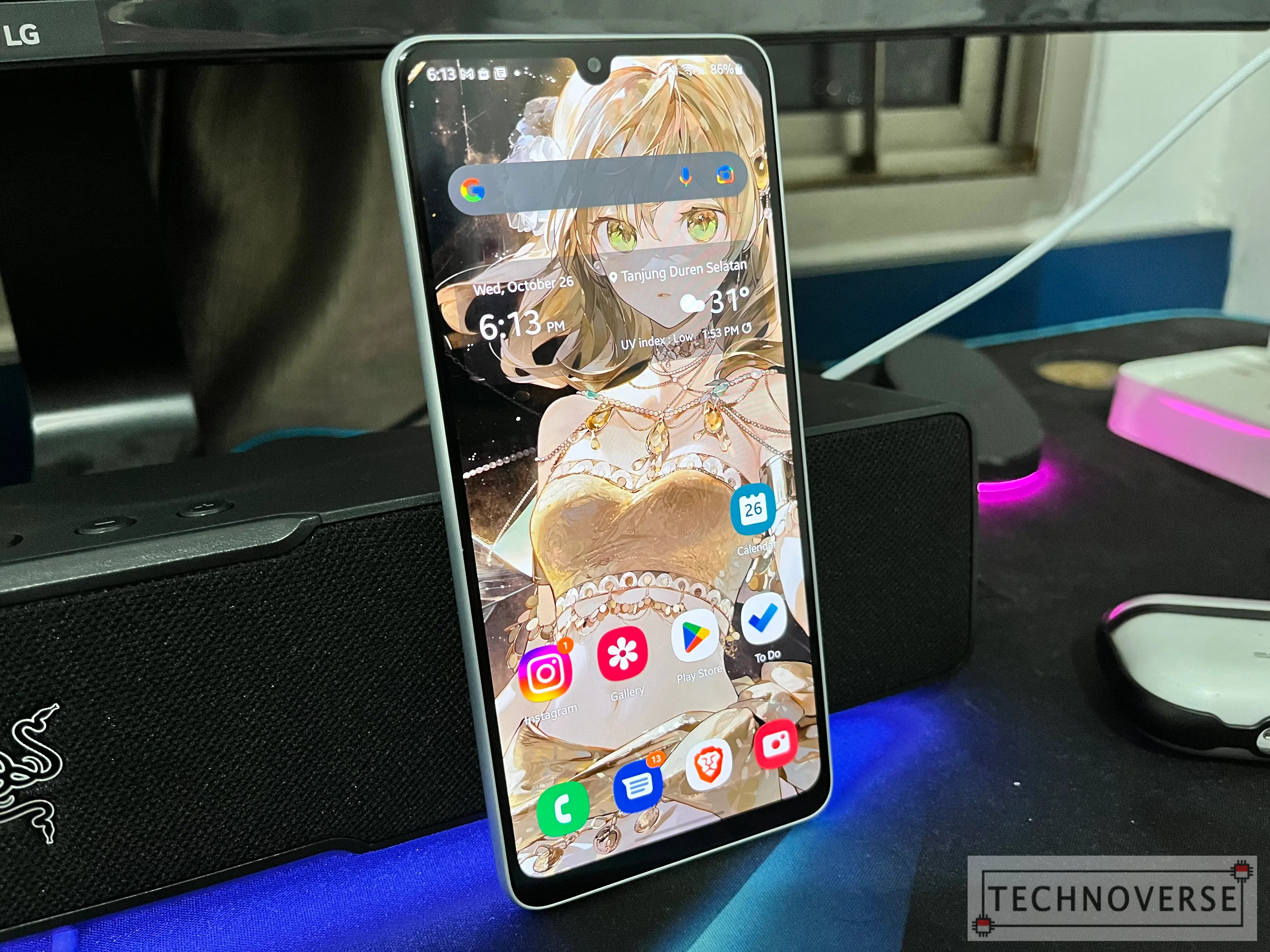 At this price range, the Samsung Galaxy A33 5G offers a unique proposition. While most Android mid-rangers focus on raw performance, the A33 focuses on anything but that. The OIS in its main camera, AMOLED screen, stereo speakers, promise of 4 years of software updates and 5 years of security updates, and of course, the IP67 rating, makes the A33 5G a solid all-rounder smartphone for those who want to do everything else but hardcore gaming. The One UI also reminded me why I used to like Samsung in the first place, then got swayed by MIUI.
Of course, if you're inclined to performance, there's a bunch of alternatives from Chinese companies waiting for you, such as Realme Number series, Xiaomi Redmi Note series, and POCO F series. Not saying that they're bad at everything else, but there are reasons why Samsung is still a major player in Android despite being more expensive than its competitors, and those are the feeling of familiarity and build quality that most users long for.
Pros
IP67 water and dust resistance rating
Long battery life
Promise of long software updates
A well-rounded selection of hardware other than the CPU.
Cons
The Exynos 1280 should perform better
No AOD despite the phone being perfectly capable to handle it
Slow charging
Well, I guess that's it for the review, Folks. Hopefully, this review is useful for you. As usual, if you have questions, comments, or something else that you want to discuss in this blog, go ahead and sound them off in the comments section below. Finally, thanks for reading, and see you in the next article! 😀