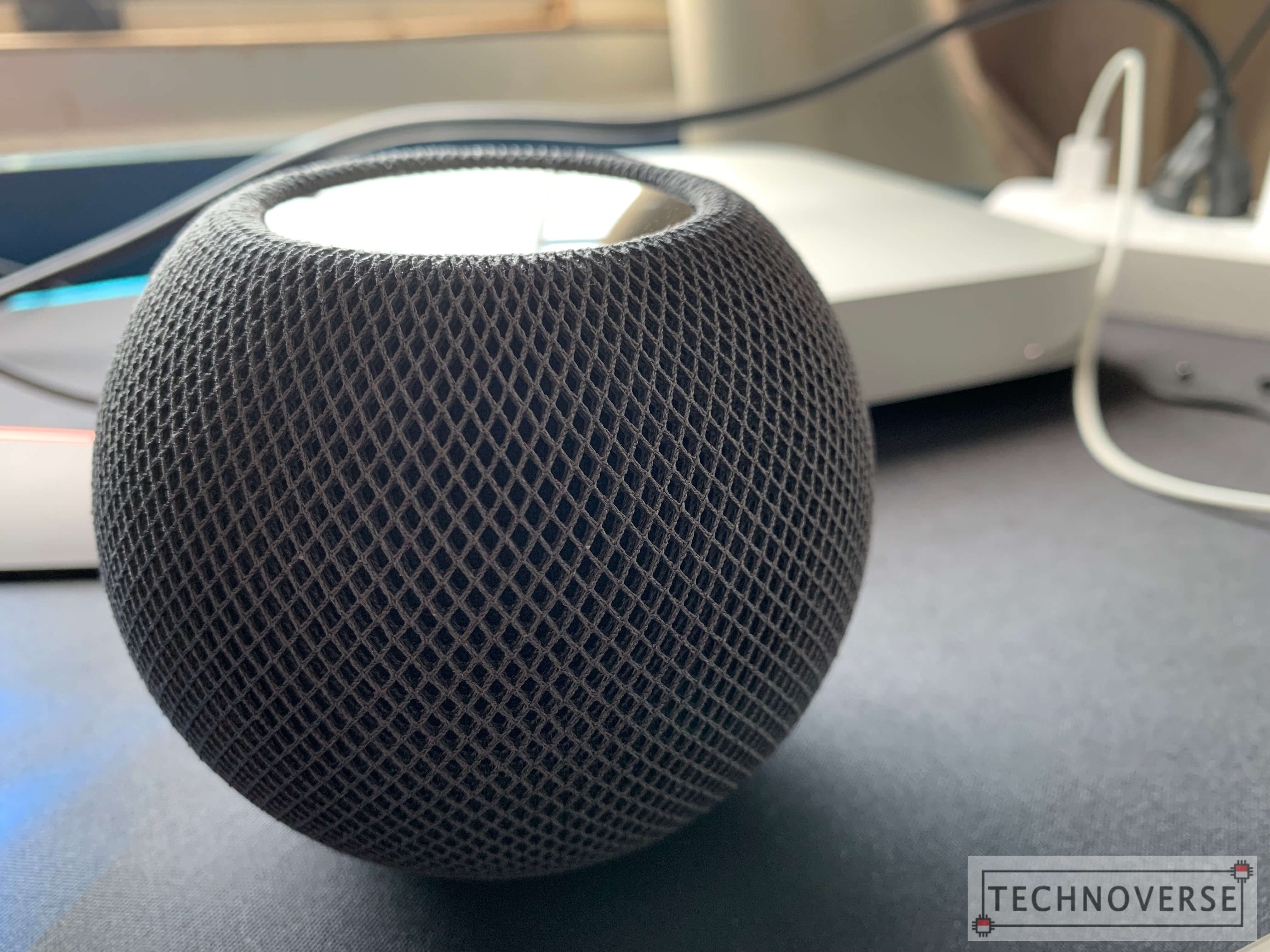 Anda berbicara Bahasa Indonesia? Baca artikel terjemahannya di sini!
The M1 Mac Mini is a great personal computer from Apple, which is surprisingly affordable for a Mac. But it comes with terrible speakers. They're so terrible that you won't believe that Apple made them. That nudged me to look for a speaker, preferably Bluetooth, for accompanying me at work. Why Bluetooth, you ask? Because I have this idea that Apple is synonymous with wireless, and I'm too lazy to cable-manage everything.
Then, I stumbled across the HomePod Mini. At the time, I immediately thought, "Hm, might as well get a smart speaker, since I've been thinking of buying one too for quite a while". And, boy am I surprised of what I found out. I've been using the HomePod Mini for a bit more than a month (I couldn't write the review in time), and I think I'm ready to share my thoughts.
So, let's go.
HomePod Mini: Design and Packaging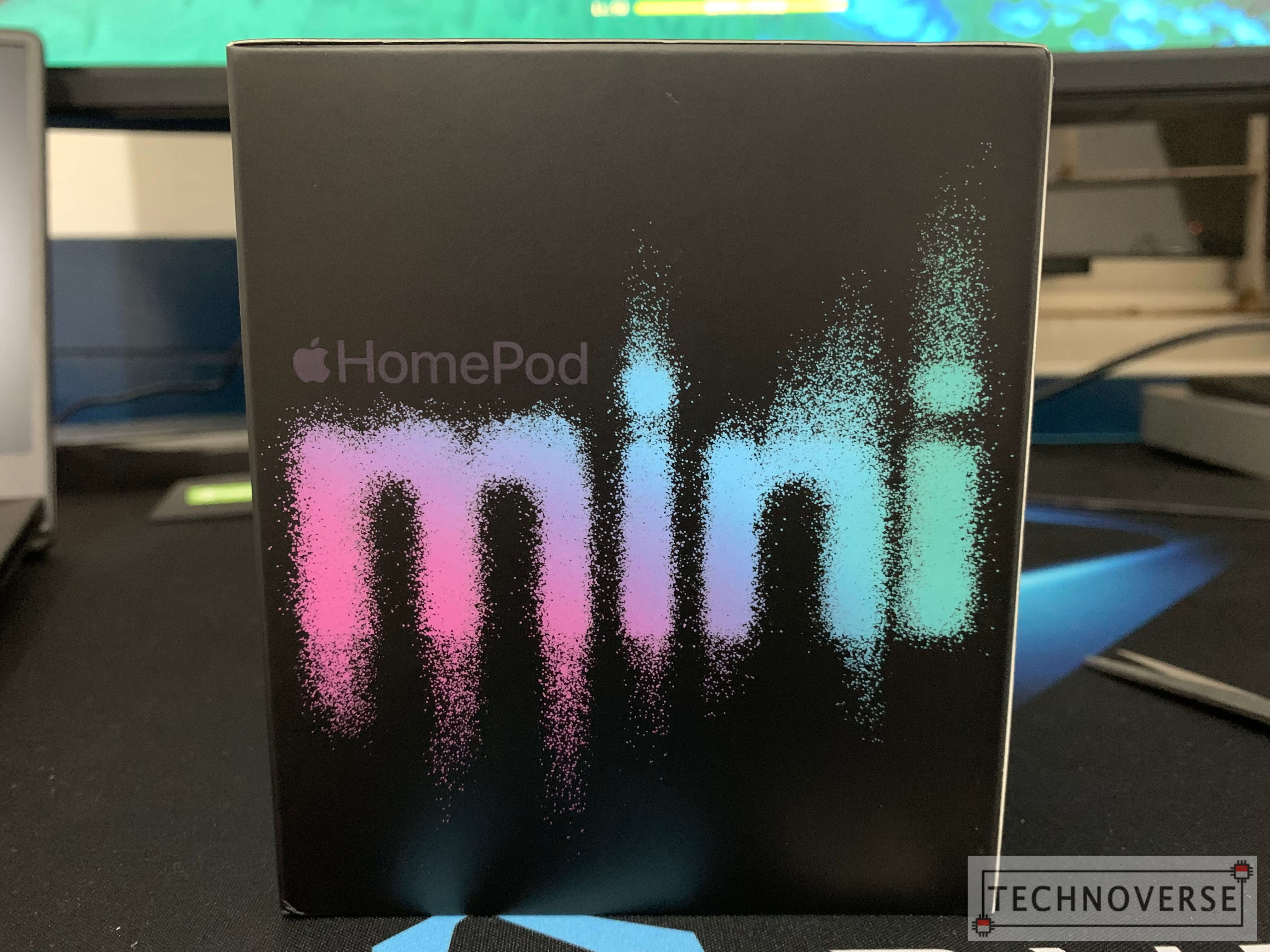 As usual, Apple's packaging prowess never disappoints. This time, the theme is fun. The box is compact, with HomePod writing and a large "MINI" text below it.
Opening it, you'll find the following:
The HomePod Mini
Quick Start Guide
Apple 20W adapter
Apple sticker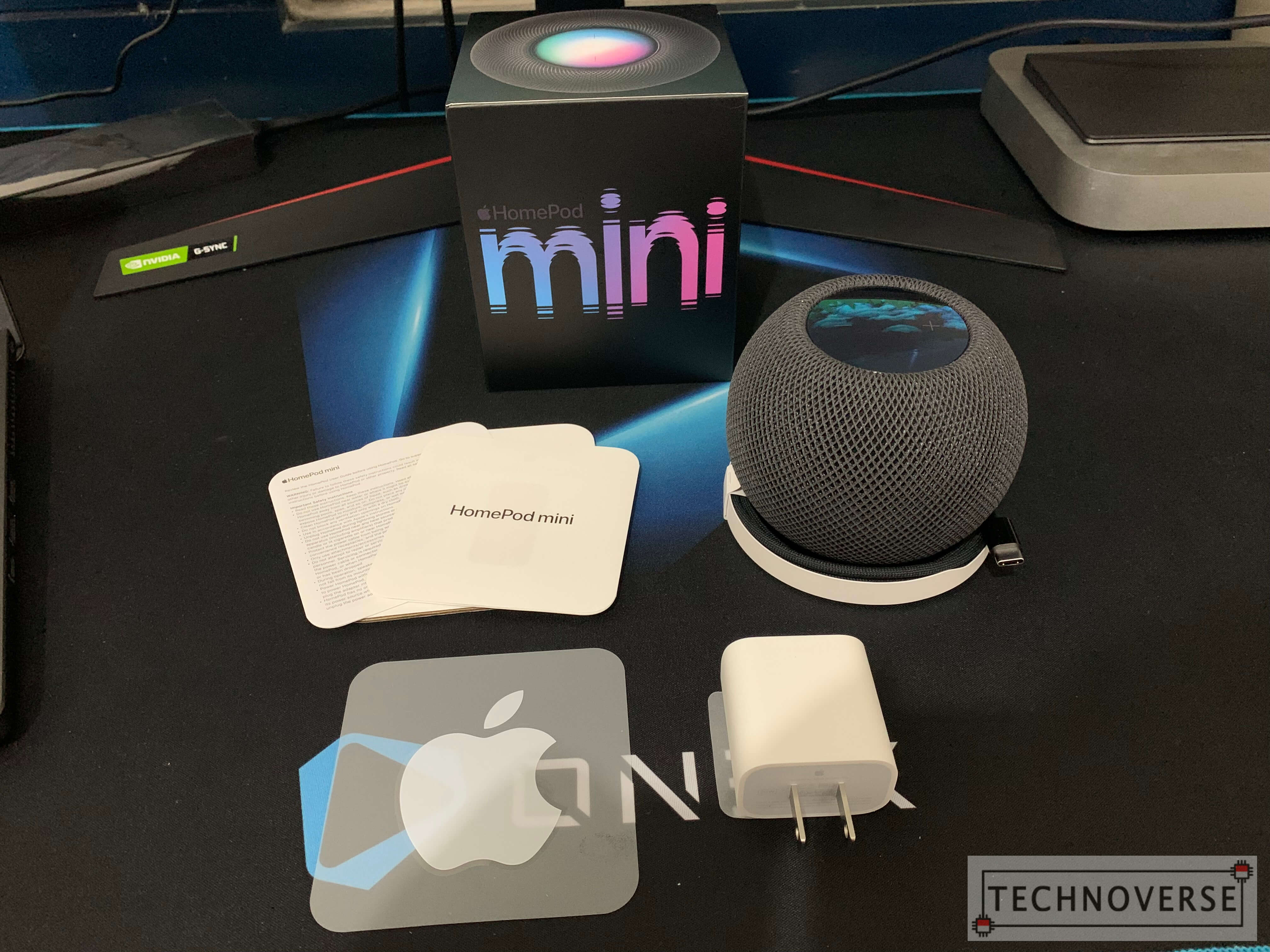 The HomePod Mini's design is… versatile. If you choose Space Gray color, like me, you'll be able to put it virtually anywhere in your home, and it'll still look good. It does a very good job blending in. The fabric mesh wrapping its circular side is quite pleasant to touch, even if you're not going to touch it often.
The Mini's control is located at the top. It's a touch-sensitive surface made of glossy plastic, hiding a multicolor LED that will play an animation depending on what the speaker is doing. You can also tap this center part to play / pause music, turn off alarms and timers, and hold it to trigger Siri. On the sides, there are plus (+) and minus (-) labels for increasing / decreasing volume.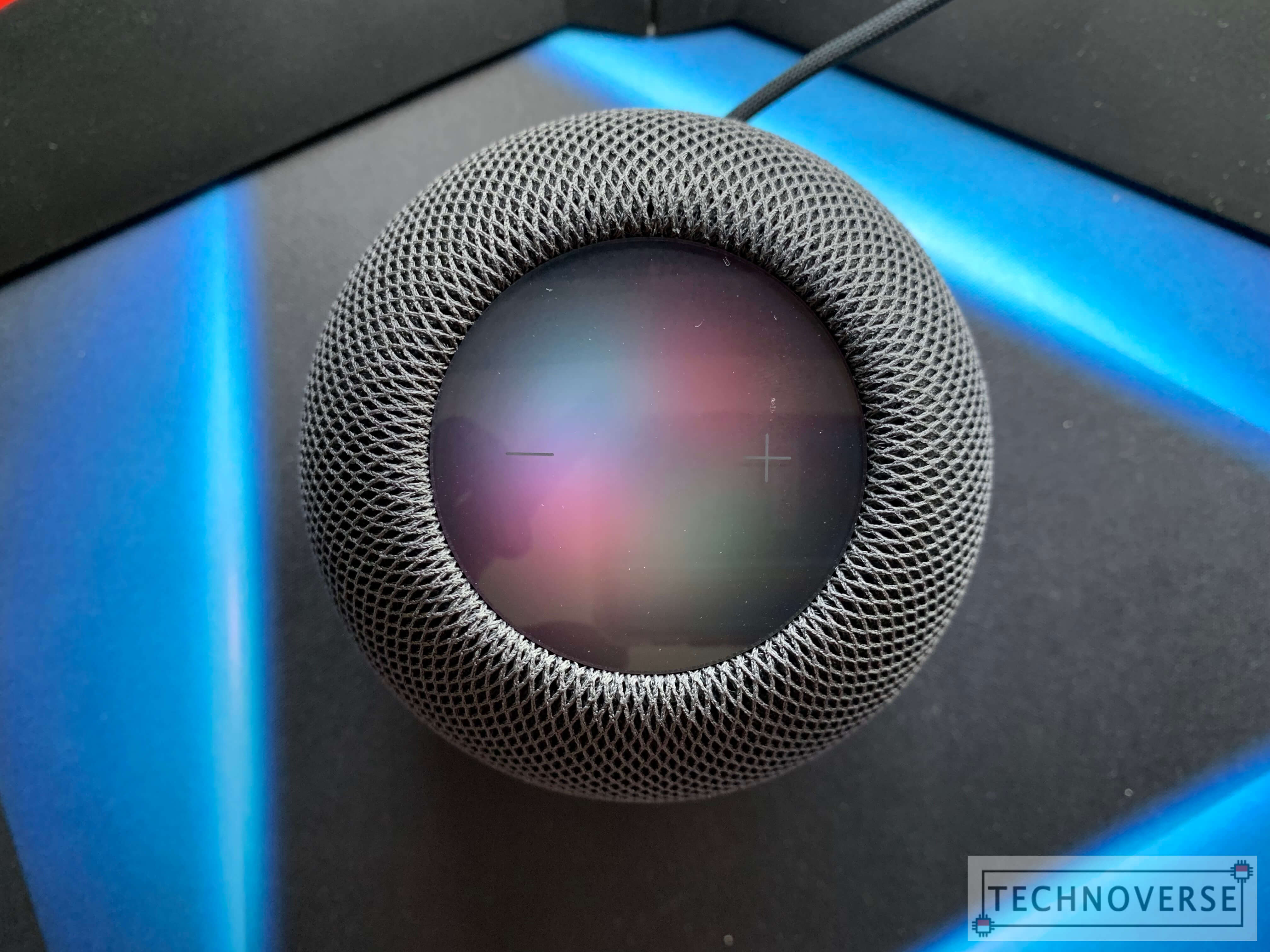 Now, you might notice I didn't write USB cable in the package contents. Well, that's because the cable is built into the speaker on the back. While I don't sweat this too much (I don't think I'm going to move this speaker that often), a YouTuber got a valid point: "If somehow the cable breaks, you'll have to bring the whole thing to a service center, instead of just replacing the cable."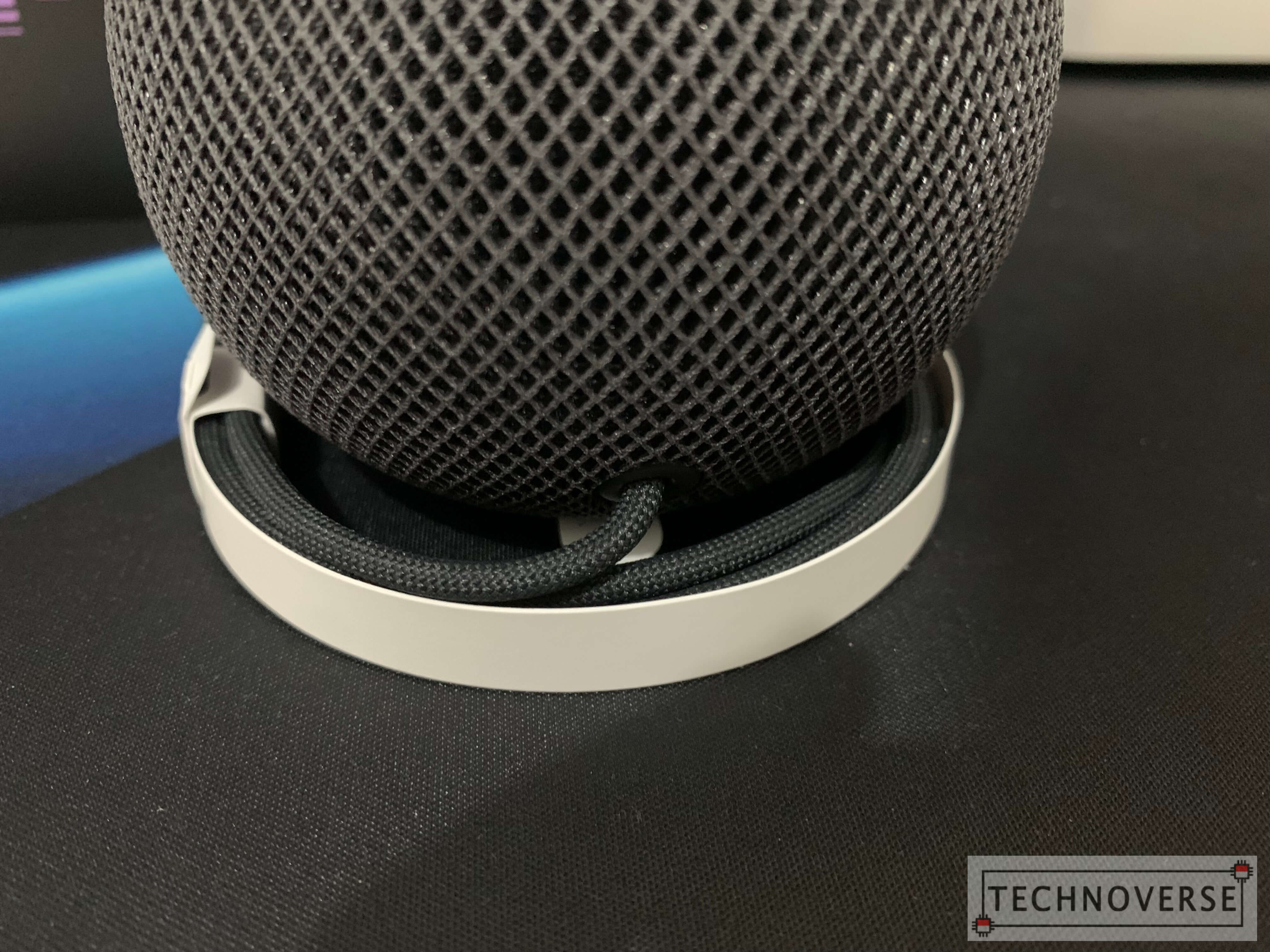 But, at least the cable is braided, and we got a power adapter. The more expensive Magsafe Duo Charger doesn't… for some reason. Apple does make questionable decisions sometimes.
HomePod Mini: User Experience
Just like AirPods and AirTags, pairing a HomePod Mini is as easy and seamless as pairing other Apple-made accessories. As soon as you plug it in, move your iPhone nearby, and it will detect the new HomePod, and prompt you to set it up.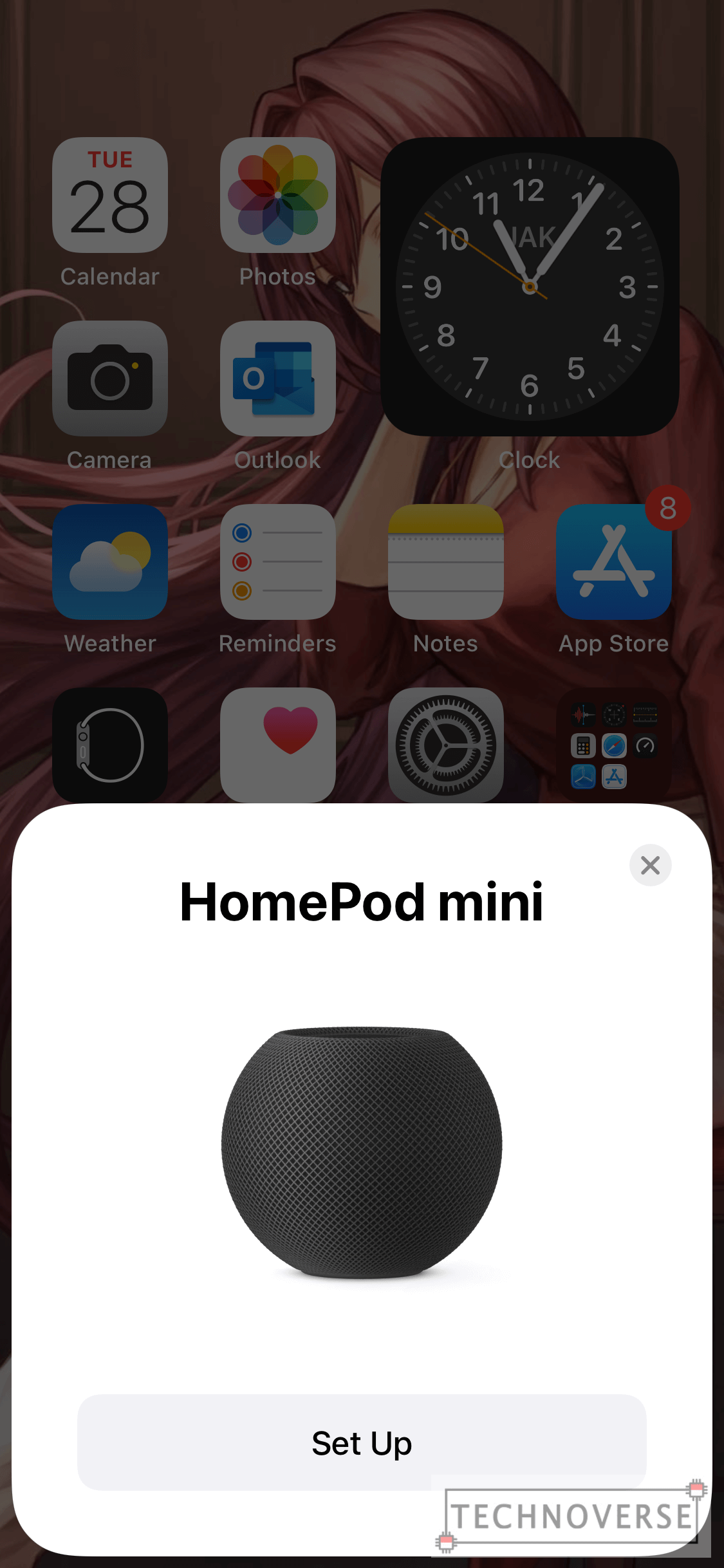 Once everything is set up, you'll be able to control the HomePod from the Home app. This ranges from updating its OS (it has one!), setting alarms and timers, and configuring the HomePod's settings. Oh, and just like Apple Watch, the timers and alarms are not synchronized with your iPhone.
Oh, and as a smart speaker, Siri is, of course, the core experience of the HomePod Mini. Triggering it easy, just yell "Hey, Siri!" (you need to set it up with your iPhone first, though) and it will respond to your command (and emit colorful animation on the top). The four-microphone array enables it to hear your voice from quite a distance, which is quite impressive. Even when put next to an ongoing TV show, it can still recognize your voice.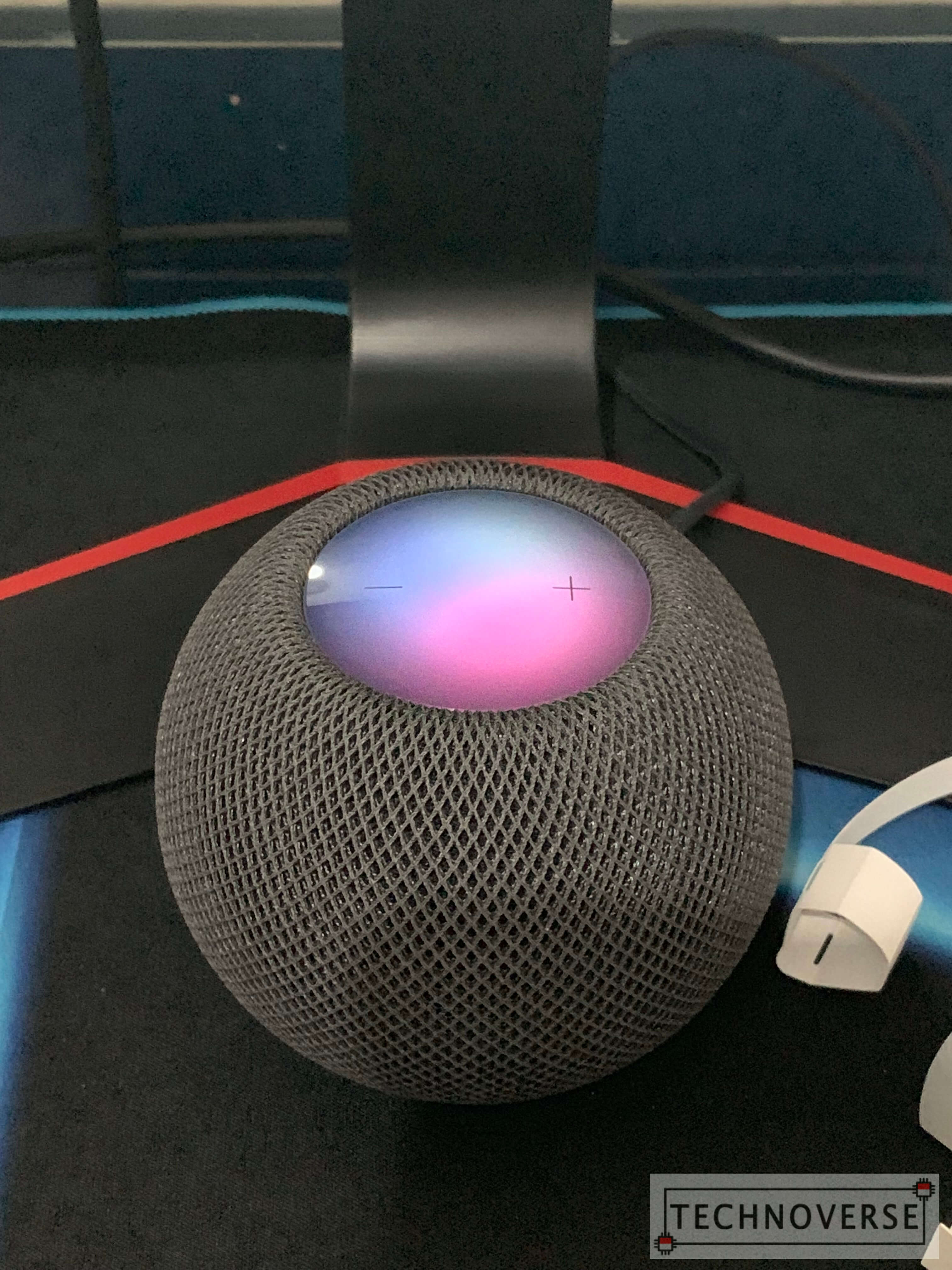 If you have family members registered in the same home, HomePod will be able to recognize their voices, and also able to fulfill their personal requests, like calling someone or finding their devices (it works, and to be honest, it's very convenient if you misplaced your phone or accessories).
Oh, and here's a fun fact: the HomePod Mini needs an account to play music on its own. You can yell "Hey, Siri, play some music!" and it will play something straight from Apple Music. You'll need a subscription, though, and you can set up whose account to use when it hears an unrecognized voice. That makes me wonder, how would Siri respond if I didn't have Apple Music subscription?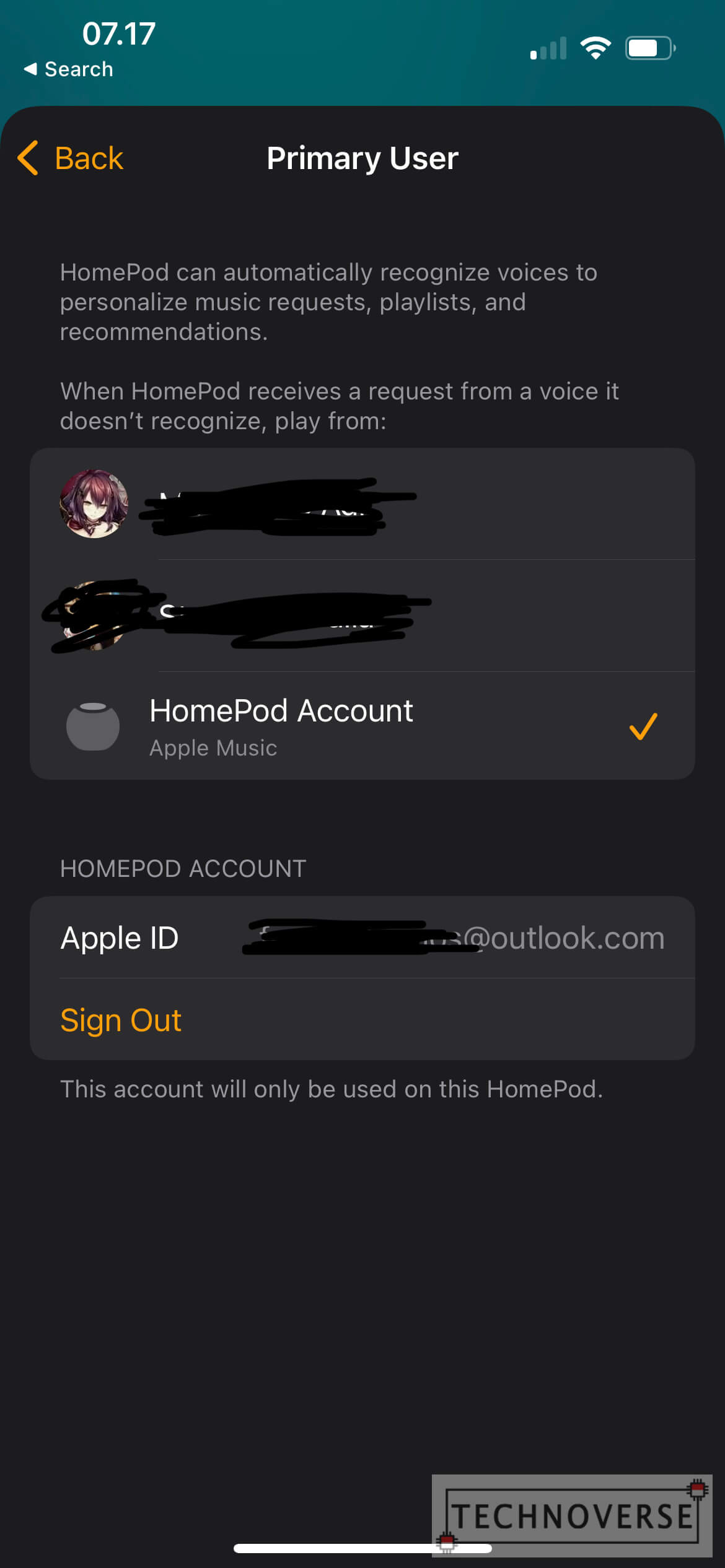 HomePod Minis, despite being smart, is still a speaker, and in my opinion, the sound it emits is pleasantly good, considering its size. The volume is loud, and the bass is also sufficient (keep in mind that I'm not an Audiophile, just someone who appreciates good music while working on something). Also, being Apple's first-party speaker, AirPlay-ing to HomePod Mini from your favorite Apple device is also seamless. Just make sure that you're in the same Wi-Fi network as the HomePod.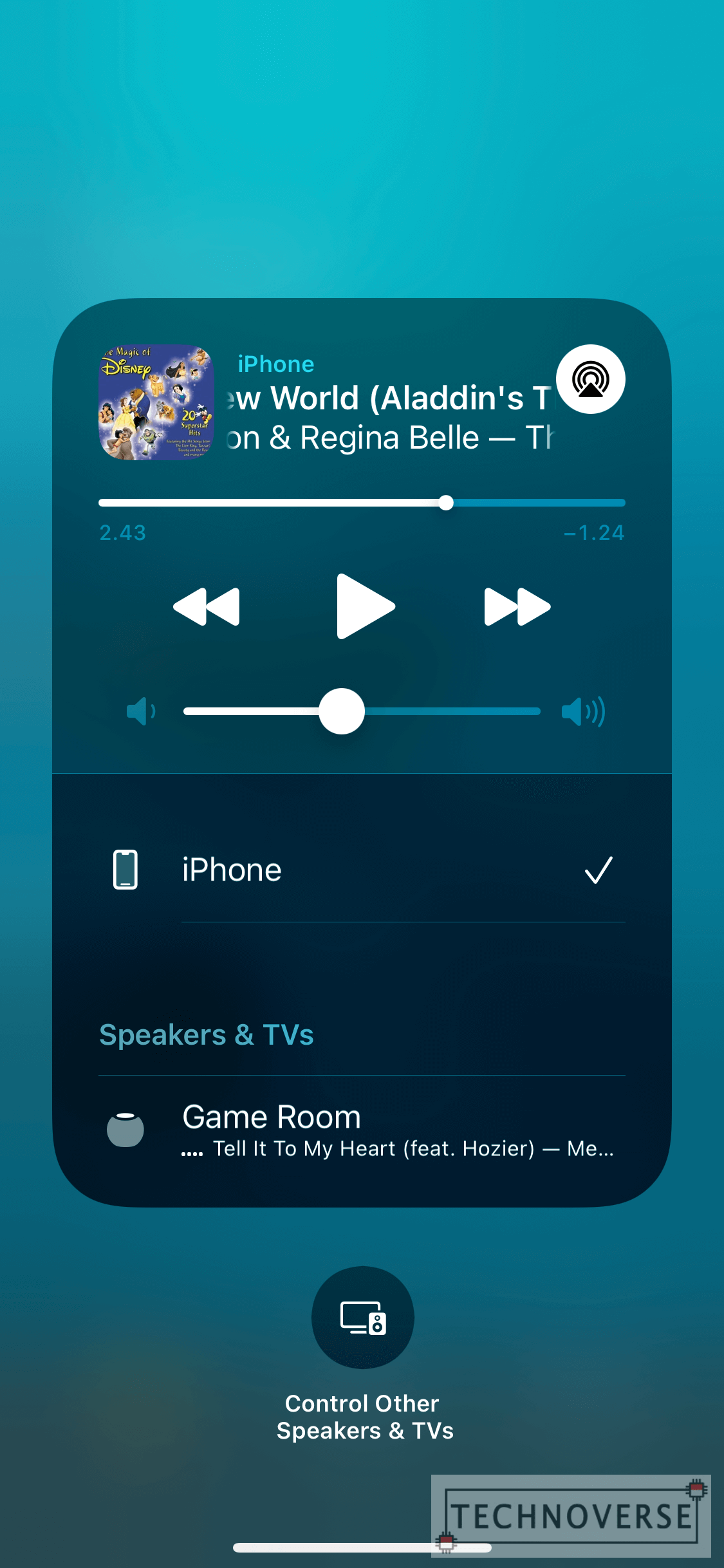 Additionally, you can also transfer calls from your iPhone to the HomePod Mini. The four-microphone array makes it convenient to continue a conversation from a distance (I tried approximately 2 meters, and my voice is still heard clearly). The only catch is that you can only transfer FaceTime and cellular calls. In my tests, I cannot transfer WhatsApp calls.
HomePod Mini: A Good Speaker for Macs?
So, it's been a great experience for iOS devices, so it should be the same for Macs, right? That's what I thought, too, but in reality, it's not. In fact, it's been an experience so terrible that I dedicated an entire section about it.
Okay, it turns out that AirPlay 2, while being a very seamless experience for iOS, has been terrible for Macs for years. Why, because there's a very noticeable, 2-ish seconds of delay for the audio for some reason. Therefore, if you're using it to watch videos, prepare to get mad. It's not as bad when you're trying to play music, but the delay made it feel so unresponsive to the point that it's unusable.
The most baffling thing of all? This is an Apple's first-party speaker, yet it's a terrible experience for Macs. In addition to the poor user experience, the Home app on the Mac is not as responsive as on the iOS. Mind you, this is an Apple first-party app, which should be the example of the whole Mac-iOS app integration thing with Catalyst, and it's not looking so good.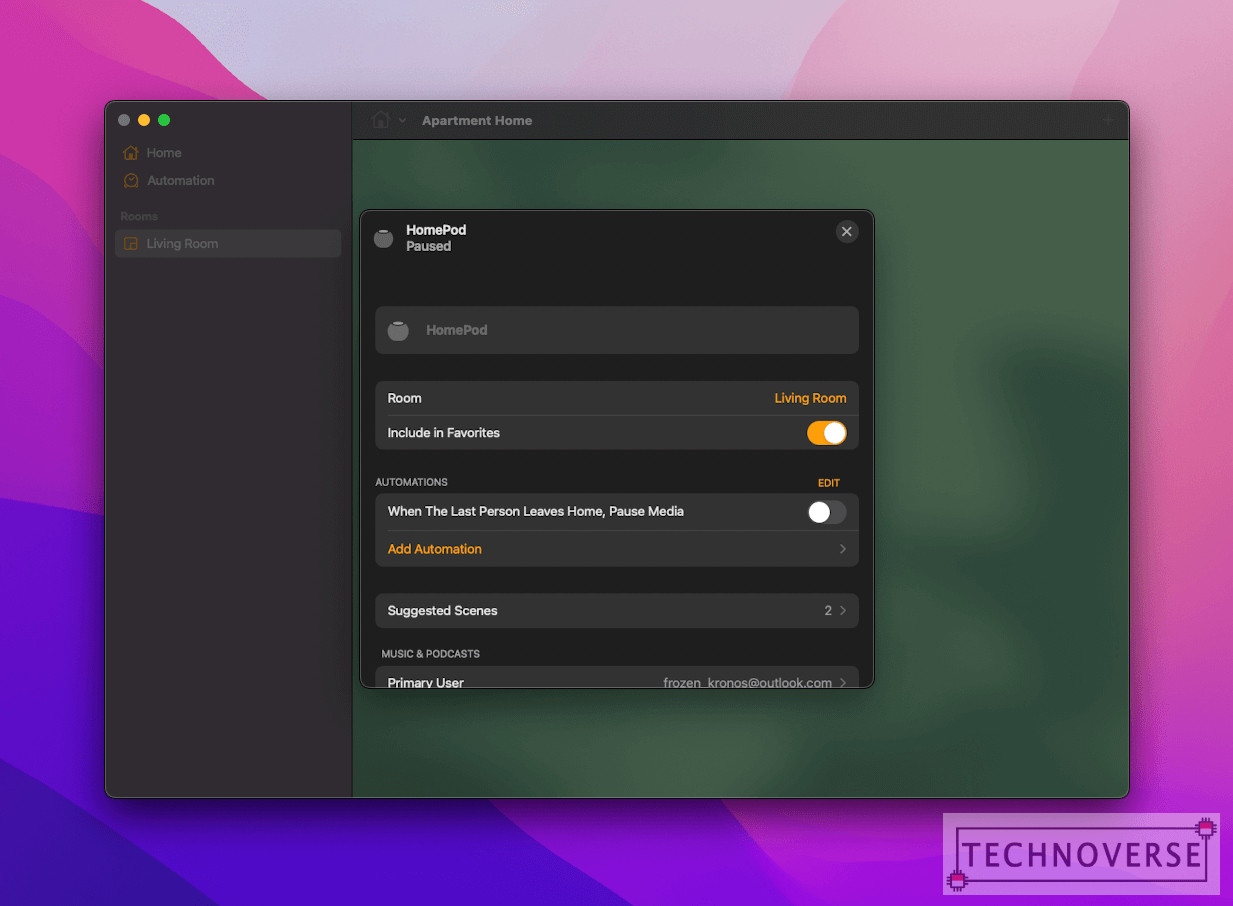 So, with utter disappointment, I'll have to look for a "normal" Bluetooth speaker for my Mac Mini, and put the HomePod Mini on the living room for playing music, setting up alarms, timers for cooking, and probably make some calls and finding my stuffs.
Oh, and before you ask, in case you don't know, the HomePod Mini does not support Windows and Android by default, since it connects via Apple's proprietary AirPlay 2 protocol. You'll need a third-party app like AirParrot or TuneBlade to enable support.
Conclusion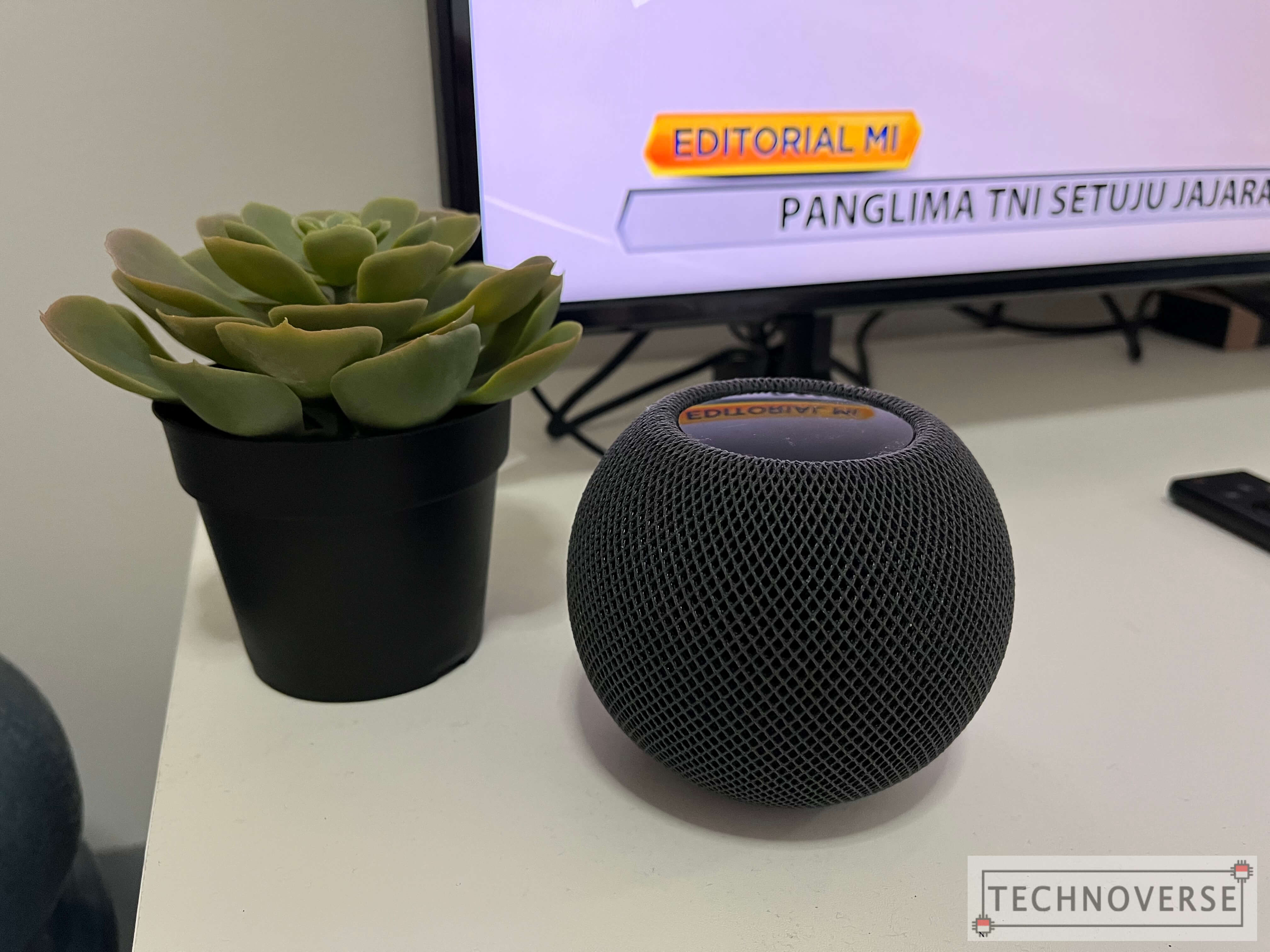 Well, the HomePod Mini is everything but a normal Bluetooth speaker. It excels in all the smart stuffs, sound quality, and of course, integration in the Apple ecosystem, but it's a terrible, terrible Mac speaker, or any other OS besides iOS and iPadOS.
So, the conclusion is actually simple. If you're looking for a smart speaker to enhance your smart home experience, or just needs something bigger to play music from your iPhone, and you're already invested in Apple's ecosystem, HomePod Mini is a very decent, recommended, even, buy. Otherwise, if you're looking for an ordinary Bluetooth speaker, or you're not sure if you're comfortable living in Apple's so-called Walled Garden, get a Bluetooth speaker or a Google Assistant-powered speakers instead.
Pros
Small, portable, fit-anywhere design
Great sound and microphone quality given its size
Tight integration with iOS and iPadOS
Cons
Sub-optimal experience on MacOS, and any other OSes beside iOS and iPadOS
Only supports AirPlay, third-party app needed for unsupported devices
Well, I guess that's all, Folks. Though the HomePod Mini is actually a great product, it's not what I'm looking for. I think I'm going to grab a Sony Bluetooth speaker instead. I'll still keep the HomePod Mini in my living room, though, since my wife seems to regularly use it for music, alarm, and timer.
Finally, as usual, thanks for reading, and don't hesitate to ask questions or share your experience with the HomePod Mini in the comments section below. See you in the next article! 😀