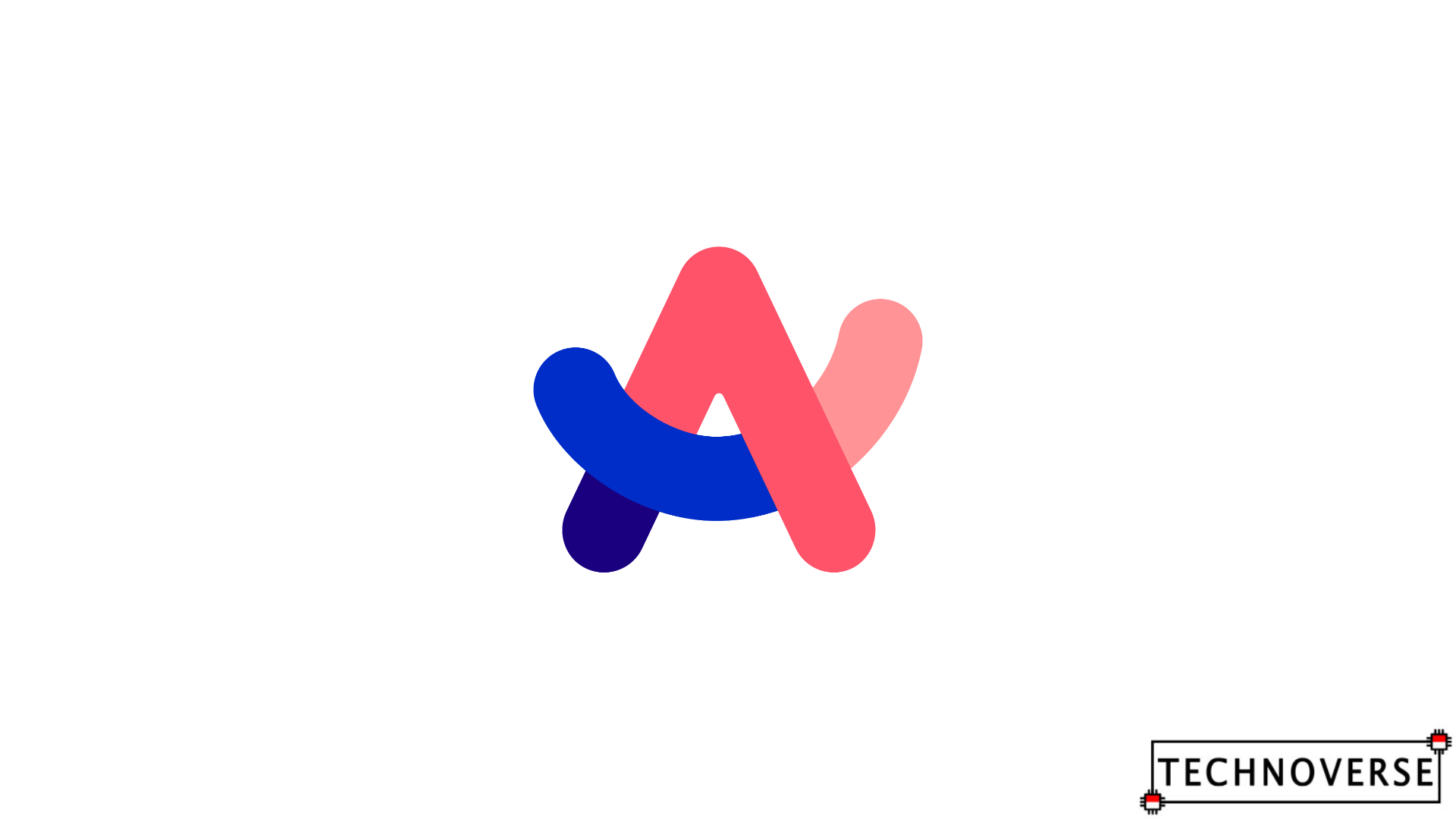 Anda berbicara Bahasa Indonesia? Baca artikel terjemahannya di sini!
Both in my social media and work, there's one new browser that everyone keeps talking about recently. It's called Arc, and it promises to bring a fresh design and way to interact with the Internet.
So, I've been using Edge as my primary browser ever since Microsoft adopted Chromium. Will this new still-Chromium-based browser tempt me to switch? I know Safari, Chrome, Brave, and Firefox can't.
So, let's find out.
Arc: About and Installation
As mentioned above, Arc is based on Chromium, meaning that it has the same underlying engine as Google Chrome, New Microsoft Edge, and Brave. The benefit of using Chromium is that it should be compatible with most of the Internet, since Chromium holds the majority of the browser marketshare. Another benefit is that Arc should also be compatible with your Chrome extensions. You can even install them directly from the Chrome Web Store.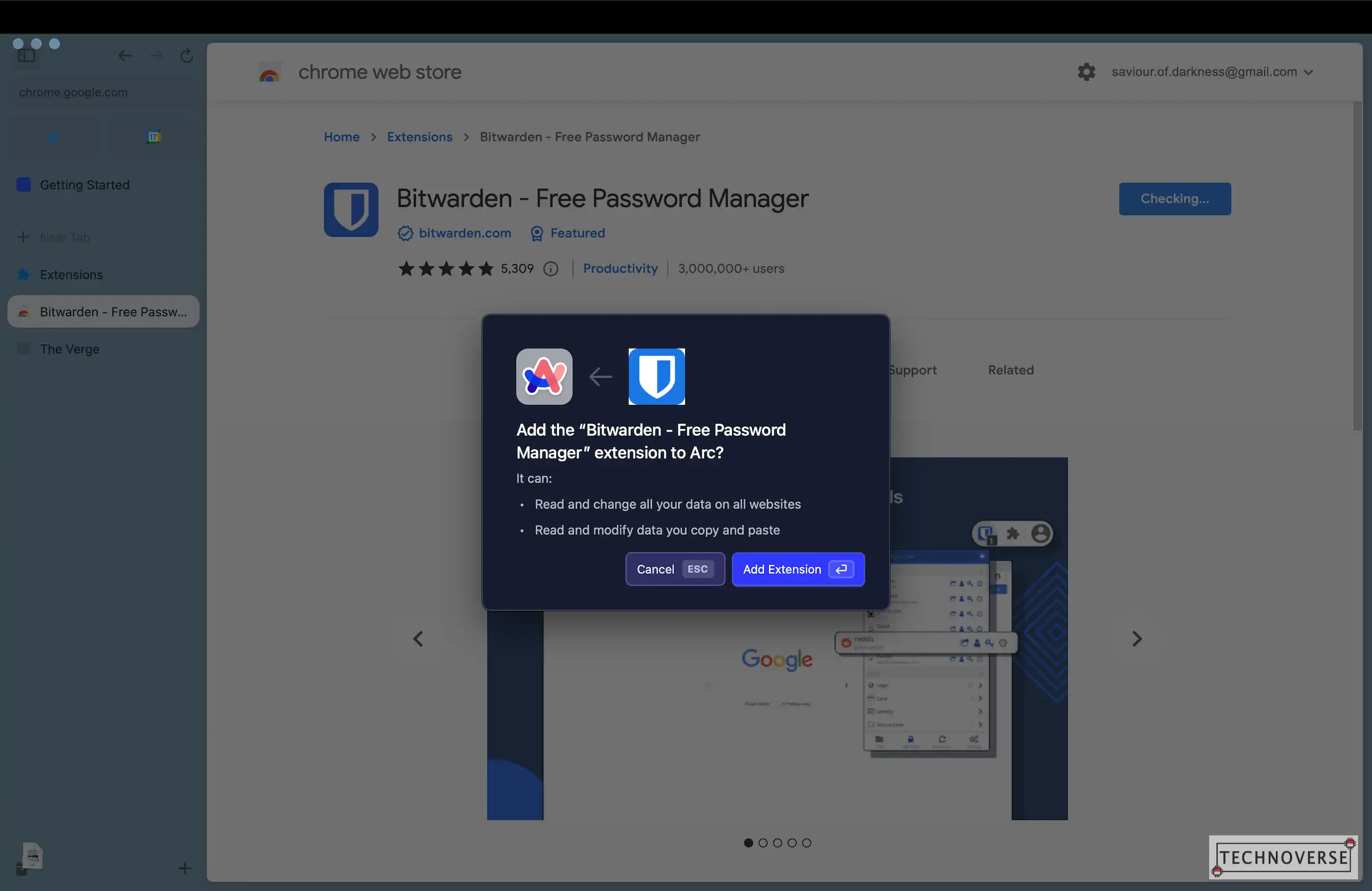 Currently, Arc is only available on macOS. According to the company, Windows version will come later this year. There's also a companion app on iOS, but it's not a full-fledged browser. We'll talk more about it later.
As for installation, installing it is as simple as installing other Mac apps. Just download the package from Arc's website, open it, and drag it to your Applications folder. What I like here is that it's an offline installer, meaning that you just download once and good to go. It will update itself along the way.
Arc: User Interface and Features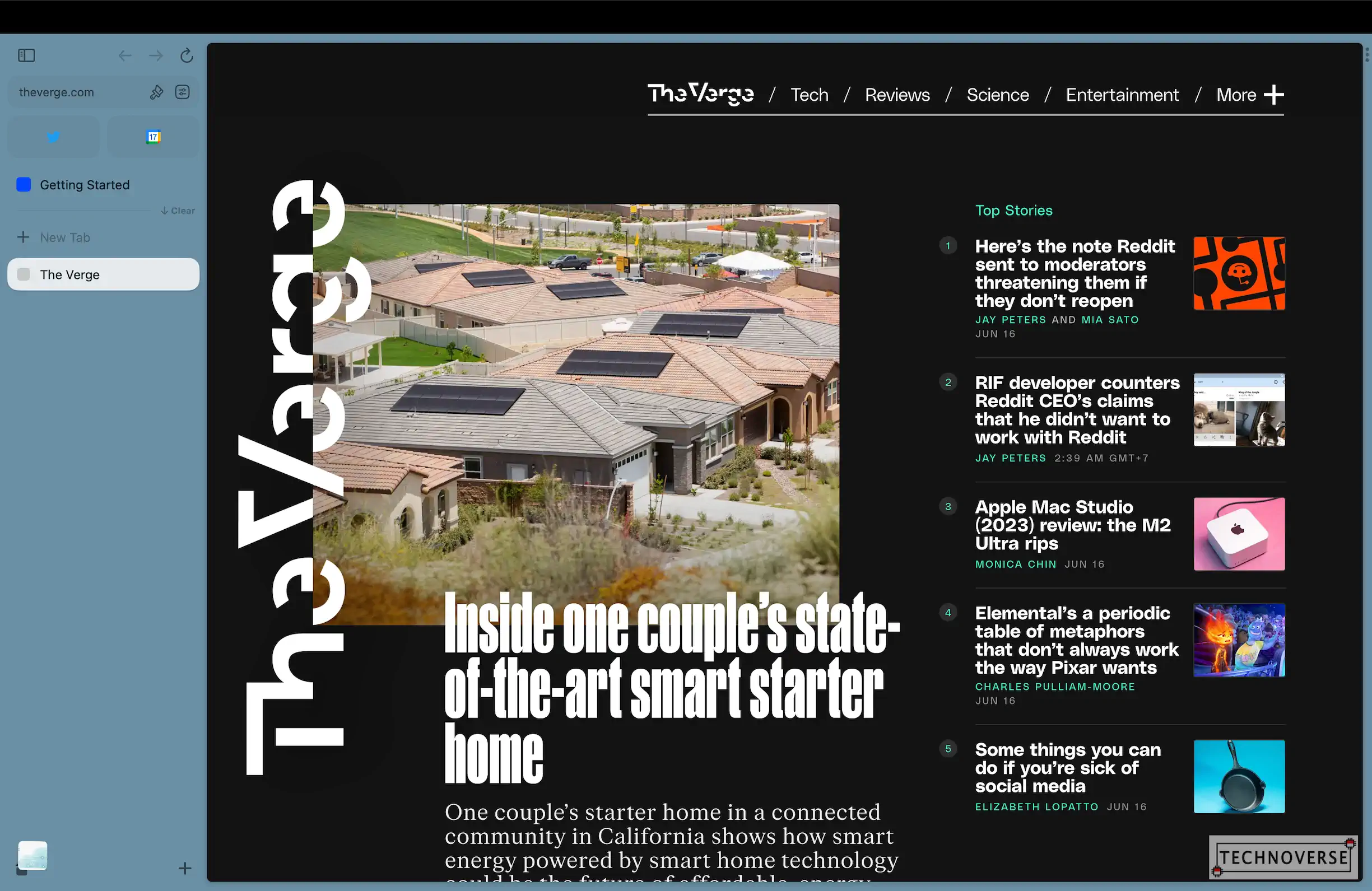 The main theme for Arc's UI is simplicity and immersive-ness. The UI is so clean that sometimes it's confusing, at least to me. It took me a couple of weeks to really appreciate its simplicity.
One of them is, by default, Arc will "archive" your unpinned browser tabs every 12 hours. Sure, you can disable it in Arc's settings, but in the beginning you'll be confused why your tabs keep disappearing. To be fair, though, you can easily pin your important browser tabs by dragging it to the upper area.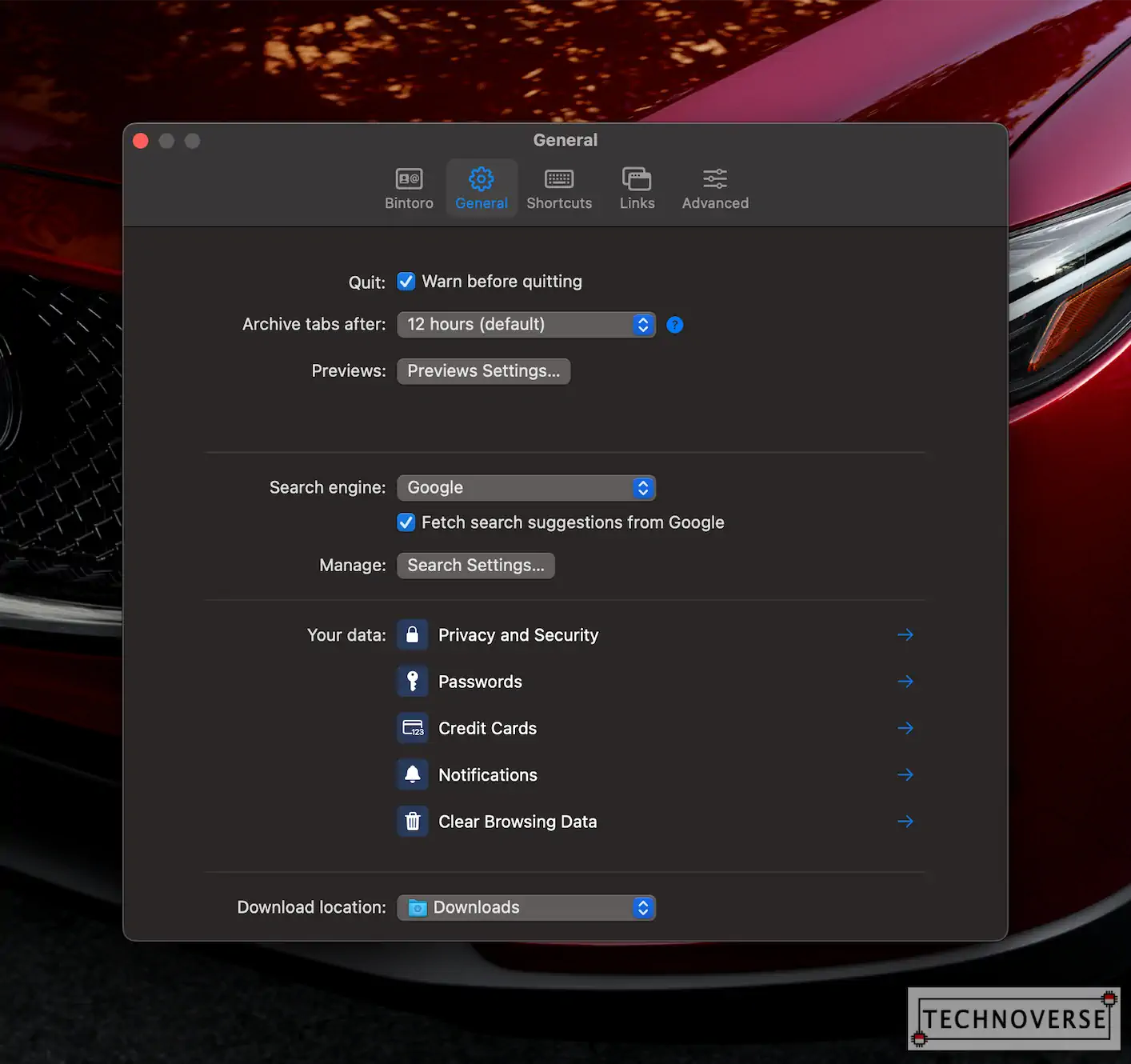 One thing I like from the cleanliness is that all additional information and tools (extensions, website capture, etc.) is neatly tucked in a single small window that you can quickly access by clicking an icon on the right side of your address bar.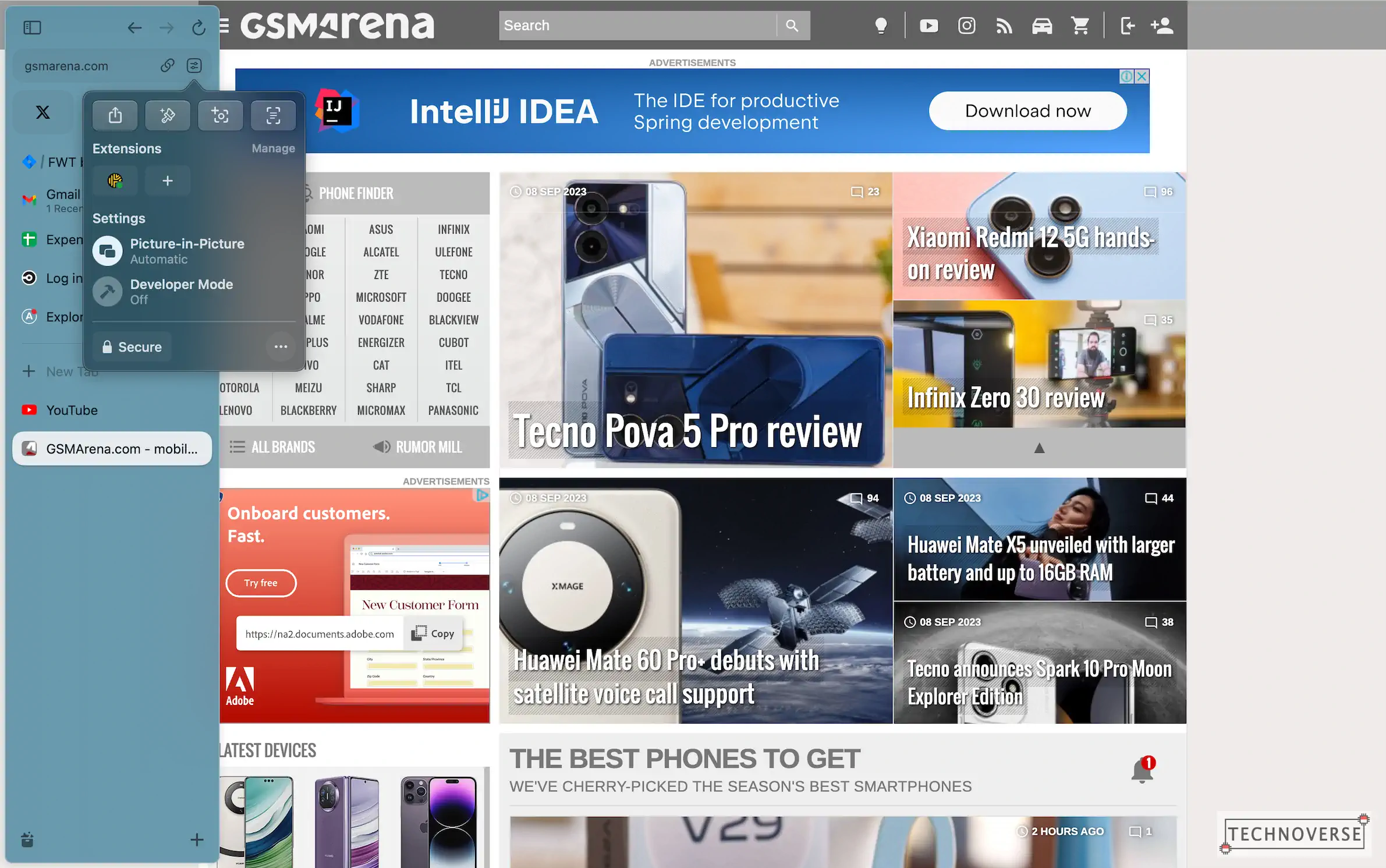 Now, the beauty of Chromium browser is that the developers are free to add and customize the features they want, and Arc has a bunch of useful features built in:
Profiles and Spaces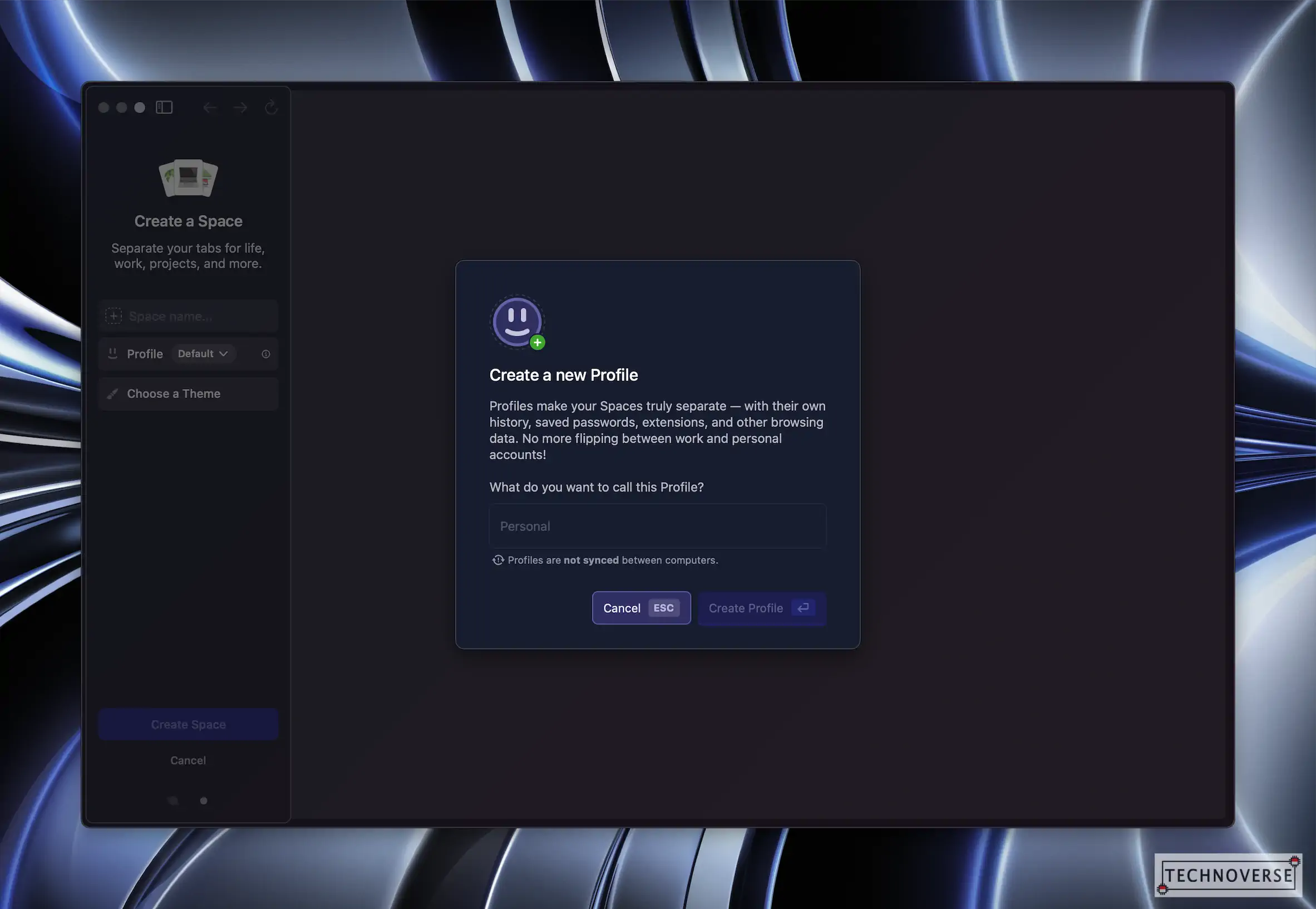 Similar to other popular browsers, Arc also supports Profiles, which lets you have separate browsing data, saved passwords, etc. However, Arc takes it to the next level by abstracting it to Spaces, which is very handy to separate between personal, work, project-based browsing sessions. You can choose to use the same or different Profile when creating Spaces.
Easels and Notes
Both easels and notes are very handy for boosting your productivity. Easels is like a drawing board that you can use to quickly jot down notes or grab images from websites (you can drag and drop it!). You can share Easels through a link, but other users can't edit it.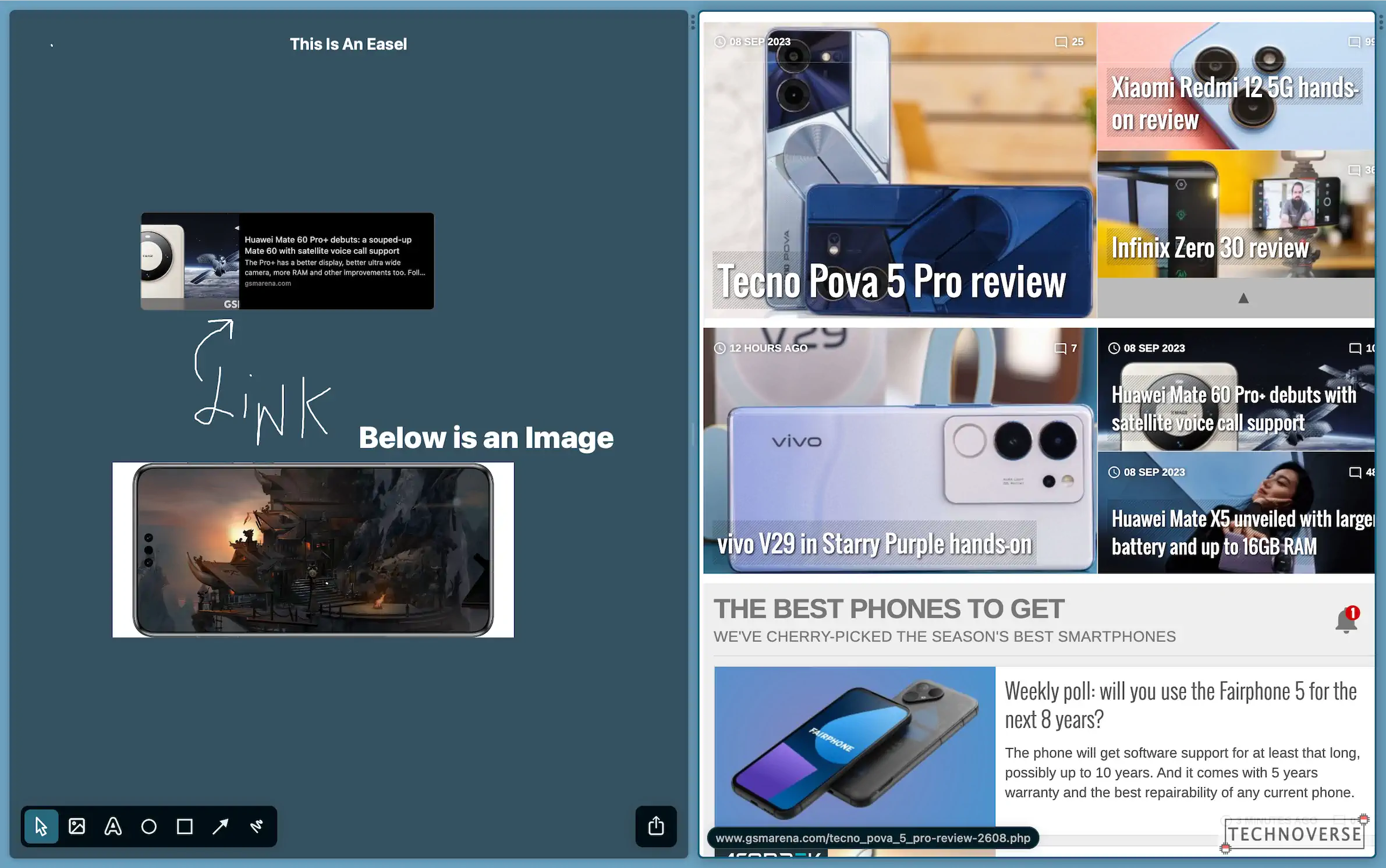 Another productivity-related unique feature is Notes, which is, well, for taking notes. Notes supports Markdown, so it should be very easy to get used to and format your notes. Unfortunately, unlike Easels, Notes currently doesn't support images. However, unlike Easels, you can let others edit your Notes when you share it. It currently doesn't support real-time collaboration like Google Docs, though.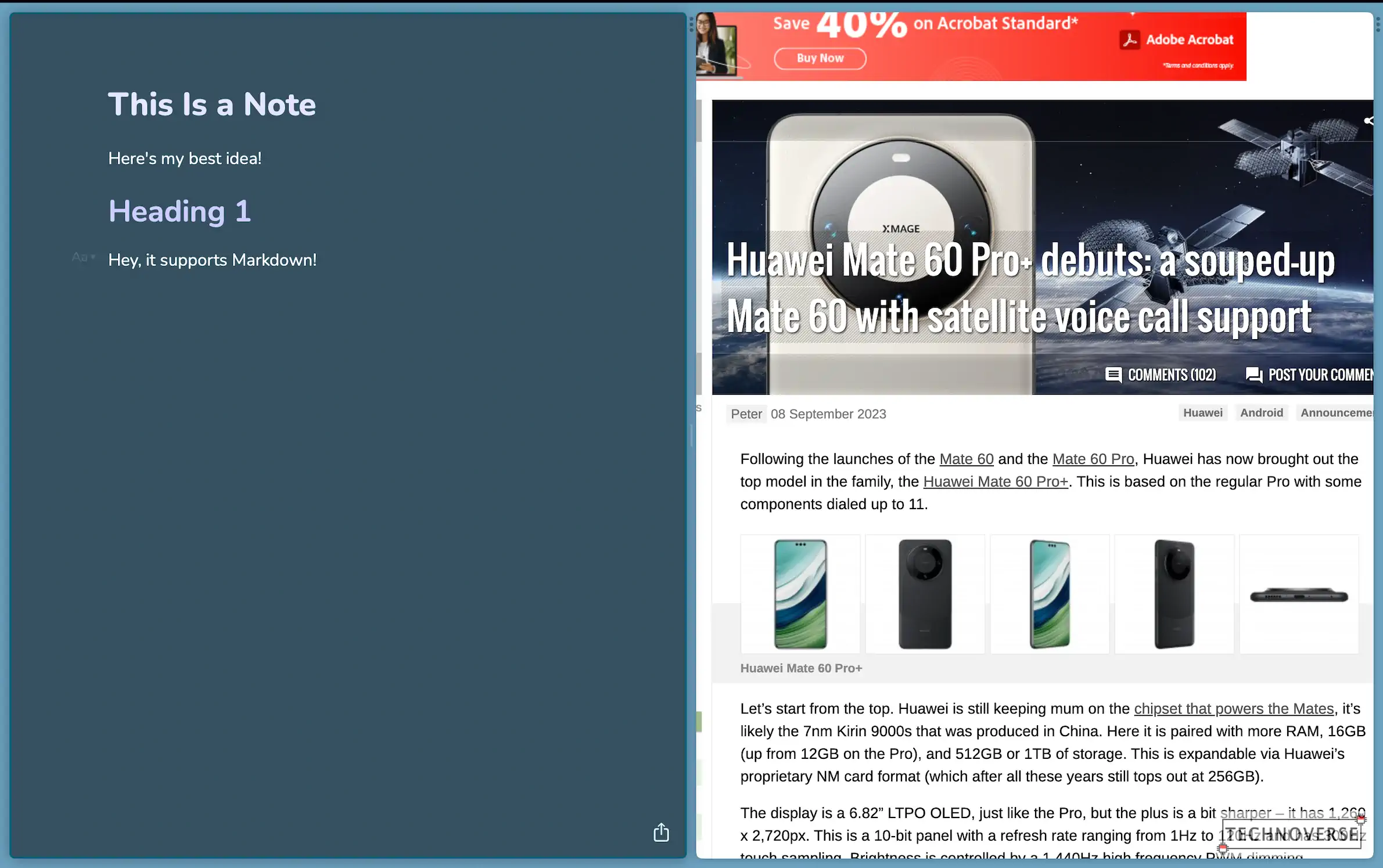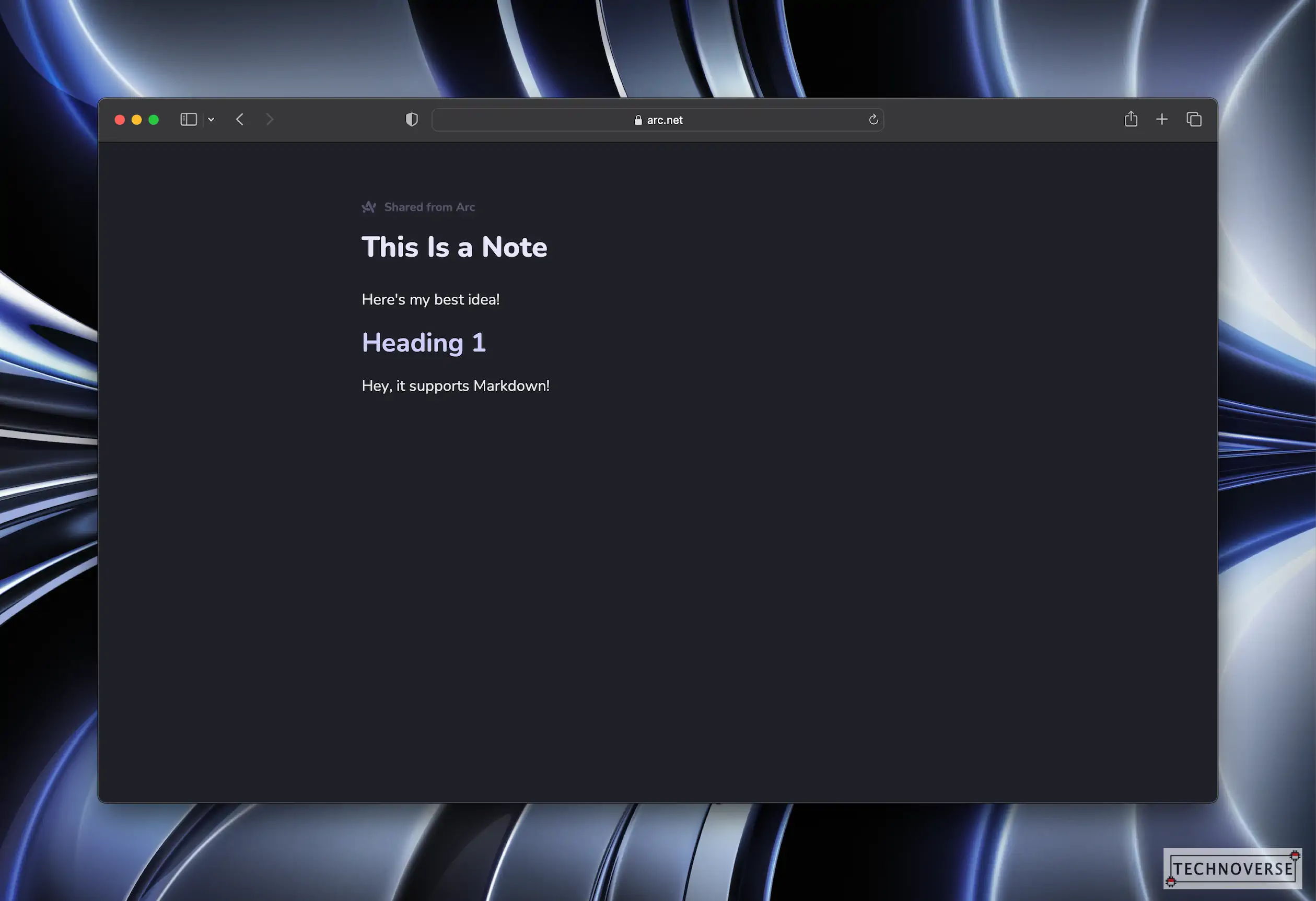 Still, combined with Arc's built-in Split View, both Easels and Notes can be very powerful to give your productivity a much-needed boost.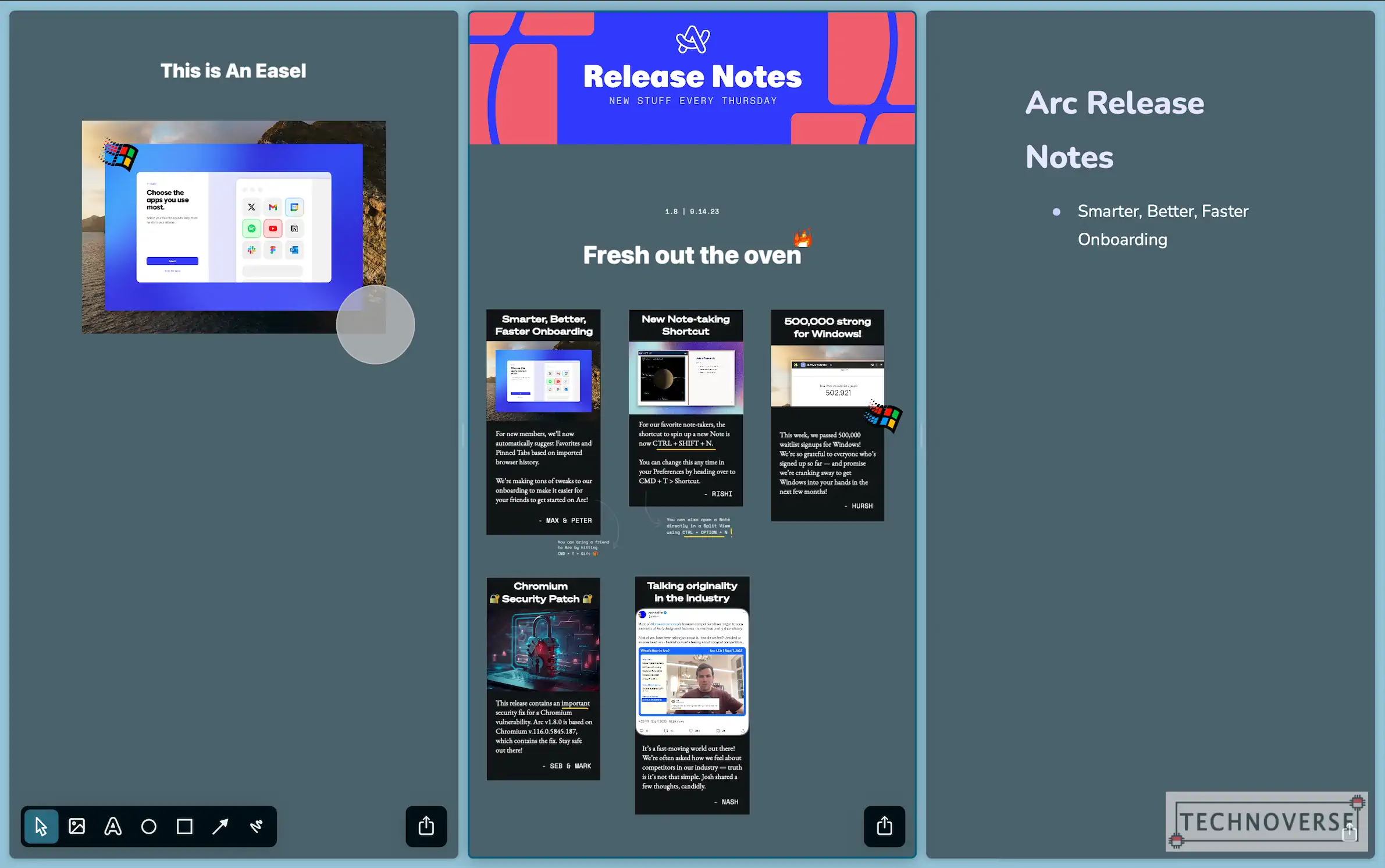 Boosts
Boosts is a very unique feature in Arc. It lets you to "customize" any website in any way you want. You can quickly update fonts, change color palette, or even insert custom CSS and Javascript if you want.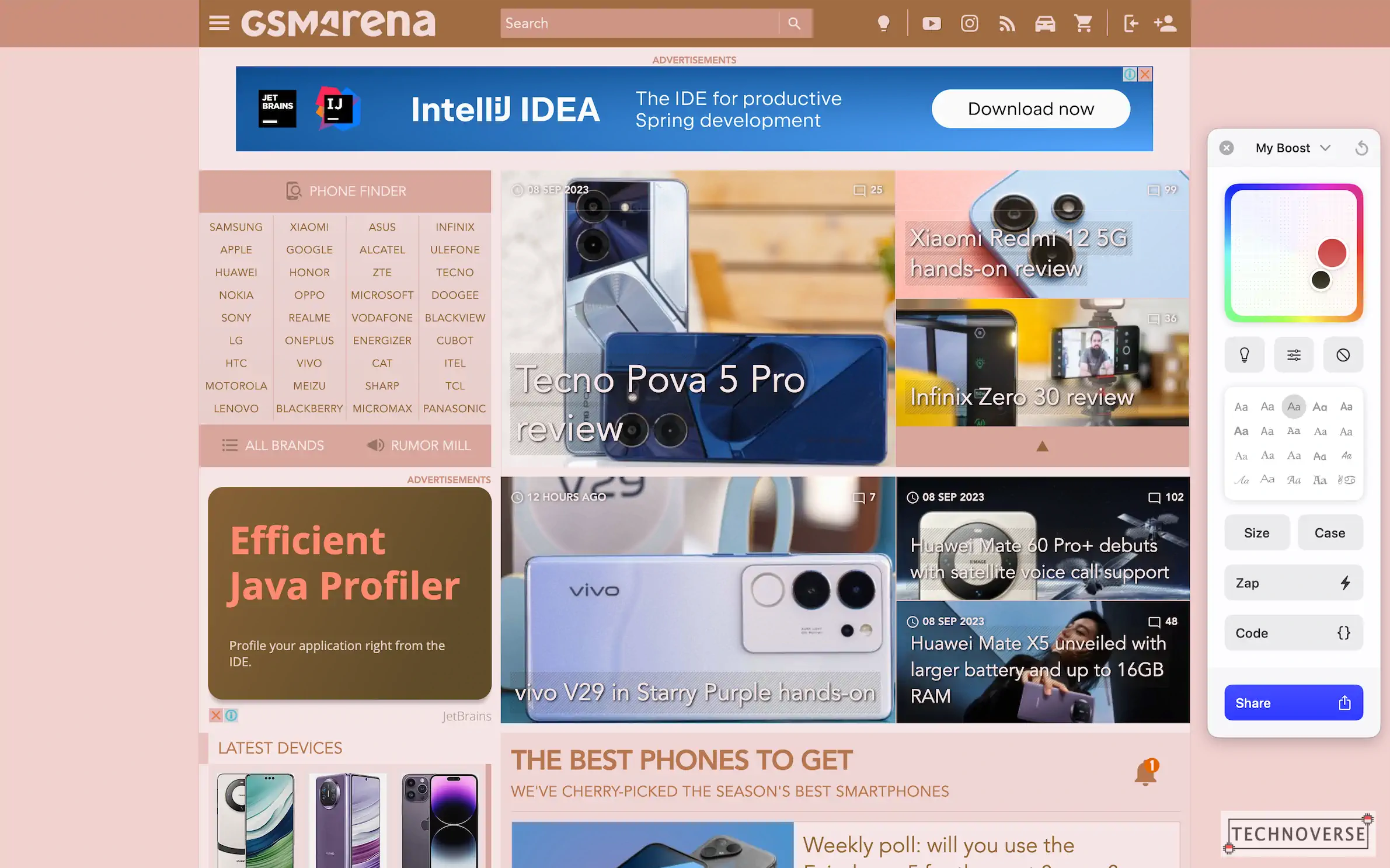 In case you're not fond of creating your own, Arc has its own Boosts Gallery containing Boosts made by other users. You can also share yours here if you want. Just one thing, though, for security reasons, we're not allowed to share Boosts containing JS script.
Little Arc
I don't know if this feature is unique to Arc, but I'm going to talk about it anyway, since I love it. Basically, it's a feature that automatically opens a little Arc window when you click a link, instead of forcing you to the browser window, distracting you from whatever you're currently doing.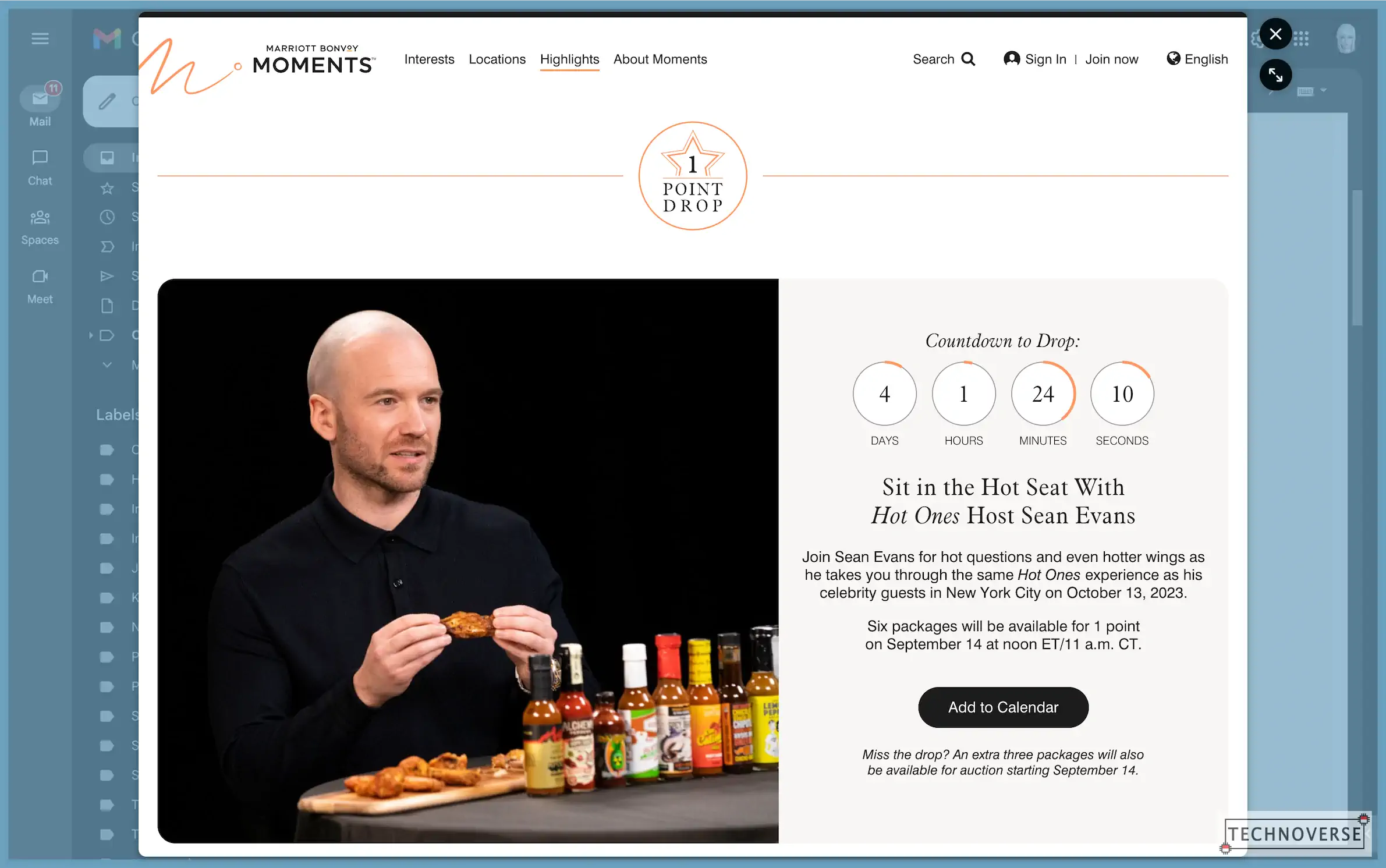 If you want to move it to your current browsing window, you can easily do it with a push of a button, or a shortcut CMD+O. This feature is very useful if you want to take a quick peek from a web link.
However, it's worth noting that in order to use this, you need to set Arc as your default browser on Mac.
Shortcuts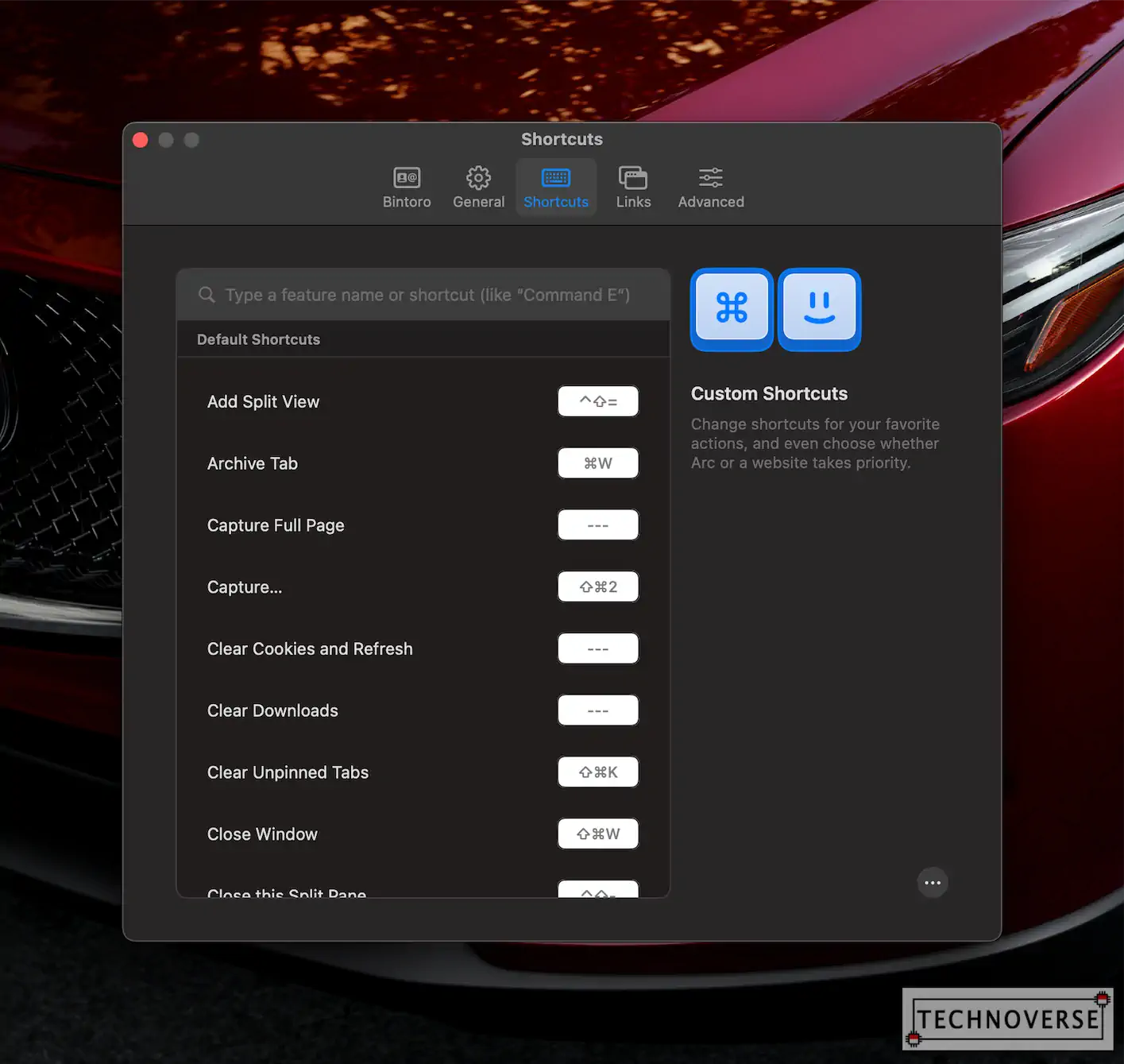 I know some of you love using shortcuts, with the argument of increasing productivity. I can see why, after having used some shortcuts in IDEs when I work myself. However, I'll have to admit that my memory is not strong enough to memorize all the shortcuts.
Anyway, enough ranting. The point is, Arc supports tons of customizable shortcuts.
Developer Mode
Developer Mode can be enabled for individual tabs. Basically, it permanently shows a set of tools that are otherwise hidden, enabling you to quickly access them (you can still access them by traditional means, though, like enabling Element Inspector from Context Menu).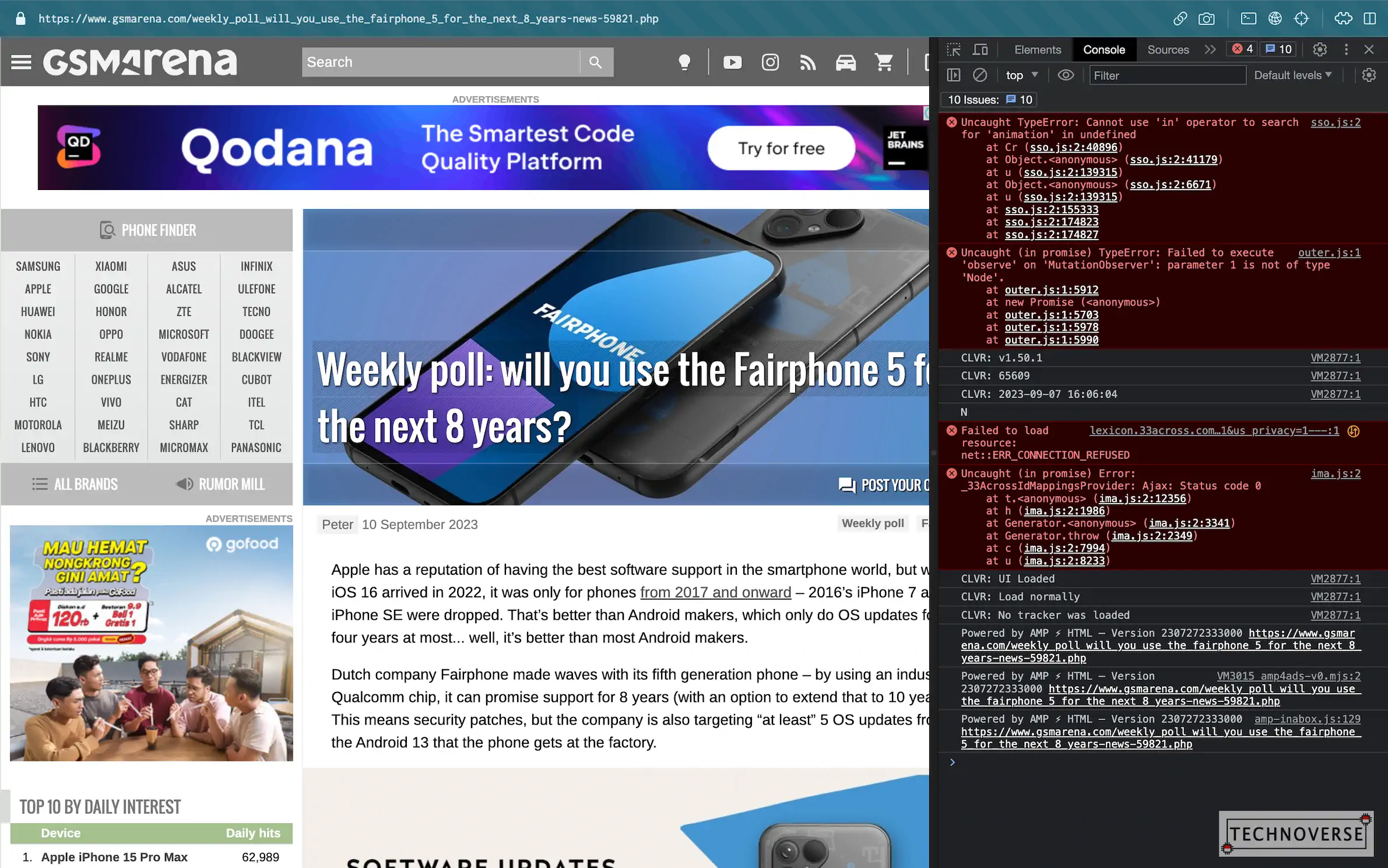 Developer Mode also permanently shows the address bar, which can be very handy when testing your web application.
Arc: Memory Usage
Believe it or not, browsers are one of the most resource-hungry applications out there today. There's even a sad-but-true joke about needing more RAM just to open more browser tabs. At least that's for Google Chrome.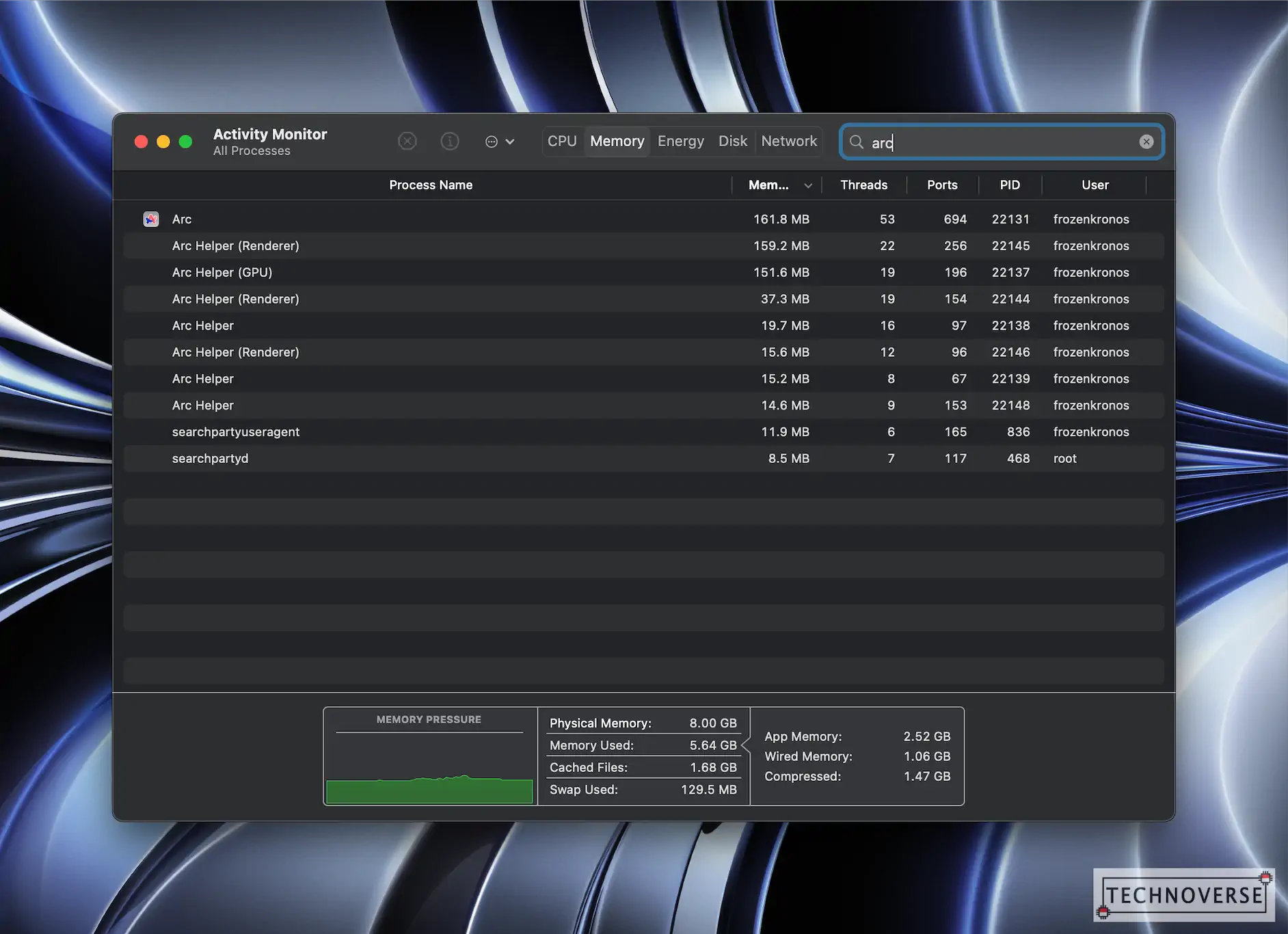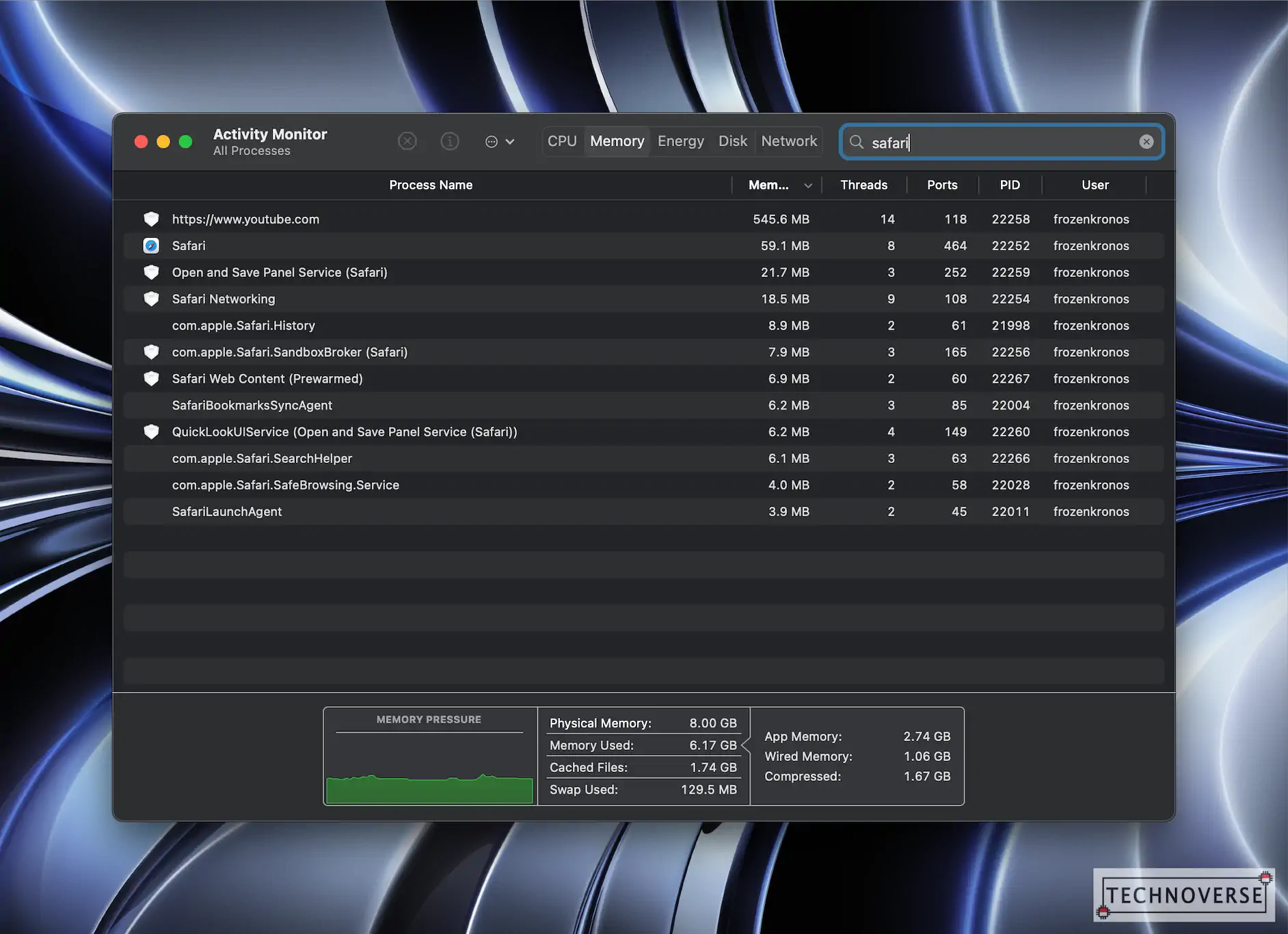 What about Arc? Well, I'm happy to report that Arc doesn't use that much memory. With a simple, definitely non-scientific test, I opened a single Youtube tab on both new Safari and Arc windows (fresh start after quitting them). Both browsers use the same amount of memory, just like in the screenshots above. Why Safari? Well, because Apple seems to highlight how light it is on every macOS release, so I thought it would be a good benchmark.
Arc on iOS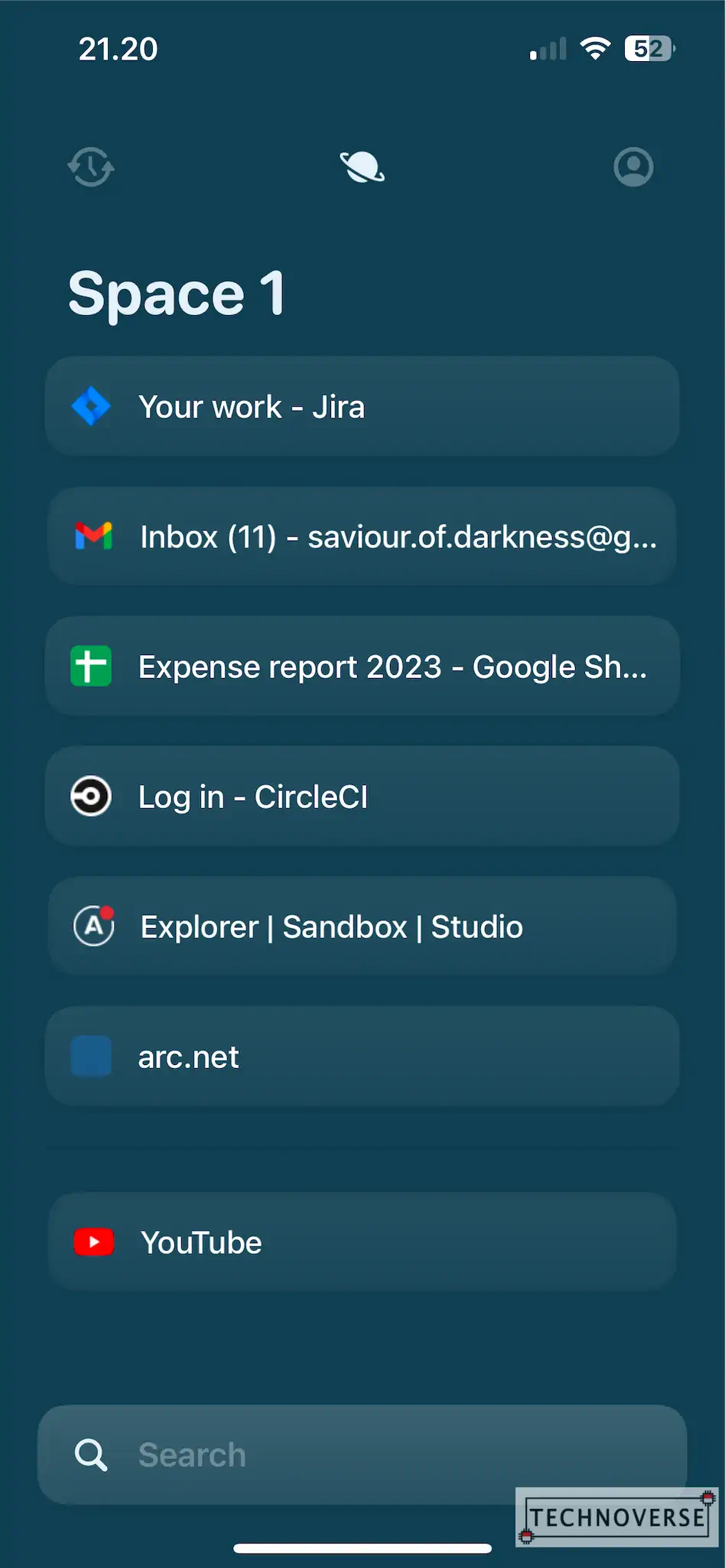 Arc is also available on iOS, though it's not a full-featured browser. It's more like a companion app, for quickly accessing and keeping track of your desktop tabs across Spaces. You can also pin new tabs by sharing web links directly on iOS to Arc. The sync process is quick and easy.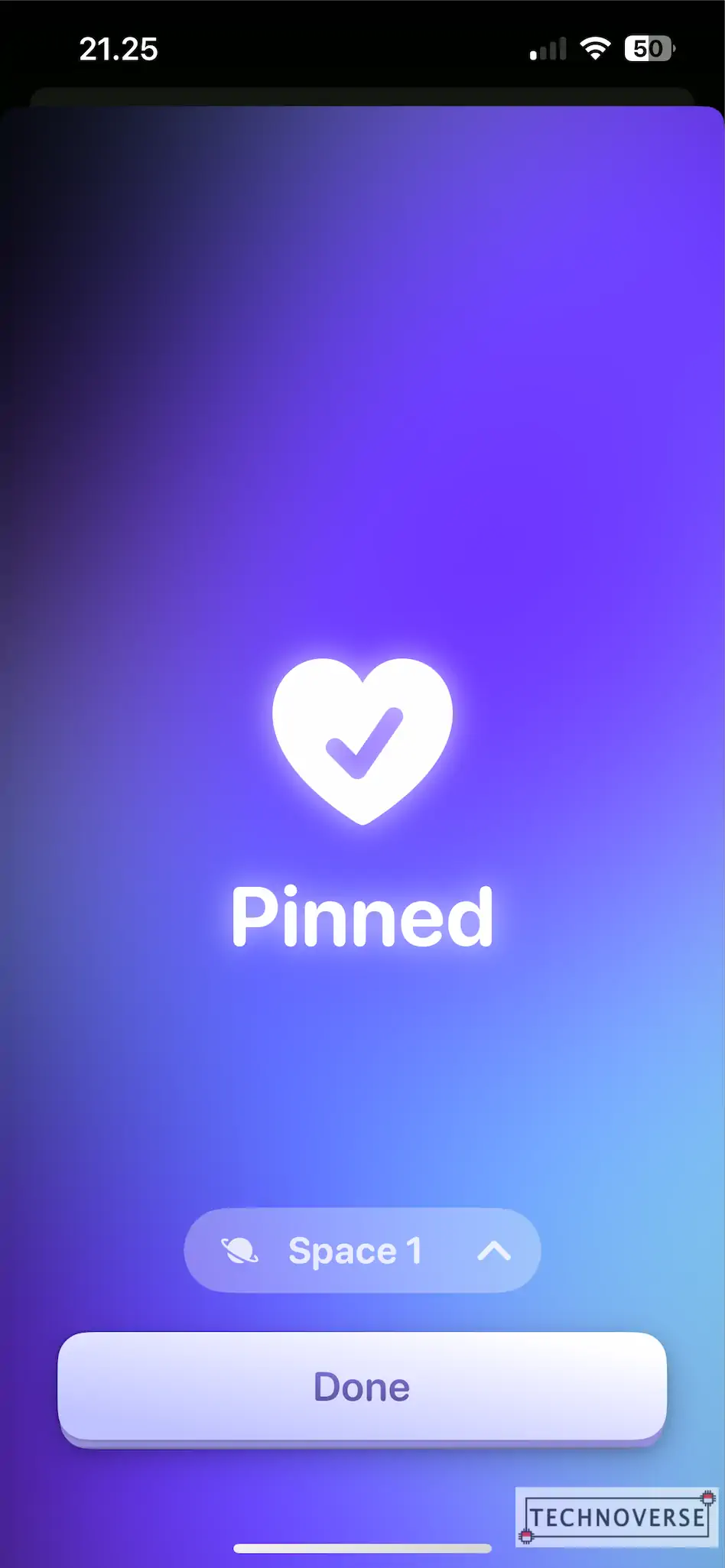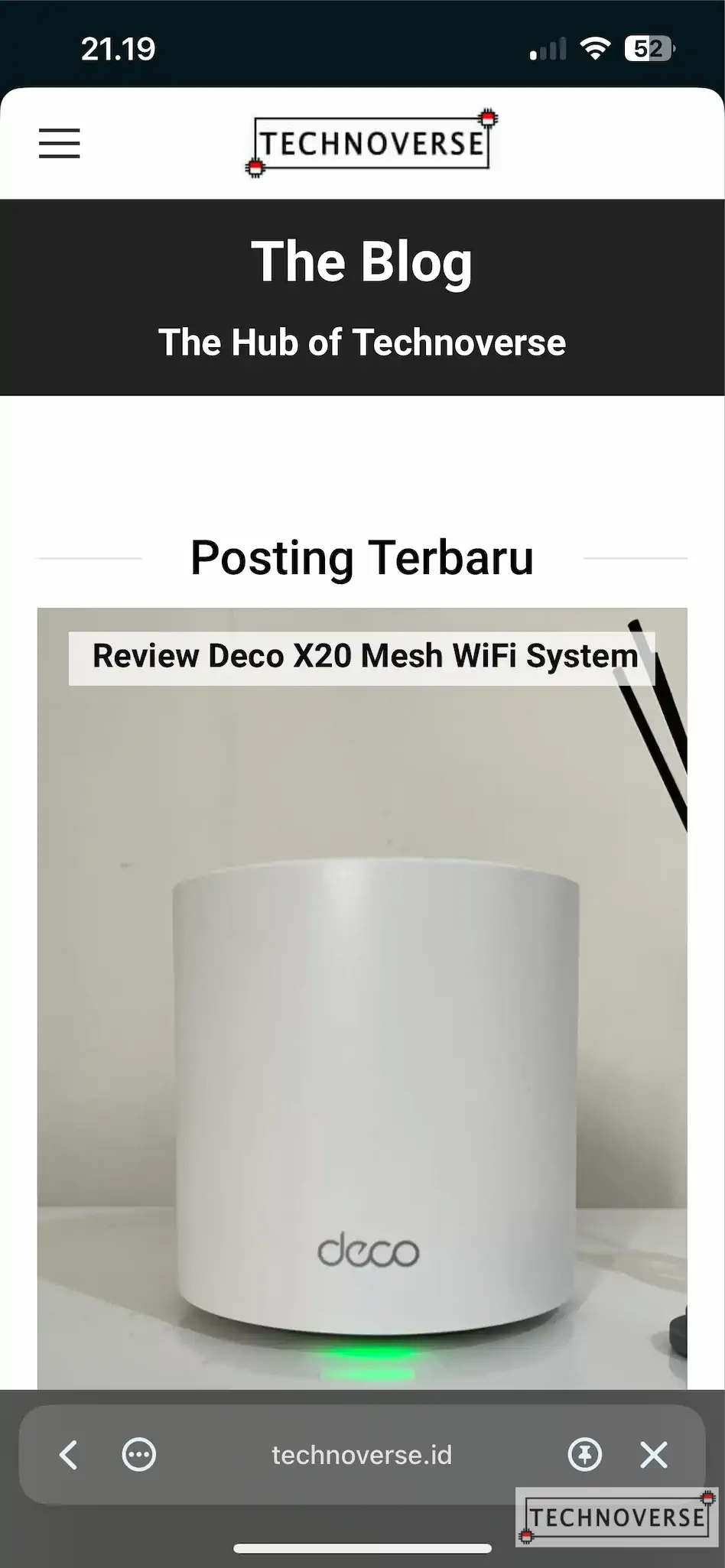 What's weird is that despite being able to open webpages on it, iOS won't let you set Arc on iOS as the default browser. Maybe in the future, eh?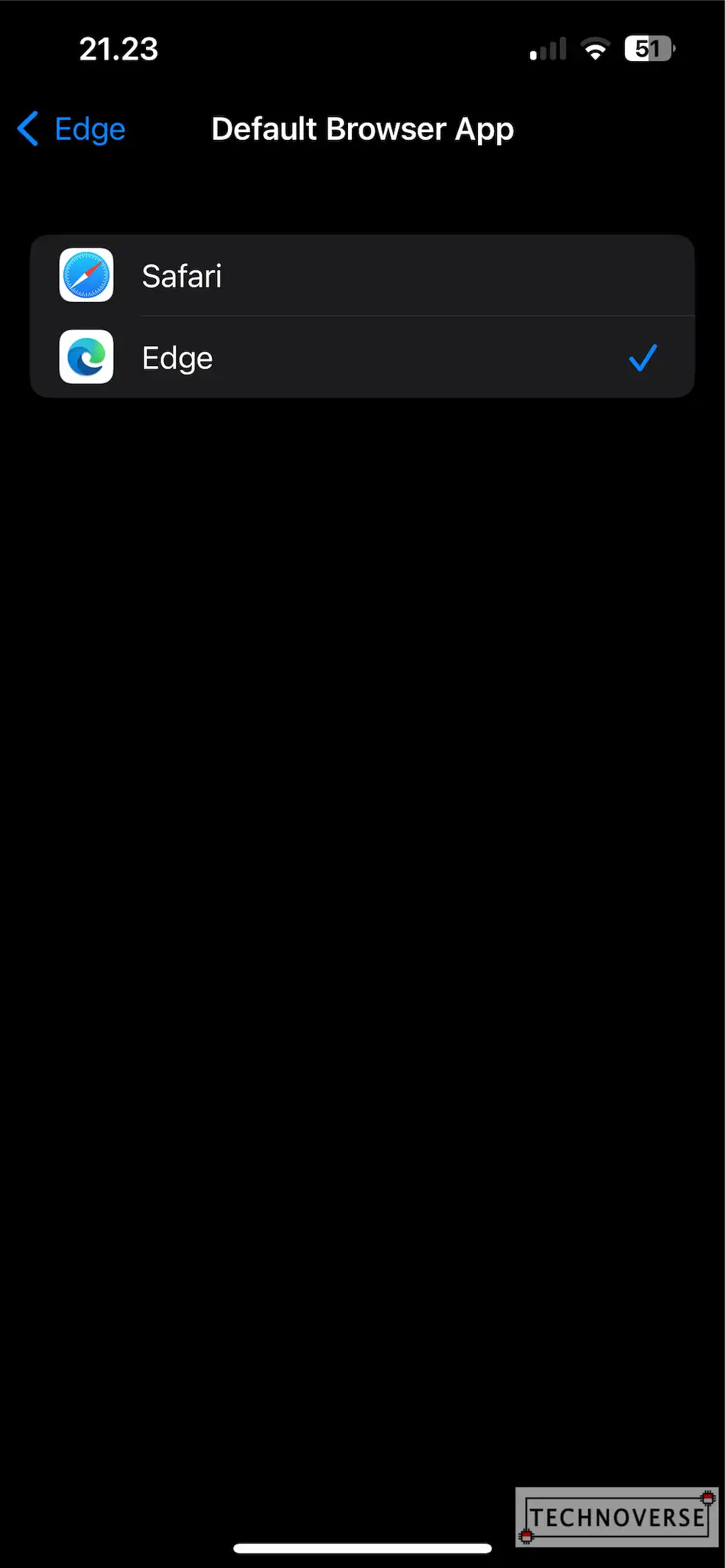 Arc and Privacy
Usually, a browser's most pressing concern is privacy. Some companies use browsers as means for tracking their users' Internet activities, improving their advertising data, such as Google Chrome or Microsoft Edge. I personally think it's not wrong, as long as we, the users, are aware that we're being tracked.
Some browsers, such as Brave and Firefox, are more strict on privacy. Arc, fortunately, is on this side. In fact, they have a well-put site detailing their privacy policy, and a Youtube video detailing how they're planning to make money (they're not non-profit, after all). It's an interesting watch. Spoiler alert: it's not advertising!
Conclusion
Arc is an interesting browser. It offers a clean take on the Internet. Unfortunately, though I'm using it regularly, I can't fully move to it yet. Especially when I still rely on cross-platform sync features in traditional browser such as Microsoft Edge. Arc for Windows is in the works; hopefully I'll be able to move when it's released.
Nevertheless, Arc is my go-to browser for quick and personal browsing when I'm on my Mac. Their stance on privacy is also unique, and they're one of a few companies that actually care about user privacy. Also, ever since it came out of beta recently, you no longer need a waitlist to experience Arc. Give it a try, you might like it.
Pros
Based on Chromium, so it's compatible with 99% of websites out there and all Chrome extensions you use.
A fresh, clean, and minimalist take on Chromium-based browsers, but still full of useful built-in features.
Transparent stance on user privacy.
Cons
Currently only available on MacOS and iOS (partially).
There is a learning curve. But you should be able to appreciate its simplicity once you got through it.
Well, that's all for now, Folks. Give Arc a try if you're using a Mac. Who knows you're going to like it. Anyway, as usual, if you have comments or questions, go ahead and sound them off in the comments section below. Finally, thanks for reading, and see you in the next article!😁